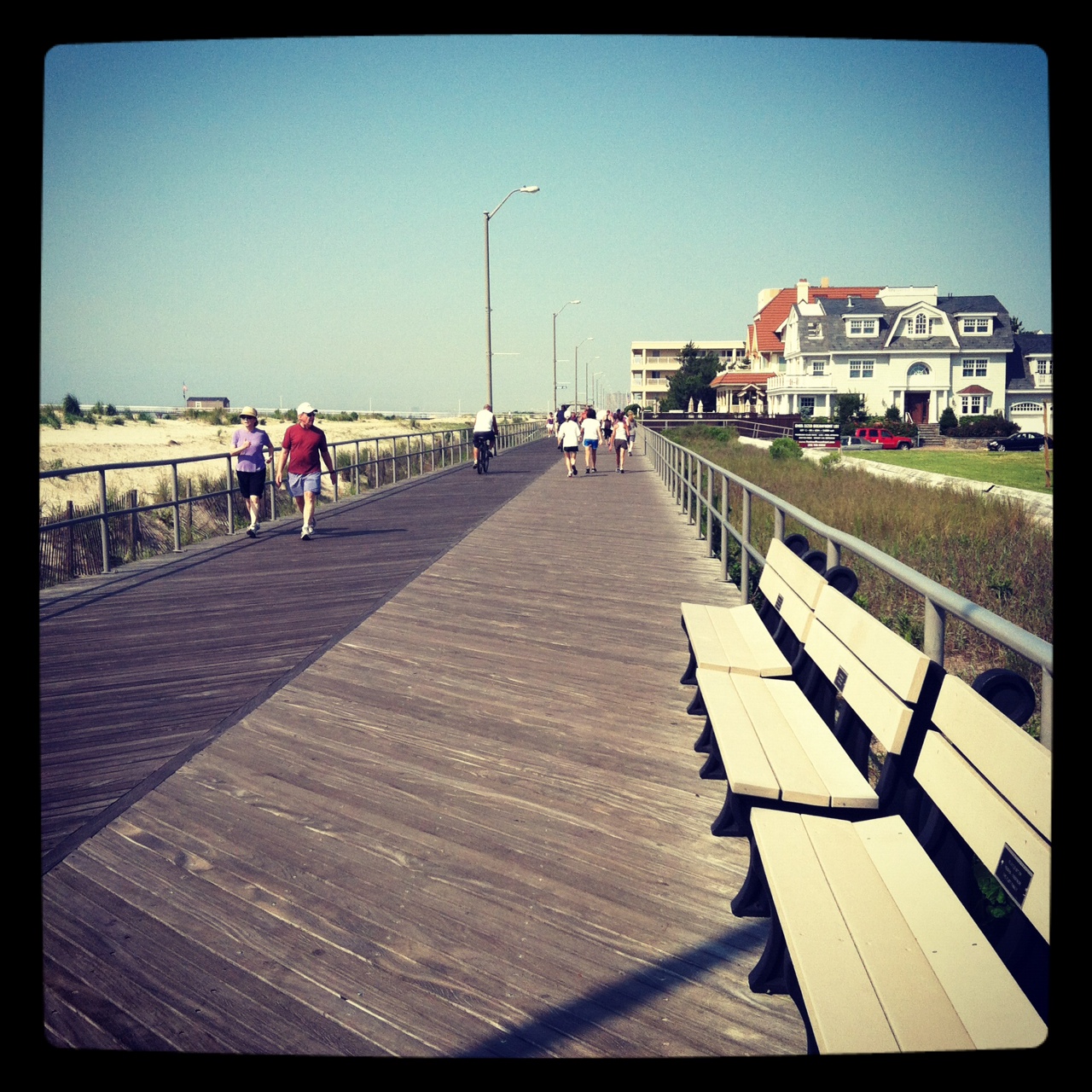 Not your usual pre Fourth of July crowd on the Ventnor boardwalk, above.
It's the morning after the morning after the freakish straight-line wind and lightning storm that knocked out power to most of Atlantic County and sparked a fire that, sadly, destroyed the lovely Church of the Redeemer in Longport.
It uprooted trees, mangled awnings and took apart all the lifeguard stands in Ventnor, where not a trace of them could be found the next day. Lifeguards were sitting on trash cans and beach chairs. A lot of the American flags that line utility poles snapped, and people planted them in the ground below. Read our church story here. And another here and here. There will be an outside service there this morning.
A lot of power seemed to come back on in the evening Saturday (including mine) but emergency management officials in Ventnor say about 25 percent of the town, mostly in the northern section of the heights, is still without power. Parts of Margate and Longport are still without power, and the police stations are running on generators.
It seems a lot of businesses have power today, including Casel's, Starbucks, and the heroic Hot Bagels in Margate, which trucked in coffee yesterday morning and is deliverying bagels even in Northfield, where power is out. Pathmark is open. Some businesses owners weren't so lucky, like Cheryl Venezia of Annette's, below, whose breakfast spot is shuttered for the second straight day because of no power.
A lot of shoobies seem to have bolted. And who could blame them? "We have friends on Portland Avenue who are dropping off stuff in our fridge and going home," said Penni Starer, who came from a morning bike ride on the Boardwalk, not nearly as crowded as might be expected on the Sunday before 4th of July.
Todd Dulson, the bridge keeper on Dorset Avenue, where there was no power to open the bridge, said he saw a stream of Pennsylvania plates leaving town Saturday night. "I can't blame them," he said. "I stood in the doorway watching the storm. You could see the clouds coming. All this lit up. It lit up so much, so many strikes, they started turning colors."
Some, like Carol Phillips, staying in Margate, said, "We went to the beach and the power came back on," by the time they were back. Others, like Neil Fisher of Jamison Bucks County and his wife, Judi, below clung to one working outlet in a closet in their complex in Margate, where some people had power, some didn't. "You know what, people have it much worse off," said Neil. But they're putting their kids up in a hotel when they come down today.