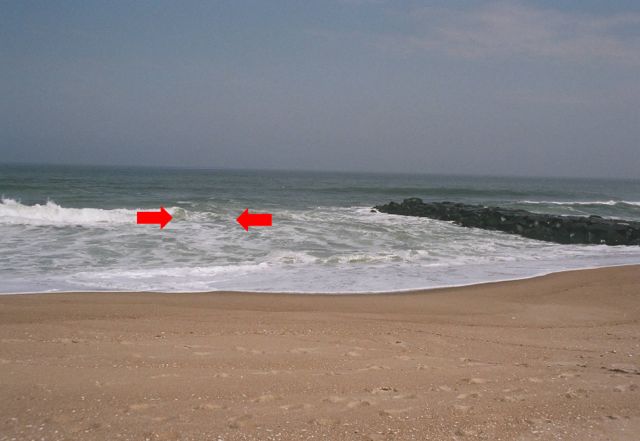 (Photo courtesty of Dr. Tom Harrington of Stevens Institute of Technology, via NOAA website).
So, it's Rip Current Awareness Week in the United States of America and in New Jersey, that inevitably leads to talk of Hurricane Sandy. It seems that in addition to ripping up homes and boardwalks and flooding homes and businesses, the storm rearranged the ocean floor. Severely eroded beaches mean sandbars off shore, which mean rip currents. The built up sandbars are further off shore than normal, which, as the surfer dude students in Dr. Jon Miller's Stevens Institute Classes on beach erosion have informed him. is excellent news for surfers. Creates longer and more sustained waves to surf in, and because they are forming further off shore, keeps the newbies out of the water. So good for the surfers. However, the lifeguards will have their hands full, warns Miller. Sandy's handiwork means rip currents in unexpected places, which the lifeguards will have to scope out on a daily basis. "It will be challenging to keep swimmers safe," he said. "A lot of the beach erosion caused by Hurricane Sandy uncovered a lot of jetties and groins and will lead to rip currents. It's just going to be different, that's the key. It's going to be different for lifeguards and for people coming to the beach."
As always, the advice is the same: never swim alone, never swim in unguarded beaches. If caught in a rip tide, swim parallel to the beach to get out of the current, so it doesn't suck you out to sea. But don't take my word for it. Here's audio of a public service announcement by Olympic swimmer Ian Crocker.
.
http://www.ripcurrents.noaa.gov/multimedia/CrockerRadioPSA.wav