Well we've had quite a streak of warm ocean temperatures this summer, quite unlike last summer, but on Thursday, that thing that happens when the wind shifts and starts coming in from the mainland, and the top layer of water gets blown out to sea, and all of a sudden. Brrrr. Your ocean is as cold as your beer: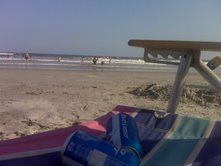 Well, not quite. But during some investigatory happy hour beach reporting, a little Bud Light in honor of our President's choice of brew tonight in his Sgt. Crowley-Skip Gates summit, I discovered that the ocean had dropped about 10 to 15 degrees since Wednesday. It's called upwelling, I tell you. And every summer we write about it like it's never happened before. The lifeguards said the water temp was down in the low 60s, after being nicely in the mid 70s for the last few weeks. Meanwhile, the southern half of Ventnor was still reeking of mussels.
I'm thinking perhaps I should invite some Ventnor police officers to a Bud Light summit of my own, see if we can work out our differences. They seem way too interested in my traffic habbits this summer. I mean, I make that U turn in front of CVS all year long, no problem. Only in July does this cost me $85. So much for cutting the locals a break. In any case, I found it interesting that President Obama went for Bud Light, as my usually way ahead of the curve nephew just this week accepted one of my Dogfish Head Raison D'Etre brews but then chose to polish off our stash of Bud Light, kept in stock for an always-dropping-in neighbor who drinks nothing else, and sang its praises. So maybe they're onto something. Anyway, hopefully the ocean will reverse course and warm up again for this weekend. Though it seems some thunderstorms may make things a little lively. No worries. Despite the worms, mussels and seaweed, it's been incredibly lovely this season.
Previously: From Worms to a Whale.