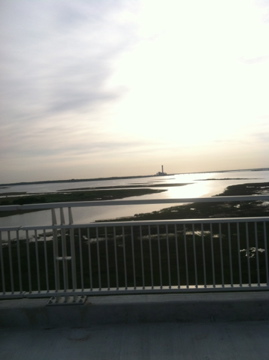 Who were all those strange dogs barking down from porches at me, Clifford and Spot today as we took our usual walk along Atlantic Avenue this morning? Oh yes! Shoobie dogs! Listen, pooches, back off. And why are you all so little and wierd and fussy and noisy and, oh, right. Anyway, it's that time again, time for the beaches In Atlantic City and Ventnor to be marred by rusty pipes that keep hobie cats off the beach, and turn the sands into construction zones, courtesy of our friends, the U.S. Army Corps of Engineers. Plus, in Atlantic City, the emergency management folks are complaining that the newly pumped sand is now blocking access ways to the beaches themselves. Plus, the beaches up at Revel, now, you know, as in Revel Beach, aren't even finished yet. Plus, the Army Corps promised they wouldn't interfere with the summer tourist season. Plus, ah well, I give up. People in Atlantic City don't want high dunes, and they build them anyway. People in Ventnor don't want the Army Corps anywhere near their beaches this time of year and still, here they are, putting back the sand that was lost since they were unwelcome visitors last July. At least the ocean is cooperating at a balmy 65 degrees. So ignore the beaches and head for the water.
In other news, the new causeway bridge into Ocean City, despite a few kinks to be worked out, has a nice 11-foot shoulder where bikes are welcome. (The shoulder sort of dissolves around the fishing pier, but the DOT says lanes will be shaded to make sure motorists know they're merging into a bicycle lane.) The new 10 foot wide sidewalk is only half open and is for cruiser type bikes, pedestrians and strollers. DOT spokesman Tim Greeley wasn't able to totally explain how that pedestrian lane will work, as it's only on the south side of the bridge and has signs in both directions that call for bikes to the left, pedestrians to the right. That means, sports fans, if you're walking on the right toward Somers Point, you could have a bicycle coming at you in the other direction. Unless they mean four lanes of cruiser/walker traffic, two in each direction, which sounds a little spotty. But I took a nice bike ride on the bridge itself, in both directions, and thought it was a great addition to the bridges of the Jersey Shore for cycling, not as steep as the Longport Ocean City bridge, but longer with nice views from the middle (see above photo, looking south). There's no shoulder coming into and out of Ocean City, but cars are supposed to be down to 25 miles per hour by then. And, as Bob Farnsworth of Tuckahoe Bike Shop in Ocean City, pointed out, it creates a perfect little loop with the existing Ocean City Longport Bridge.
"I'm going to use it a lot," he said. "It's a little hairy at the start, but it's great loop for people who want a ten-12 mile loop. It's a beautiful trip across the bay."
Below, the sounds of summer: beeping Army Corps equipment.