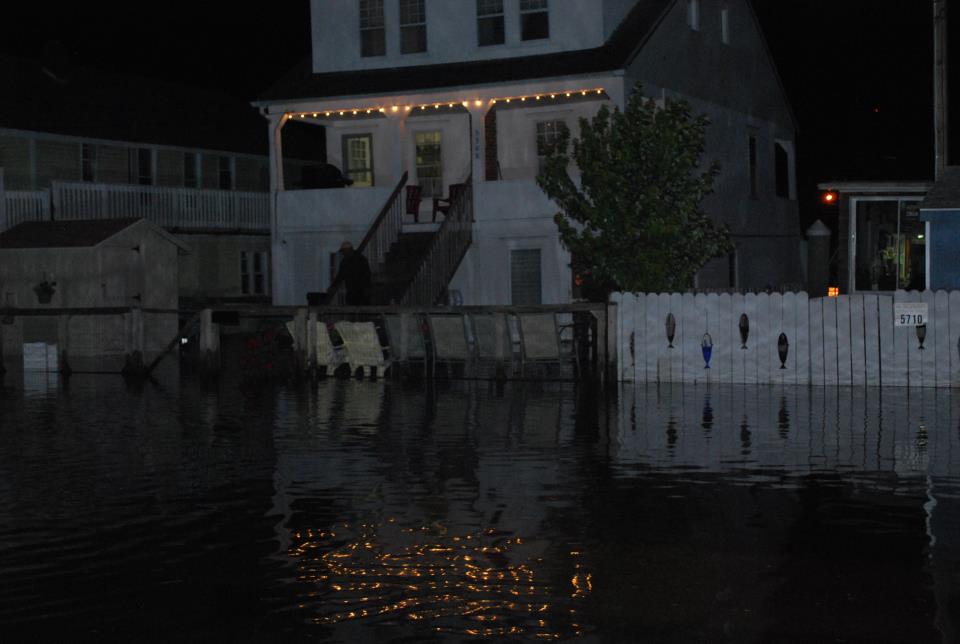 Photo of flooding along Edgewater Avenue in Ventnor Heights by Catherine Van Duyne
Sometimes, it's the storms less hyped that wreak the most havoc. Or, in Monday night's case, the June full moon, astronomical high tides, and off shore winds which led to rising water that was recorded at the highest level since 1996 on the barrier islands. Around 8:30, the high water water level measured at the Steel Pier was 7.5, above what is considered "moderate flooding" conditions and a level not seen since the Halloween storm of 1996. Personally, my flooding gauge was measured by the flood of teenagers who suddenly appeared at my house (on a non-flood prone area of the island, actually) around 10 p.m., as the bay tide crested and both Wellington Avenue and the Dorset Bridge access to Ventnor Heights was cut off, leaving the Heights its own island, moored to its WaWa. In any case, the teens "taking refuge" seemed to have a good excuse (and hey no school today in Atlantic City) to ride out the storm all together (and in the hot tub). Kind of reminded me of the epic ice storm from my childhood, when kids were suddenly out roaming the streets, power was off and all the usual rules did not apply. In any case, water was cresting up to car door levels, washing over docks and bulkheads and leaving the usual flood prone streets flooded. It's still flooded out there this morning, with parts of the Black Horse Pike shut down and additional flooding expected tonight. But it's a school night.
Here's the story from Monday night from the Press of Atlantic City's night watchman, Sarah Watson.