Gov. Christie announced Wednesday $31 million in grants to three cities and one county as part of his ongoing allocation of $1.8 billion in Sandy aid from the federal government. This is just over half of the total allotment of so-called "essential services" grants to municipalities and governments to cover losses due to essential services impacted by the Oct. 29 hurricane. The money is to cover extra police patrols, increased public works efforts and education services required due to dislocated students. Atlantic City received $7.5 million, Sea Bright $938,000, Ocean County, $7.28 million and Toms River, $15.5 million.
"Several municiaplities and local government agencies have experienced, and will continue to experience, difficulties in meeting the demands and costs for critical public services as a result of the impacts of Superstorm Sandy," said Richard E. Constable, III, Commissioner of the N.J. Department of Community Affairs, which is in charge of distributing the CDBG Disaster Recovery funds for the state. "Essential Services grants are really a vehicle to bridge funding for these Sandy-Impacted local governments as they work to get back on their feet."
Presumably, the money in Atlantic City will not go to this section of famoulsy destroyed Boardwalk, in the northeast inlet, which tourism officials have gone out of their way to point out is a NON-essential part of the Boardwalk. Though I hear there's a plan in the works to replace this section with a concrete promenade linking up with the Marina District.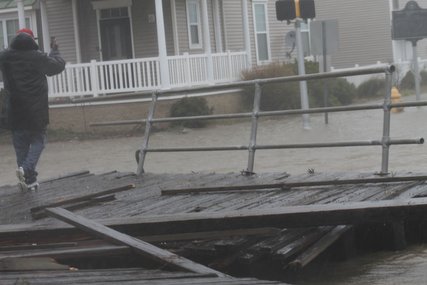 Speaking of dislocated students, Gov. Christie was in Monmouth County Wednesday afternoon to herald the reopening of three schools damaged in the storm: Union Beach Memorial School and Monmouth Beach elementary School, which both opened June 3 after $1.3 million and $2 million in repairs respectively, and in a place many assume escaped the wrath of Sandy, Stone Harbor Elementary School, which reopened March 11 after repairs due to a floot of water flooding the gym, classrooms, bathrooms and offices caused more than $600,000 in damage.