It didn't really end up being worse at the shore as predicted, but we got a nice foot-plus heavy helping of the monster pre-Christmas snow dump that clomped its way up the eastern seaboard the last 24 hours. Made for the always cool beach blizzard activities, like riding boogie boards and sleds down snowy boardwalk ramps and snowboarding on snow-covered sand dunes. Army Corps of Engineers, we thank you for the dunes. The boogie board down the dunes beats the sled every time, kinda nice with to get a spit of snow in your face as you're speeding (relatively) down toward the ocean. Also, very pretty pictures of foamy waves crashing onto snow covered beaches.
Check out these seagull tracks in the snow this morning: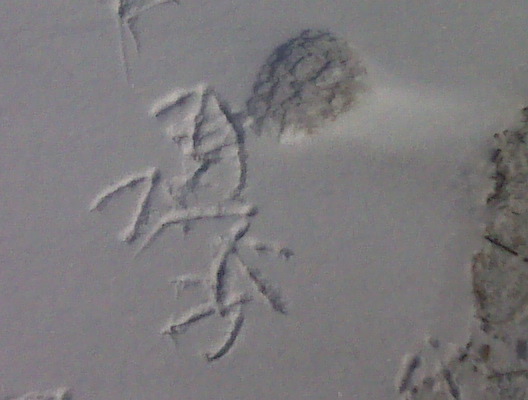 And here's a cool shot where the snow line almost meets the waves as they come up to shore, with a little ridge of sand in between. Snow line looks like surf, surf looks like sand. The beach was totally covered with snow at high tide, but it's showing more sand as the tide recedes. The sand is like quicksand though.