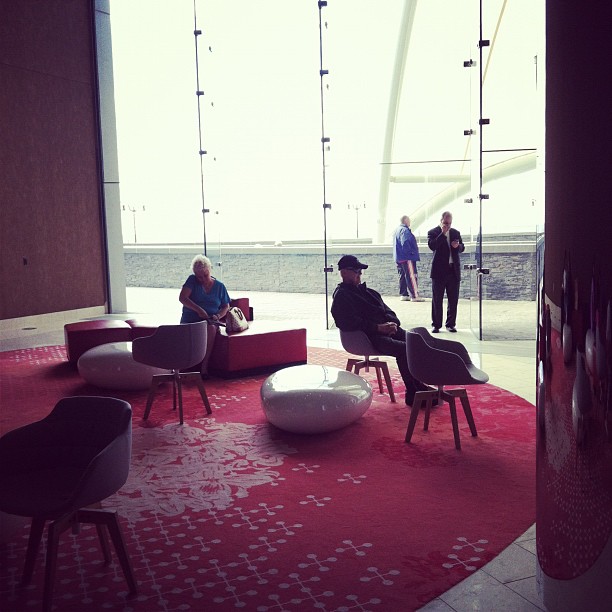 So, I was going to make like a cool local and ride by bicycle up to Revel to have a look see on its first day open to the public. But yo, the wind! Good reminder that the ocean and its breeze are fickle creatures, and while Revel may have hit on something by trying to bring in views of the ocean to its casino, it will also have to deal with the elements. That porte cochere was as beautiful a wind tunnel as I've come across!
I did manage to find free street parking like a half block from the place, and I'm not saying where. Go find it yourself if you're not into casino parking garages. Just watch out on the first and third Monday of the month.
Monday mornings are never a glamourous time for a casino, so I'm not going to judge the vibe from today, but let's just say, New casino, Same people. Not that there's anything wrong with the familiar Atlantic City mix of old folks, slackers and early birds, but who sent out the memo for everyone to wear sweat pants, sensibly soled shoes and windbreakers on Revel's big day? Oh well, I guess that's what they mean by a soft opening, and I guess even a glamourous, cutting edge entertainment, spa and food destination like Revel needs its Monday morning penny slot players, especially the ones who bring their moms (Overheard: "Mom, mom, listen, when the light is on, it means the (slot) machine is broken.) Can't say enough about my breakfast burrito that I got from Jose Garces's Guapos Tacos truck parked near the casino floor, except that I wish it were near an outside seating area, or one with windows. But that's a casino for you. Revel has told its employees not to call it a casino, it's a resort, but you know, it's a casino. With all the reports about the casino floor not being closed off to the ocean view, I was surprised to find the casino floor mostly a dark and windowless place, once you got into it a couple feet. They were swiping drivers liceneses at the edge of the casino floor, so don't look for too many underaged gamblers at this place. The lobby and its rooftop garden are pretty spectacular, with funky furnishings, see below, casual bar and even some cool little books placed on end tables (one, fittingly, "How to design a chair.") This place is going to pop at night and on weekends, when the cool cats show up.
I felt really happy for all the employees on hand today, some of whom were taking orientation tours or being trained inside restaurants like Garces's Village Whiskey (also no windows, Amada has a nice view). They seemed really happy to be there and emanated gratitude and helpfulness. Revel's got some great views and little nooks, like the plushly furnished Mez from which I am posting this with a gorgeous ocean view, on their free wifi. (Which judging from people coming up to me to ask, will be very popular). Don't see too many outlets for plugging in though, so keep it snappy. Ovation Hall is spectacular, maybe Bruce Springsteen should take Gov. Christie up on his invitation.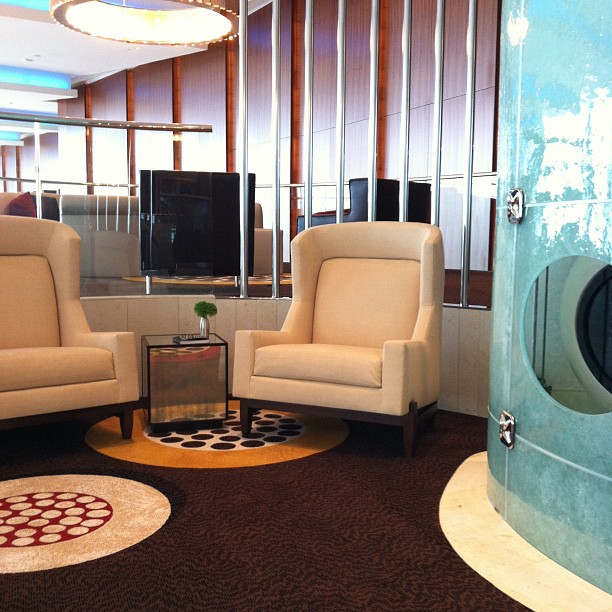 And you know, I'm sure they'll take care of that troubling leak from the ceiling at the windows across from One Atlantic Ocean Restaurant (facilities were already being called, what's a few patrons being dripped on?), but you know, that's called kicking the tires. Hopefully won't be a Nor'easter before the leaks have been properly sealed. Go get em, Revel. Hope it works out.
For more of my little spin through Revel, follow me on twitter @amysrosenberg. And here's a link to Suzette Parmley's story on the opening, which began at 6:30 a.m. with a blueberry smoothie toast.