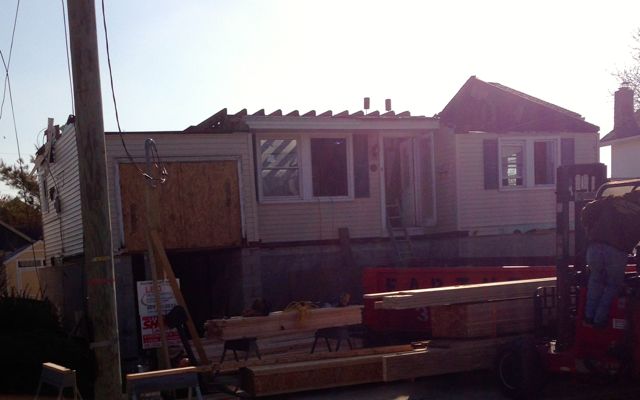 (Above, in Ventnor Heights, a homeowner takes the raise and rebuild approach).A new poll jointly commissioned by the Rutgers-Eagleton folks in New Jersey and the Sienna Research Institute in New York shows a deeply divided populace on the issue of rebuild or retreat from the Jersey Shore and other vulnerable areas post-Sandy. In New York, where Gov. Cuomo has been clear about advocating a buyout public reclamation of damaged property, there was a 15 point plurality, 48 to 33 for just the opposite: giving peoiple money to rebuild. In New Jersey, meanwhile, where Gov. Christie has until recently been all in on rebuilding, residents were split evenly - 43 percent advocating rebuilding, 43 percent advocating buyouts.
"Jersey shore residents are just as evenly split as most of the state on the best way to use these Sandy relief funds," said David Redlawsk, director of the poll and a political science professor at Rutgers. "But those living in the northwest exurban counties do have a preference: there, 56 percent prefer buying damaged properties and tearing them down."
New Jersey residents under 30 strongly support rebuilding, according to Rutgers; perhaps having been raised on Jersey Shore played a sentimental role there. Middle-aged and older residents support buyouts. Christie's popularity, Redlawsk noted, "does not seem to make any difference, perhaps because while he initally focused entirely on rebuilding, more recently he has also supported using federal funds for buyouts."
In New York, poll director Don Levy, said every demographic group, political party, city, suburban and especially those living upstate, "would rather see the money go to support committed homeowners rebuild than to tear down the properties and turn them into public lands." This, he noted, "despite New York's popular Governor, Andrew Cuomo, having expressed support for buying, tearing down and making public the damaged and threatend properties."