Well, yeah. God Bless Dino's Yup, still open, doing a brisk breakfast and subs-to-go business Saturday morning, even as Margate police patrolled the streets telling drivers to get off the roads. I got pulled over coming back from Dino's. "Only the diehards," the police officer told me of the people left.
Dino's owner Leo Heintzelman was predicting he'd be able to open up Sunday afternoon as well, and would be riding out the storm on Jerome Avenue with his 88-year-old mother. "That house has been there forever," he said.
Seems to me the people who have stuck around here are pretty much the locals whose families date back a few generations, and a few more newbies whose homes have stood the test of time. Some people I thought would stay have pulled up stakes (or boats) and headed to the Mainland. Still, there were joggers and bicyclers and walk ers on the Boardwalk this morning; maybe people sticking to a routine to reassure themselves.
Here's John Kenny riding out the storm inside Dino's, note the boarded up windows. "My wife packed up everything of value and left, except for me," he joked.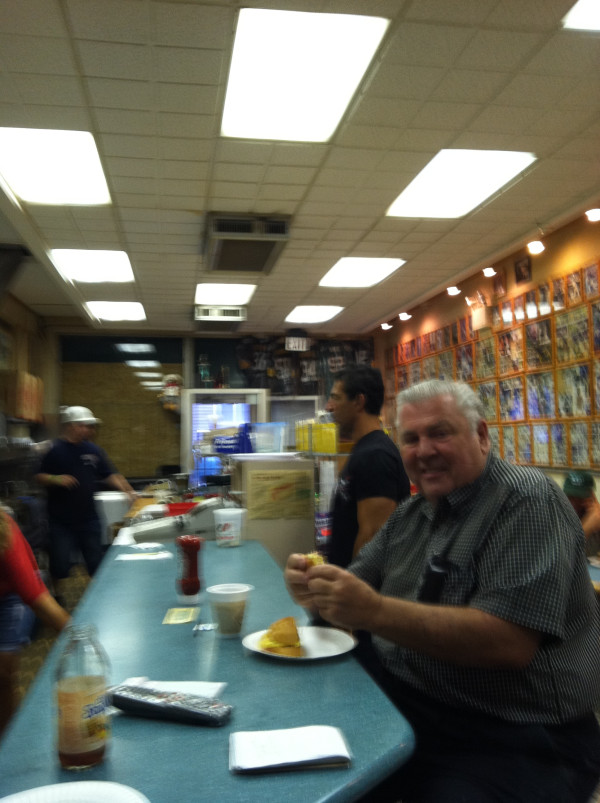 Cassidy McClain, the best surfer in the area, could be seen on her bicycle as usual headed to check out the surf. She and other surfers were in the w aves off the Ventnor Pier all day on Friday, a nice day to hang on the beach if every there was one. Today, of course, it's raining and eerily quiet in the streets, though I did see a surfer or two on the other side of the pier.
Irene did weaken to Cat 1 this morning, but who knows. Nobody here truly knows what to expect. Updates on twitter at twitter.com/amysrosenberg
Here's a photo from Friday night, deserted streets, kind of eerie. A thick humidiity hung in the air.