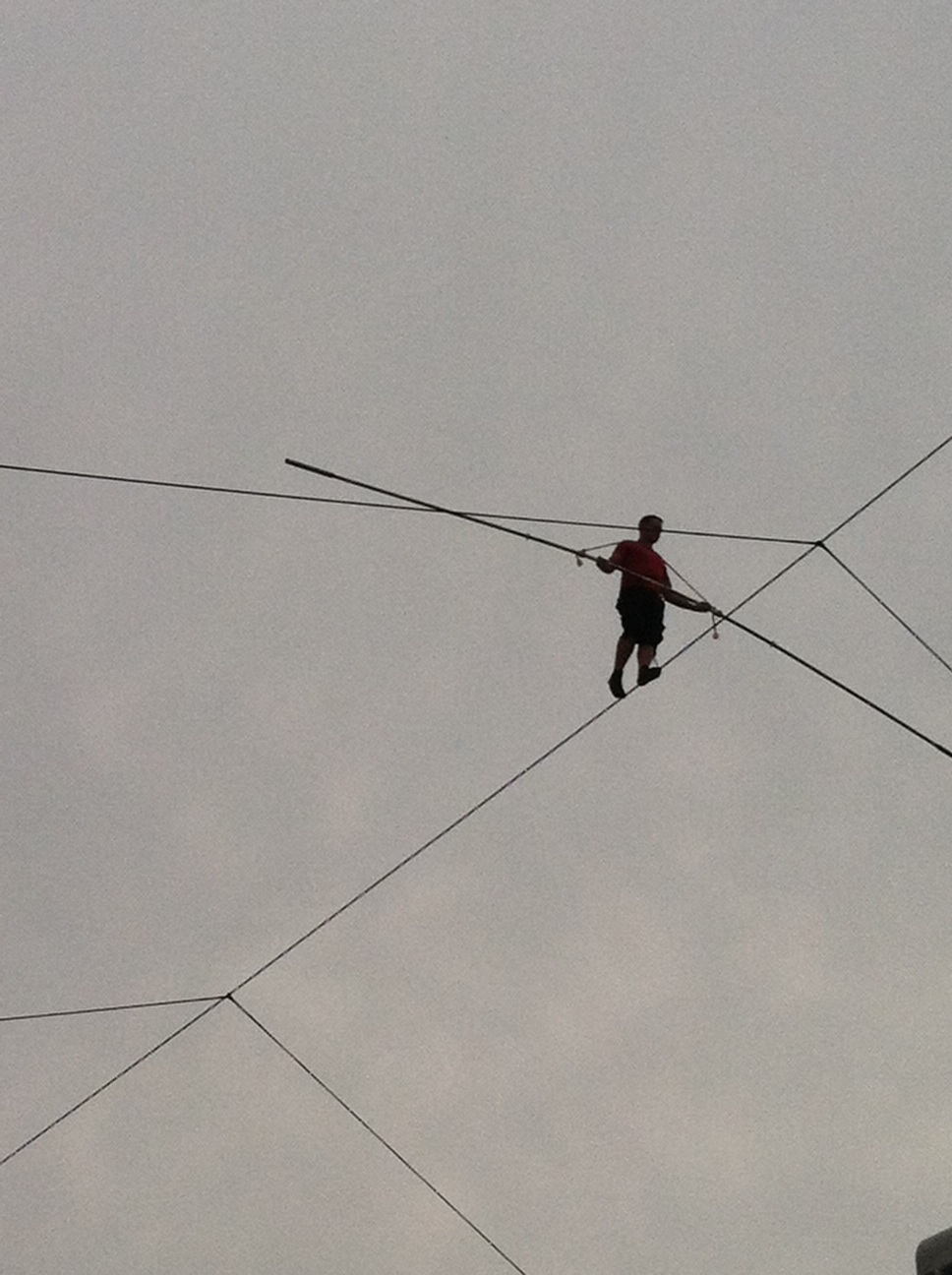 UPDATE: Nik Wallenda said he almost cancelled it when he saw how much sand was left on the wire, and he considered going barefoot, but in the end, he used the special wire shoes his mother made him. He made the trek safely, and without a net.This is Atlantic City after all, the town that embraces risk. Tens of thousands of people _ police are now estimating 100,000 _ lined the beach and Boardwalk, hushed at times and then cheering him and giving him thumbs up.
Wallenda returned the thumbs up, and actually spoke back to a few, and shouted at the Trop and Atlantic Club workers who were volunteering to hold the 40 sets of stabilizing wires to back up, so the ropes wouldn't hit him in the feet. A friend of NIk's said some of the the volunteers were on cell phones. They said the wind was a bit of a factor, but the main issue was the sand, which caked onto the wire while it was lying on the beach the last few days. "I learne a lesson," Wallenda said. "I"ll be telling that story for awhile." Wallenda walked through the crowd and into the Tropicana like a returning hero. He said it was fun and exhilerating and peaceful. It was. "I looked out at the water, the crowd on the Boardwalk," he said. Michael Jordan, a resident of Atlantic City, called up to him, "Beautiful Nik, beautiful." And it was beautiful. Unexepectedly peaceful and intimate, even. Check out the twitter feed for a blow by blow and more photos. www.twitter.com/amysrosenberg
UPDATE: So we're all waiting for Wallenda out here in the hot sun, where the crowds look kind of like crowds would be on a hot August Wednesday afternoon in Atlantic City. Whoever predicted 50,000 seems to have gotten a bit carried away. The Davide's of Little Egg Harbor had a prime spot under an umbrella, where Frank was reading "The Drop" by Michael Connelly. Aw, come on Frank, that's a bit noir of you isn't it? Check out my twitter feed at www.twitter.com/amysrosenberg (also feeding on this blog) for the blow by blow updates w/all the drama instagram can bring you. Also, wpvi.com has a camera on the room for a live feed. Nik was chill this morning, see below, but I hear he's sequestered right now. He'll be counting on people like Nila Perez, 44, a baker at the Tropicana, one of 90 volunteers who will be manning his stabilizing ropes. Nila has rope number 20. "He won't fall down," she assured me.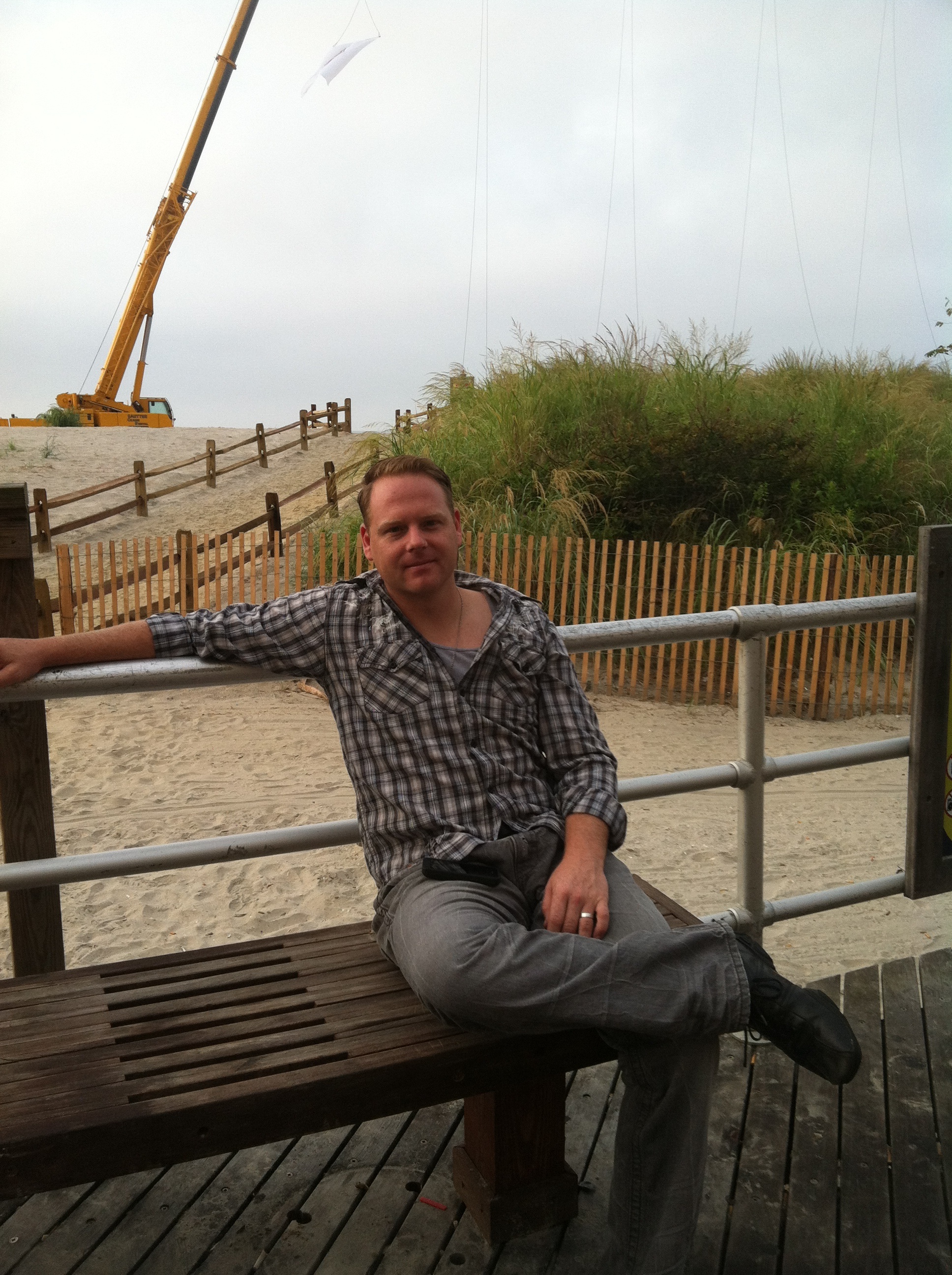 Nik Wallenda emerged at 7:25 a.m. from the Tropicana _ where a high ranking executive confirmed tha the was staying on a high floor _ a little sleepy Thursday morning, hours before hs big 3 p.m. high wire walk on the beach in Atlantic City. "I have a headache, and I'm tired," he said. He's been working hard setting up the show at the Tropicana that opens Sunday.
Wallenda, 33, fresh off his June 15th walk across Niagara Falls in which he reluctantly ahd to agree to wear a harness, is a pretty chill guy. No harness required in Atlantic City, a place that feeds off of maximizing risk, not minimizing it. And promoting itself, which this is of course a part.
Wallenda's walk will be about 100 feet above the beach (that's the crane with the wire in the background) and stretch 1,300 feet between the Atlantic Club and the Tropicana. "It's just like walking on the Boardwalk," the seventh generation of the Flying Wallendas. "It becomes very normal to you." The winds were pretty calm, and he said the greased cable had accumulated sand on it, which should actually aid his grip. "When you're a wire walker, not a lot of wind is a good thing." He said he was prepared for a seagull to pay a visit.
The beach seemed a pretty tame location for a guy just back from the Falls, but Wallenda noted that his great grandfather "did amazing walks around the world and he died on a smaller one." "It's life, that's my life, what i do," he said. "It's a lifestyle." He said his wife, mother, father and three children - ages 14, 11 and 9 - would be in attendance, though he noted his children would probably be bored, on their nintendos wile he was walking. "I just say a prayer and that's it," he said.