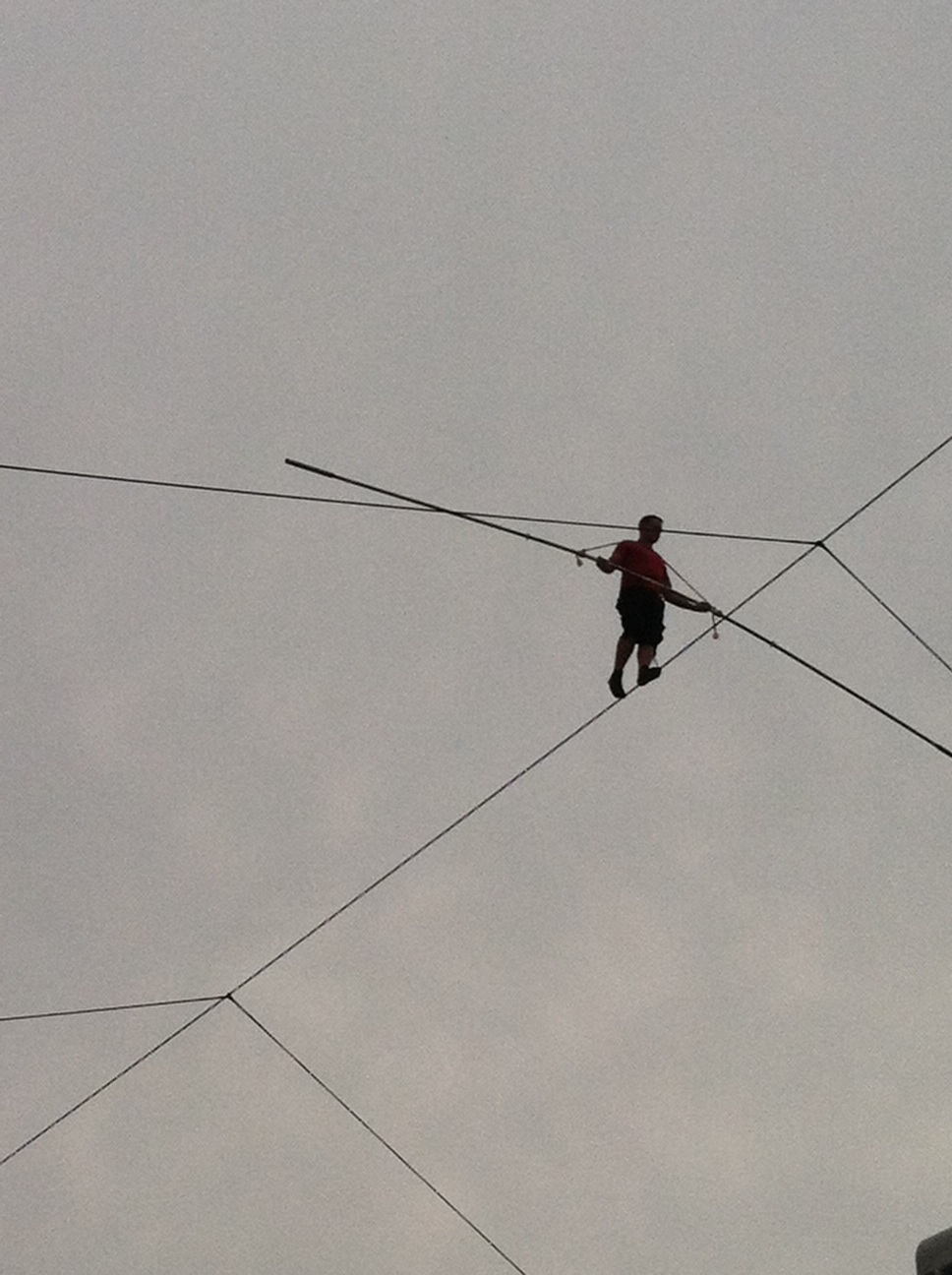 UPDATE: Nik Wallenda said he almost cancelled it when he saw how much sand was left on the wire, and he considered going barefoot, but in the end, he used the special wire shoes his mother made him. He made the trek safely, and without a net.This is Atlantic City after all, the town that embraces risk. Tens of thousands of people _ police are now estimating 100,000 _ lined the beach and Boardwalk, hushed at times and then cheering him and giving him thumbs up.
Wallenda returned the thumbs up, and actually spoke back to a few, and shouted at the Trop and Atlantic Club workers who were volunteering to hold the 40 sets of stabilizing wires to back up, so the ropes wouldn't hit him in the feet. A friend of NIk's said some of the the volunteers were on cell phones. They said the wind was a bit of a factor, but the main issue was the sand, which caked onto the wire while it was lying on the beach the last few days. "I learne a lesson," Wallenda said. "I"ll be telling that story for awhile." Wallenda walked through the crowd and into the Tropicana like a returning hero. He said it was fun and exhilerating and peaceful. It was. "I looked out at the water, the crowd on the Boardwalk," he said. Michael Jordan, a resident of Atlantic City, called up to him, "Beautiful Nik, beautiful." And it was beautiful. Unexepectedly peaceful and intimate, even. Check out the twitter feed for a blow by blow and more photos. www.twitter.com/amysrosenberg
UPDATE: So we're all waiting for Wallenda out here in the hot sun, where the crowds look kind of like crowds would be on a hot August Wednesday afternoon in Atlantic City. Whoever predicted 50,000 seems to have gotten a bit carried away. The Davide's of Little Egg Harbor had a prime spot under an umbrella, where Frank was reading "The Drop" by Michael Connelly. Aw, come on Frank, that's a bit noir of you isn't it? Check out my twitter feed at www.twitter.com/amysrosenberg (also feeding on this blog) for the blow by blow updates w/all the drama instagram can bring you. Also, wpvi.com has a camera on the room for a live feed. Nik was chill this morning, see below, but I hear he's sequestered right now. He'll be counting on people like Nila Perez, 44, a baker at the Tropicana, one of 90 volunteers who will be manning his stabilizing ropes. Nila has rope number 20. "He won't fall down," she assured me.