UPDATE: See? This is why I hate these lists. National Geographic Traveler, and the Associated Press, which ran a story that caught an editor's eye, which prompted an e-mail, which led to this blog post this morning, now say that the list of top ten Boardwalks that has Atlantic City first and Wildwood tenth is not a ranking, but a top ten listed in alphabetical order. So in theory, Wildwood could be the best, I guess. They are still, along with Rehoboth, on the list of top ten Boardwalks, just not to be considered in order. So much for Atlantic CIty's brief reign of glory, though I guess top ten is still nice. I took the information right from the National Geographic website, which really does make it seem like a ranking, though they are, indeed, concurrently in alphabetical order. In any case, the original post follows:
I've never been one for lists like this, but National Geographic's a heavy hitter, and so we shall take note of the recent local scores on National Geographic Traveler's top ten Boardwalk list, which gives Atlantic City the top spot (UPDATE, in alphabetical order only, ha!) and Wildwood the final spot (again, alphabetically). (Rehoboth, newly made over in a yellow pine herringbone pattern that replaced the concrete) clocks in at number 6). The top spot seems to be more of a lifetime achievement for Atlantic City (see, I was skeptical), as NGT cites its long history (built in 1870) and calls it the "grandfather of boardwalks" that now "anchors this resort town, winding past flashy casinos, glitzy hotel towers, cavernous arcade halls, and a neon-lit amusement pier."
(Photo by Philip Greenspun, Philip.Greenspun.com)
Personally, I think the Atlantic City Boardwalk (as the grandfather of boardwalks, it gets to capitalize the B) is in fine shape, pay no attention to that post-fireworks fifth of July little shootout). The Tourism District is adding some pretty planters, and who can argue with a Boardwalk that just added Harry's Oyster Bar, the latest incarnation from the fine Dougherty Family of Doc's Oyster House and Knife and Fork fame, which, according to Inquirer critic Craig Laban, offers one the sublime experience of lobster rolls, craft beer and oysters just off the Boards. Not to mention funnel cake. Last time I interviewed a food kiosk owner near the Trump Taj Mahal, he turned out to be a half Jewish, half Vietnamese nuclear engineering student. I kid you not. See, no wonder it got the top spot (though perhaps its iconic stature was enhanced this year by HBO.)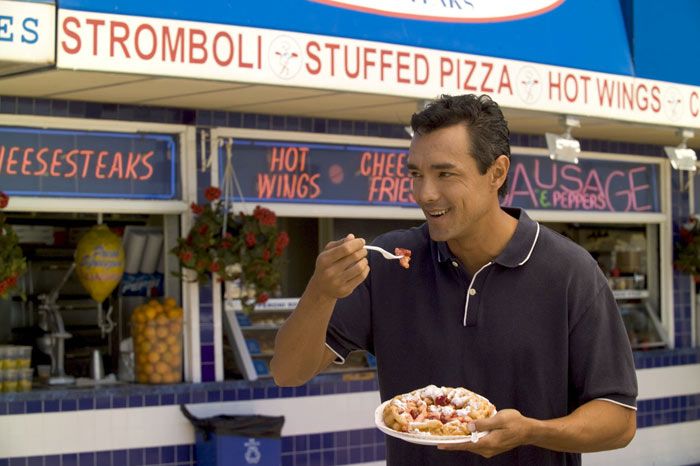 Wildwood was praised for, naturally, its kitschiness, neon and for having "more amusement rides than Disneyworld." The Moreys will appreciate that, I'm sure. I'm a big fan of Wildwood's boardwalk, I think it packs an energy and colorized feel and busyness that are very satisfying. (Watch the tram car, please). I have gotten my aura read and seen visiting giraffes. And I will never forget that one year when my daughter, then five, took a seat at the squirt gun booth at the pier arcades and, dead eye and focused little girl that she was and is, sitting between two big lugs, sprayed her heart out to victory. That's right, there's glory to be found in them there boardwalks.
For the record, although Lucy the Elephant took her place among its ten notable Roadside Attractions, there was no Jersey shore love to be found in the other lists (Top Ten Beaches (including Nanttucket and St. Bart's), Top Ten Beach Cities (Barcelona to Miami Beach), and not Top Ten U.S. Family Beaches (Cape Cod, blah blah blah.) Oh well, what do they know.