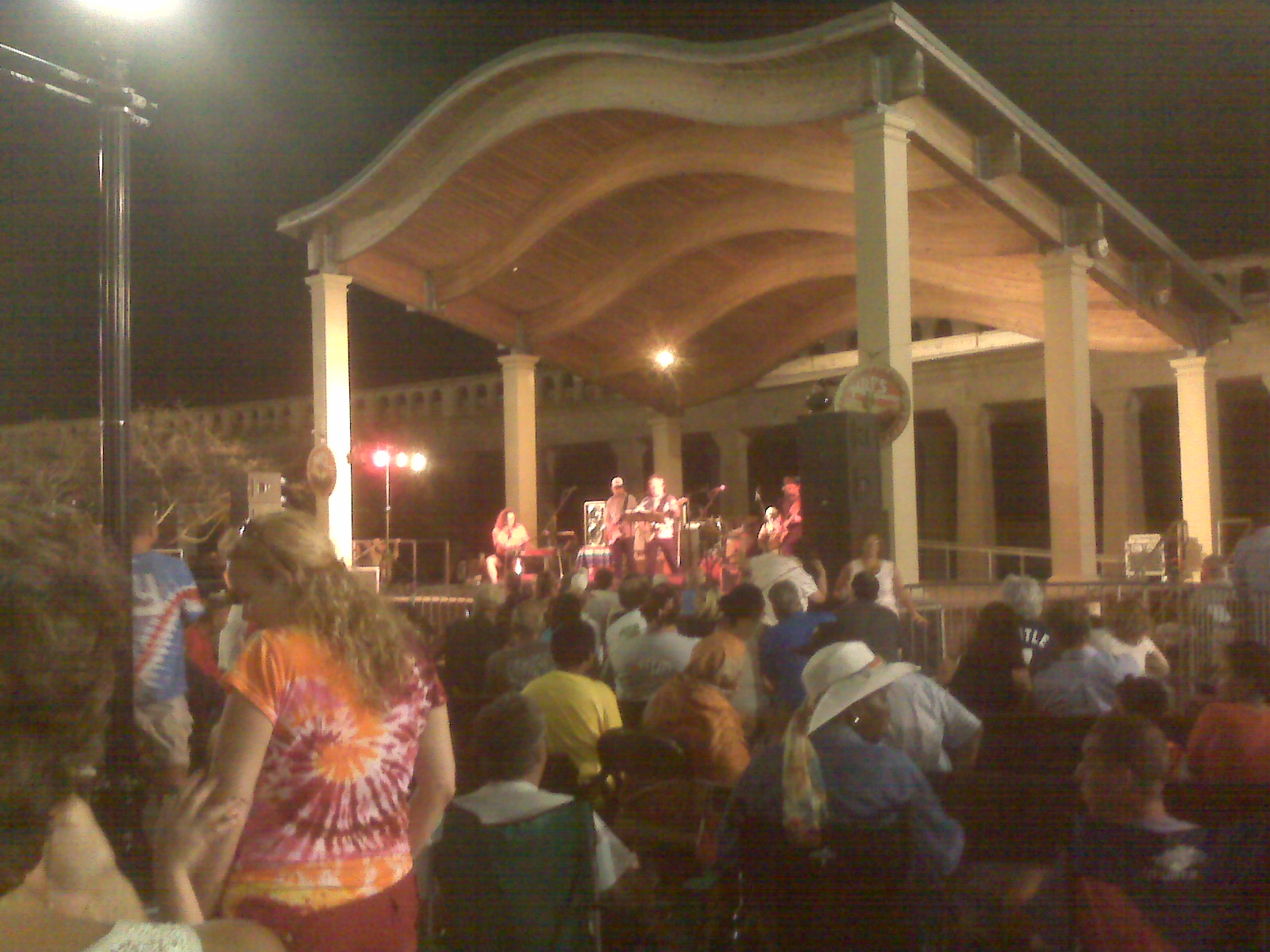 So with all the talk from Gov. Christie and others about Atlantic City dying, Atlantic City on the verge of extinction, Atlantic City no fun for anyone, I must say, I've been having a lot of fun in Atlantic City this summer. Exhibit A, to the left, from Monday night, the first of five free Mardi Gras themed live music on Monday nights, plus the Tuesday and Wednesday of the Air Show (Aug. 24th and 25th), plus the Sunday of Labor Day weekend, dreamed up by a promoter with big ideas, Carmen Marotta, whose vision is of a New Orleans JazzFest kind of party on Mondays out on Kennedy Plaza across from Boardwalk Hall. Last night, he had the storied New Riders of the Purple Sage playing on and off for nearly three hours, to a nice crowd of Dead heads and other tie-died folk and others, who were treated to a very sweet encore in honor of Jerry Garcia, Ripple. But the not-so-new Riders put in a sweet show with their own music to a very appreciative crowd, including Louisiana Lady to keep up the New Orleans theme, a night made more festive by the presence of a Ducktown Tavern sponsored beer garden. The handful of homeless men seemed to enjoy the beer as well, but hey, a party's a party.
Performing next Monday, Aug. 9, will be Buckwheat Zydeco. George Porter Jr. & the Runnin Partners are Aug. 16; Cyril Neville is Aug. 23d and Guitar Shorty is Aug. 30th. On the Tuesday before the Air Show, Bonerama plays, and John lee Hooker Jr. plays the day of the Air show, from 3:30 to 6 p.m. Mitch Woods will be on Sunday Sept. 5. Last night's concert ran for so long, I was able to ride my bike there around 7:15, catch a set that included 'I don't know you," ride home to pick up my daughter from cheerleading camp, get back on the bike and catch the final 45 minutes. It was a nice scene out there, and, like another great event this summer, Caesars' Tribeca Film Festival on the Beach, was pretty much the result of one person having a great idea, the determination to pull it off, and the presence of willing partners and sponsors. The Film Festival drew crowds every night to art films first screened up in Manhattan, proving that Atlantic City will support something other than middlebrow ideas and entertainment. I went the Sunday night of the Film Festival and saw "My Last Five Girlfriends," which was based on the novel by French author Alain de Bottom.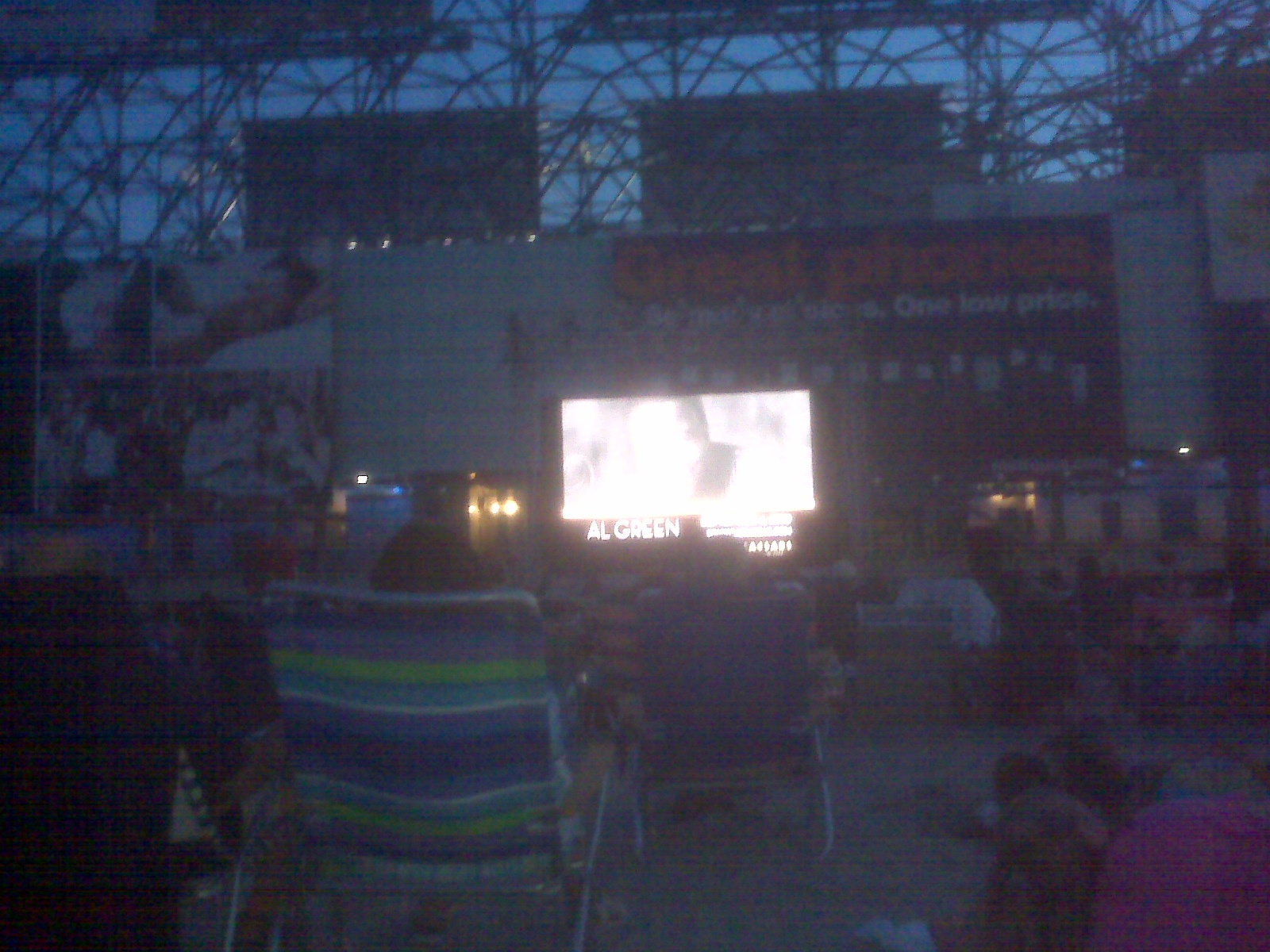 Again, like the Mardi Gras free concerts going on, the Tribeca on the Beach event was dreamed up by a marketing person at Caesars, who found a very willing, if unlikely, partner up in Tribeca. The screen and sound were high quality, the popcorn was free, and the people behind me eventually figured out that even though it was outside, you still couldn't talk throughout the whole movie. The best seats were the lifeguard stand, for sure.
In any case, whatever Gov. Christie's panels and authorities and conceptual maps come up with, Atlantic City is already a town open to a good idea and good execution, even with a little bit of sophistication thrown in. It just needs more of them. The other event worth mentioning this summer was the sold-out Carlos Santana show at the Trump Taj Mahal. I have a pretty good record of showing up at sold out shows in Atlantic City and being able to buy front row seats from the box office (high rollers sometimes don't show), but this time, with my husband already inside and no more tickets to be had, I was striking out. I tried to talk my way in past three different ushers, but they were holding tight on security. I finally went to the box office, which was closed, and saw a guy leaving the back office. His Trump nametag indicated that he had some level of authority, so I just kind of went up to him and asked, hey, anyway I can purchase a standing room only ticket, or something that will get me in the door? I guess they'd been comping people all night, what's one more, even if I wasn't a gambler or anyone known to them. He wouldn't take any money and just walked me back over to an usher who'd just barred me from the concert and walked me right on through. No problem, just don't take a seat. The usher did a very satisfying double take, to see me suddenly morph into a VIP. Thanks, Atlantic City, you're sure a fun town to hang around in.