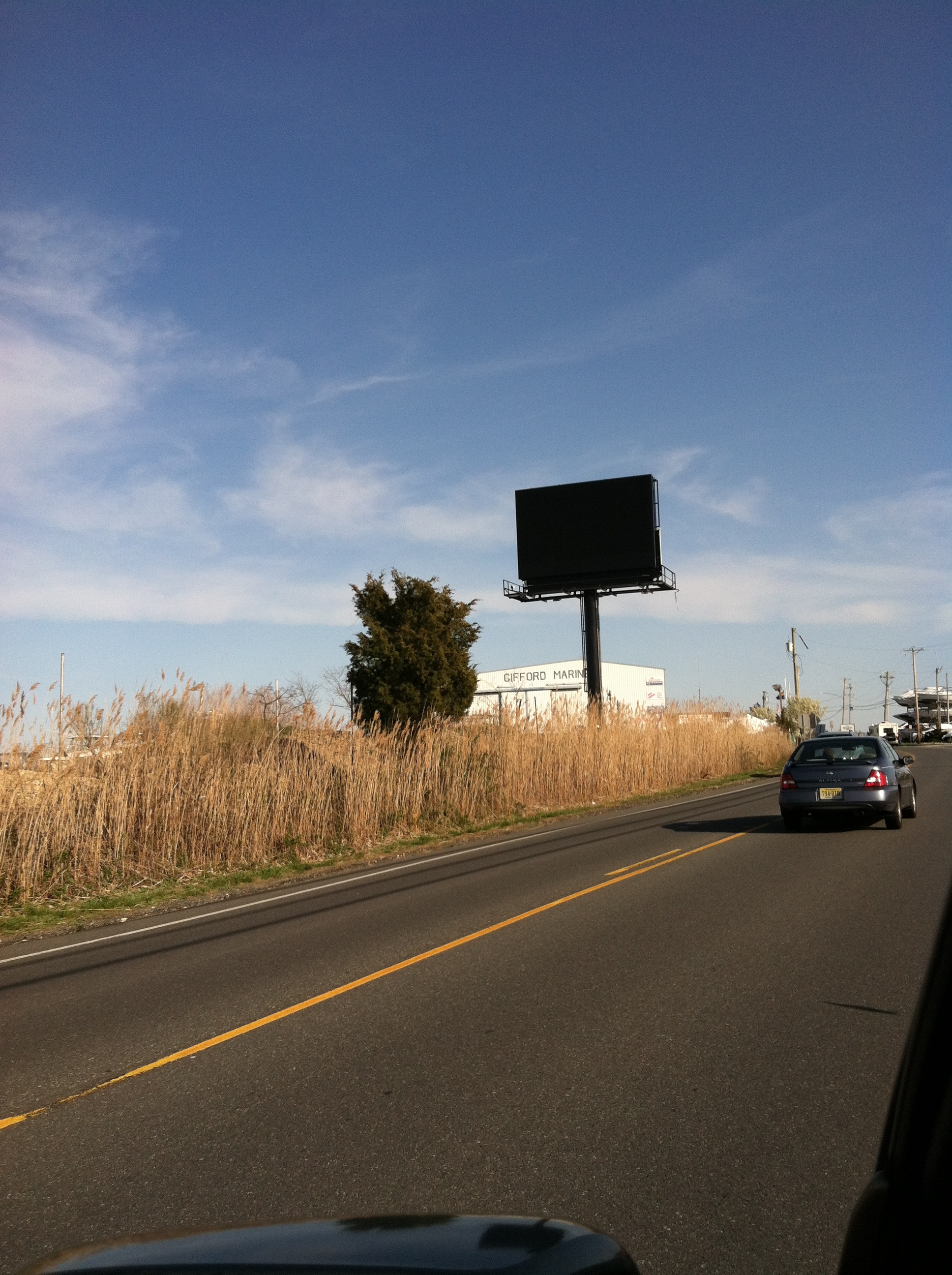 Driving back over the Margate causeway and bridge was a bit of a shock yesterday. I love that drive, the egrets, the ospreys, the wooden pilings in the water with the birds on top, the fallen piling that looks like the cross as it was being carried by Jesus through Jerusalem - man, don't get me started! It's beautiful. Usually the only sign that irritates me is the one informing me that I must pay a toll and, frequently, that the amount of that toll is going up. But yesterday, I got to see the fun new light up ginormous billboard errected in front of Gilford's Marine, bigger and more annoying than any of the old billboards that mar the view. Aw, come on, really? The land is part of Egg Harbor Township, one of those odd boundaries things that stem from EHT once being all of Atlantic County and the towns seceding and drawing their own boundaires. Mayor Sonny McCullough of Egg Harbor Township told me yesterday: "I wish it wasn't as high as it is. It's in compliance withour zoning. There's not much you can do about it. i have discoursaged this type of high profile signs in other areas of the township."
Sigh. I guess maybe market forces can discourage this type of thing, like what business would want to advertise on a billboard that will mostly annoy people on their way to the beach? And who would want to patronize a business that ruined their view so clumsily like that? Or maybe we'll just get used to it like everything else.
Previously on Downashore: My blog post, Is a seashore town only as cool as its coolest bar, which reminisced about the massive funeral of Billy Perry, a beloved bartender in Sea Isle City, during the summer of 2006, which basically shut down the town, elicited an awfully nice email from Jacki Perry Montgomery, Perry's sister. Her husband clicked on the post due to its "cute headline" (thanks!) and was amazed to see the story of that funeral in the first paragraph.
Montgomery wrote: "Never had I seen the town shut down and close streets and pull all resources. It was truly amazing. However, I thought it was just amazing to me, his little sister, to see such a tribute, but apparently that sight left a lasting impression on complete strangers as well. To turn on our computer 6 years later and read an article that relives that memory was wonderful. Thank you for that gift today." Thanks! And I'm glad I could honor Billy's memory. That funeral really did leave a lasting impression on me.