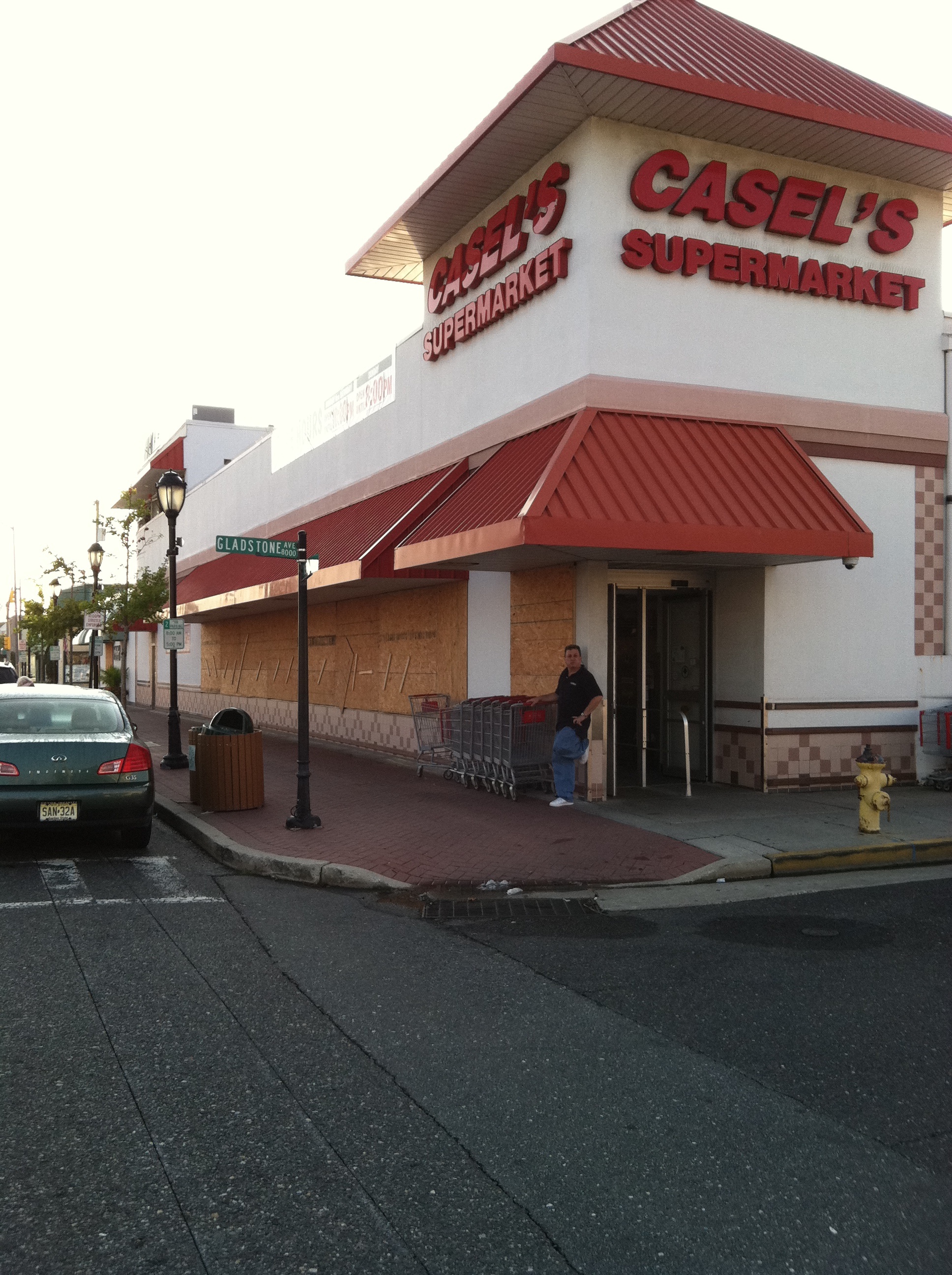 So....this is Howard Seiden, owners of Casel's in Margate, which, as you see, is boarded up but open. The bagel store was open as well! Locals this morning were either a. already gone. b. trying to decide. or c. surfing. The Margate bridge was supposed to have been shut this morning by 6 a.m. to incoming traffic, but this morning it looked more like between noon and 2 p.m. for that bridge and the other bridges leading into Atlantic City, Ventnor, Margate and Longport. "They're trying to get the tourists to leave," said one bridge toll taker. Mostly, they have. Locals are divided. A lot of concern, obviously, on the island, and most people are headed out. But so far this morning, it's sunny and beautiful. I woke up feeling scared, but calmed down with a bagel and coffee as usual (see below). Thanks Hot Bagels! The nuns from Blauvelt, N.Y. who vacation across the street from me in Ventnor left last night mostly (15 of them), and the last two left this morning. Sister Pat left me with her last bottle of wine, a nice big Barefoot Chardonnay. Thanks Sister Pat and God Bless. Thursday night felt really scary, everyone leaving in a hurry all of a sudden, but today the people still here are biding their time a bit. My kid s are now with a friend on the Mainland, (Evacuation: Egg Harbor Township), and I'm weighing my options. Some of their friends are, well, surfing. In Atlantic City, although some casino workers still hadn't been notified, plans were being made to close up the casinos by afternoon, for only the third time in history. The only precedent I guess for Irene is the hurricane of 1944, which tore up the Boardwalk. Margate never re built, which is why all the people in Margate now have to ride their bicycles to Ventnor to get on the boardwalk. Lots of activity at the boat ramps to secure boats. Scary stuff. More to come here and at twitter.com/amysrosenberg.
Atlantic City officials were preparing to open a shelter at the convention center right at the base of the expressway if necessary.
Here are our friends at Hot Bagels in Margate, slinging bagels and coffee while boarding up. Take that, WaWa (closed all over the island).