This has been an interesting marine science lesson in Jersey this week, hasn't it?
From these guys:
... to this unfortunate young mammal, shown here in a photo submitted to WPVI by Michael Wray of Ocean Grove.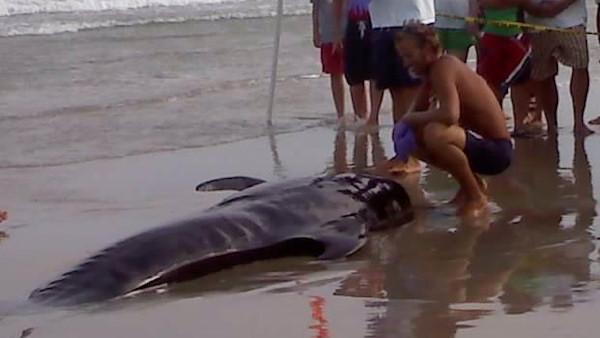 This is a 12 foot short finned pilot whale that washed up around 3 p.m. yesterday on the 35th Street Beach in Ocean City. Officials said it was severely underweight. It died shortly after it came ashore. Michael Miller of the Press of Atlantic City wrote: "The cetacean looked skinny for a whale, with a bulbous head and glossy black skin that reflected the sunlight."Some people on the beach pleaded with lifeguards to help push the whale back into the ocean, according to Miller's story. The whale's body was taken to the University of Pennsylvania for a necropsy. Miller's story noted that some parents told their children the whale was sleeping, others photographed the kids in front of the carcas, and one 9-year-old gave the whale a name: Ruby. R.I.P. Ruby.