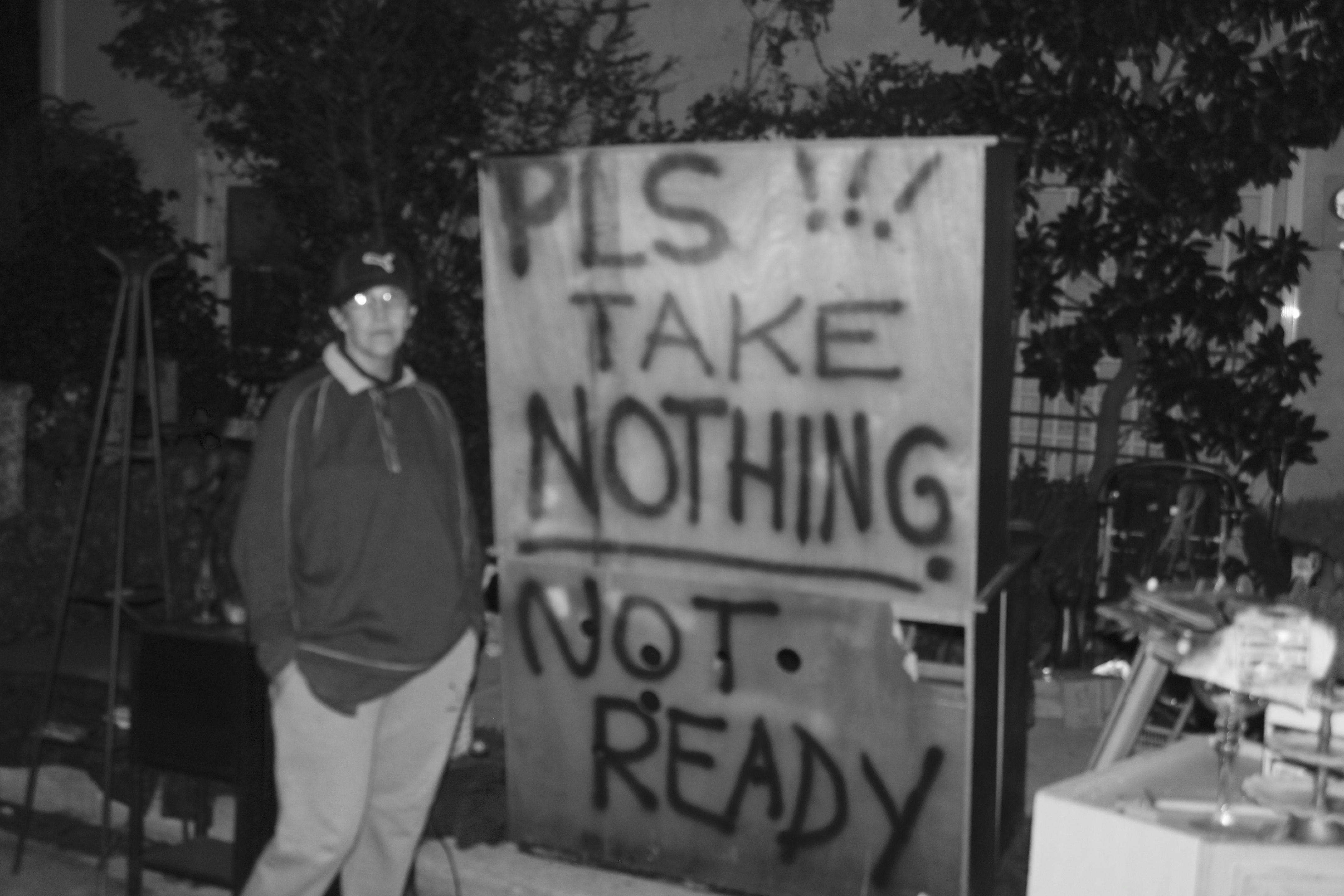 This is Christel Andersen, my neighbor, who like so many people in Ventnor and Ventnor Heights dragged her life to the curb, as another friend described it, in the aftermath of Hurricane Sandy. Not ready to totally declare the flooded contents of the first floor of her home (an apartment her mom lived in), she painted to the sign to shoo off scavengers and trash trucks. But eventually, the block long collection of furniture, clothing, photos, antiques, rugs, bedding and so much more will surely need to be let go of.
Anyone who went on the Ventnor Garden Tour this summer would know Christel's house, and her 68-year-old mom, because their house was on the way to a house officially on the tour, but the beautiful garden with the antique bicycles and her mom, a lovely woman with a Danish accent, stopped every garden tour trekker at an unofficial spot. So sad to see this way. Christel said her mom was staying elsewhere Sunday night, too much rearranging of her belongings, and anxiety over the loss. She and her children would remain upstairs, though at the moment they have no heat or hot water.
There was pain at both ends of the economic spectrum, affluent people with beautiful, wrecked homes whose loss was reflected in shock and violation. And people of more modest means, whose small homes in some cases were flooded with four and five feet of water, everything they owned betrayed by the ocean they love. My hometown nonetheless did me proud this weekend, as people dug in and cleaned out flooded belongings, assessed their options, filed their claims and helped their neighbors. Props to Capt. Doug Biagi and Amy Weintraub for their pop up Hurricane Relief Center at the Community Center on Newport Avenue, which was inundated with both donations and need, and was kept stocked throughout the day by neighbors making runs to the nearby Rite Aid. It was surreal, to say the least, to see the people you're more accustomed to waving to on the Boardwalk lining up for food and blankets. The biggest needs were diapers, paper towels, toilet paper and cleaning supplies. But there were piles of clothing, food, baby needs, sheets, towels, blankets and winter coats. Similar relief centers were established in towns all over the shore, at the Brigantine Fire House, the Soverign Avenue School in Atlantic City. It's sobering to see how quickly things can be altered, how people who worked hard to make decent and fulfilling lives for themselves, who love where they live and consider their regular spot on the beach as much their home as the house with the mortgage can be so suddenly upended
There was a lot of talk of FEMA, Flood Insurance, deductibles and adjusters. There was some talk over homemade stromboli about whether it's even worth it to rebuild in a place so vulnerable. Mostly, there were belongings, ruined and piled up, dragged out and cut into managable pieces. There are a lot of people with ruined heaters, and some cold nights ahead. There are condemned houses where people nonetheless say they will stay while repairs are made. The casinos looked deserted Saturday night, and I worried that some of the hardest hit would now lose their jobs. There was a lot of uncertainty. It will be a long haul.