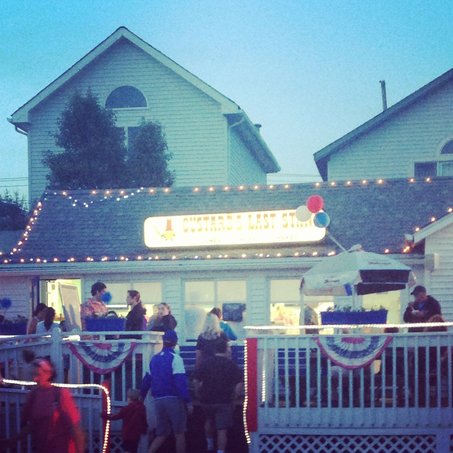 I've wondered since the storm, what would summer feel like this year? Would people come back after Sandy? Would it feel the same? Would it feel like people were missing? Well, the streets and beaches of the Jersey Shore, and the roads leading onto the barrier islands over Fourth of July weekend answered that with clarity. But very little elbow room. Even long time locals said they could never remember a holiday weekend that felt as choked with people as this one.
It was surely odd to see the old haunts lit up again, like Custard's Last Stand, above, in Ventnor Heights, a part of town pummelled by Sandy flooding, where homes are still vacant, many for sale "as is", newly elevated on cement blocks, simply abandoned to foreclosure or vanished to demolition, awaiting a new home and a new elevation.
Seeing Custard's Last Stand with its red white and blue bunting and outdoor lights outlining its roof and deck, all the shoobies on their ice cream missions again as dusk set in Wednesday on the eve of the Fourth, actually made me tear up a bit. Good work Shore lovers, you are as constant as the high tide that jammed the beaches the rest of the weekend. Seeing the unusual beach fireworks that lit up Atlantic City in four different places, giving the feeling that the entire town was filled with exploding color, as opposued to the usual over the ocean show, was a true statement of rebirth. Seeing people I know still aren't back in their homes back in their usual spots on the beach was reassuring. But I know a few good beach days is not enough to erase nine months of agony and uncertainty.