Flies are biting
The Downashore team reports throughout the summer on the latest news, information and musings from up and down the coast.
Flies are biting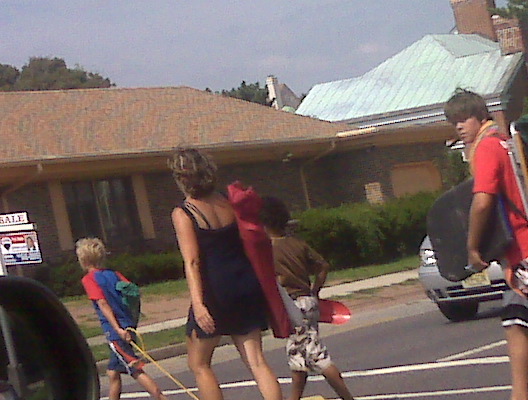 Above, fleeing the beach in droves...
So in theory, the place to be in this week's heat would seem to be the beach. Right? In theory. In reality, the beach today and yesterday was, by all accounts, downright miserable, with reports of biting flies coming from Long Beach Island, Ventnor, Margate and, not as bad, North Wildwood. I guess you'd call these pests see-ems, as opposed to the ones that sneak up on you, because this strain of Jersey Shore black fly boldly march up like parasitic beach bag checkers, spread out their fly towels and act like you'd invited them to hang out around your ankles for the afternoon. It was a war out there, really. One friend fleeing the beach after about an hour - unprecedented for this local beachfly - described reading her book, looking up and seeing a mass of black flies around her ankles, biting, and saying to herself, "What the heck am I doing out here?" And then, like the people above, abandoning beach. Or heading back into the water, which at least was warm and offered a brief respite from the blood suckers. The land breeze is, of course, the culprit, and so we can only hope it shifts by tomorrow, bringing the breeze again from off the ocean, making the beach again the proverbial "cooler at the shore" and sending the flies back to the mainland, or at least to Brigantine, where they belong.