Dead dolphin number 21 lay zipped inside a blue body bag, 61 inches from the tip of its bottle shaped nose to the point where the boat propeller had sliced off its tail.
A shark had taken some large bites out of its body, but only after its death. Its liver flapped out from the exposed flesh.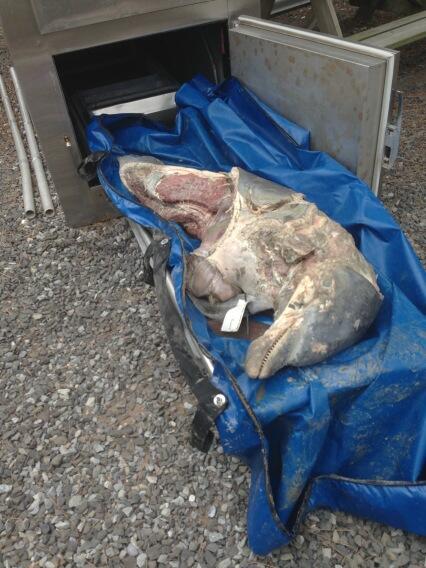 "We've had a few that look like this, a few that look perfect," said Danielle Monaghan, a field stranding technician with the Marine Mammal Stranding Center in Brigantine, which was storing the dolphin carcass in a cooler made decades ago to store bodies killed in Vietnam.
Since July 9, 21 dolphins have washed up in New Jersey, with pneumonia found in four of them. One tested positive for a measles-like virus known as morbillivirus that was blamed for killing nearly 750 dolphins in the 1980s.
This particular dolphin was found washed up on the Clermont Avenue beach in Margate around 8:30 a.m. Thursday, spotted by a city public works crew. Monaghan said its healthy teeth suggested that it was a young adult.
The elevated number of dead bottlenose dolphins washing up in New Jersey this season, along with an even higher number washing up along Virginia's coast, is alarming marine mammal experts locally and with the National Oceanic and Atmospheric Administration.
"At this point, we don't know the cause," said Maggie Mooney-Seus, a spokeswoman with the Northeast Fisheries branch. She said a notice had been sent out to the stranding partner network along the coast alerting them to the elevated numbers showing up in Virginia and New Jersey.
"We'll monitor it to see if there's any kind of trends," she said. "Unfortunately, that information takes awhile to do all the testing."
Bob Schoelkopf of the Marine Mammal Stranding Center in Brigantine said the dolphins were being sent to the University of Pennsylvania's New Bolton Center for necropies.
That effort was being hampered by layoffs two months ago at New Bolton, and also by a broken down van among the Center's fleet.
Some of the dolphins were too decayed to yield any definitive results.
Troubling was the presence of the morbillivirus virus in on one of the dolphins with pneumonia. That virus was considered responsible for the deaths of more than 700 dolphins along the East Coast in 1987 and 1988, 90 in New Jersey.
A fisherman's video of a shark feasting on a dead dolphin seven miles off the coast of Atlantic City was nothing out of the ordinary. Sharks rarely if ever will attack live dolphins, who are fast enough to elude the sharks, said Monaghan, of the the Brigantine center.
"Quite a few of them are coming in half eaten," said Schoelkopf. "There are sharks out there and they're feeding. They're not attacking live dolphins. They're eating dead carcusses.
Mooney-Seus said the widespread geographic area where the dolphins were washing up suggested a disease as the culprit, rather than a fishing net or other human involvement.
"I would tend to think it's not an issue of fishing," she said, "seeing it in different states. Some have lesions, which is more likely a sign of some kind of disease."
One dolphin had a knife slit down its middle, as yet unexplained.
In Brigantine, Monaghan said they have been getting reports of one to two dolphins a day. Wednesday saw one in Atlantic City. A dolphin that washed up Sunday at the Pittsburgh Ave. beach in Ventnor attracted crowds of joggers and bicylers before it was taken away.
Other dolphins have been found along beaches in Ocean, Monmouth, Atlantic and Cape May County beaches. Other dolphins have been reported dead out in waters offshore but have not washed in to be officially recorded.
Schoelkopf said the dolphins spread the diseases to one another just like humans. "They're social animals, it spreads from one to the other," he said. "When they come up to breath, one is exhaling, the other inhaling."