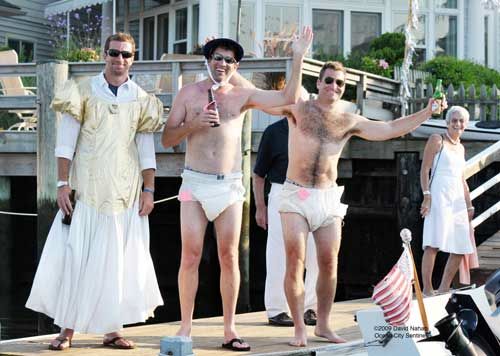 Ah, does anything say Jersey Shore more than a bunch of guys dressed up in diapers parading on a boat down the back bays of Ocean City as waterfront home owners host gracious living parties on their decks? I think not. This Saturday is the annual Night in Venice boat parade, a tradition that dates to 1954 and this year features a "Broadway by the Bay" theme and Flyers forward Ian Laperriere as grand marshal. Ocean City p.r. guy Mark Soifer is saying there will be fewer boats in the parade this year (50 from last year's 80, as many apparently have kept their boats out of the water.) Start time is 7:30 p.m. from the Longport Bridge.
But the day will not be complete if you don't spend the daylight hours on your bike riding from house to house in the second annual Ventnor garden tour, which was a spectacular success last year. Tickets and maps are $15 and available in front of the Ventnor library. Last year's highlight was Harry Hasson's garden, complete with a two story waterfall, a hu g e rock trucked in from Florida and all kinds of cool weird sculpture. This year, I'm looking forward to the Sabatini house, where Vincent and his daughter Anna have created an homage to their fine restaurant that once stood as a symbol of the little guy standing firm against Donald Trump and the casinos that wanted to take their property to expand Trump Plaza. The Sabatinis (below, in their Pacific Avenue restauant) held on until they were good and ready, and rose to fame in the panels of Doonesbury as taking on The Donald. They finally sold to Trump, retired and took the awning and some other memorabilia with them. According to this Press of Atlantic City Story, their garden now has everything but the Sabatini restaurant kitchen sink in it, and possibly that too. In the story, Vincent Sabatini notes that when his wife, Claire,now deceased, was ill, both Garry Trudeau and Donald Trump sent flowers and well-wishes. Sweet. In this town, we're all in it together.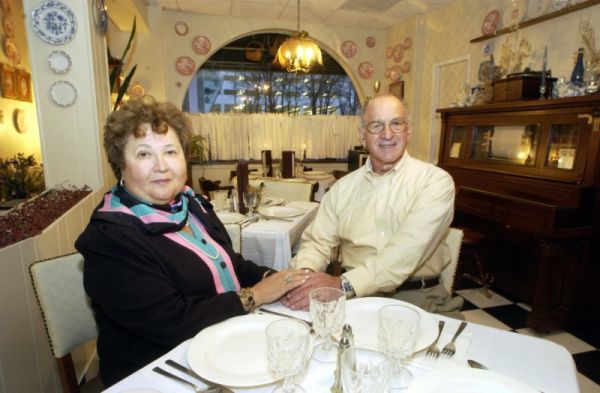 PREVIOUSLY: Atlantic City's Boardwalk first in NatGeo's List of Top Boardwalks in, well, alphabetical order only.