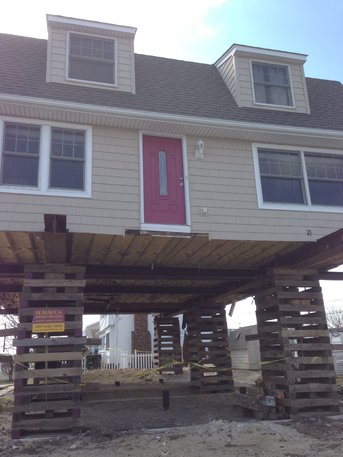 The certainty admidst the confusion continued to be the norm in New Jersey this week as the Christie administraiton continued its earlier announced policy of adopting FEMA's new flood maps as the standard for rebuilding statewide. This action, the Department of Environmental Protection said in a statement, "provides clear direction for residents as they rebuild from the devastating effects of Superstorm Sandy."
That direction is as clear as the house in the photo, left: UP. But just how far up remains murky. FEMA's recently released Advisory Base Flood Elevation maps hit like its own tsunami, reassigning thousands of homes into High Velocity zones and requiring vast swatches of homes to be elevated several feet or face hikes in insurance premiums that many predicted would chase people off the island. (Something environmentalists might think is a good outcome, but Gov. Christie has not endorsed.)
The elevations are on average two to four feet higher than standards that had been in effect under the significantly outdated FEMA flood maps, according to the DEP.
DEP Commissioner Bob Martin "stressed that setting new elevation standards now will protect property and lives in future storms and help residents avoid the shock of significant flood insurance premiums when FEMA formally adopts new federal guidance for flood insurance.
"We must never allow ourselves to forget the scope of destruction from Sandy," Commissioner Martin said in the statement. "It is absolutely critical that we rebuild stronger and more resilient in the aftermath of this historic storm.
Martin insisted that the standards provide "a clear path" but acknowledged that "these are advisory FEMA maps." "The state and FEMA anticipate changes to these maps – and possible reductions to the numbers of properties that will be required to elevate to new heights – as the federal mapping process is finalized," he said.
Ok. State Sen. James Whelan of Atlantic County has indicated that lobbying by officials seems to have made some headway with FEMA, and its final maps are expected to show reduced numbers of homes requiring drastic changes. So, things are still up in the air you might say.
The DEP reminded residents that money is available through Community Development Block Grants, as well as FEMA's ICC (increased cost of compliance) for elevating homes.
"The Rehabilitation, Reconstruction, Elevation and Mitigation (RREM) Program will provide eligible homeowners up to $150,000 for reconstruction, rehabilitation, elevation and/or mitigation of damaged homes," the DEP said. "Priority will be given to homes in the nine most impacted counties that are deemed by a municipality's floodplain manager to be substantially damaged (damages equal or exceed 50 percent of a structure's market value.)"

Commissioner Martin added that residents can wait until FEMA maps are finalized. If they want to rebuild, "The DEP will continue to adjust state elevation requirements for each municipality as FEMA moves through the process of finalizing its maps as part of its formal adoption process."
Other reminders:
• Homeowners can start by going to their local construction office and securing local building permits. They do not need a DEP permit if they build to the state elevation standard and build on the same footprint. (Some exceptions will be granted for adjusting the footprint, particularly if this puts a structure in a safer position.)
• If a home did not sustain 50 percent damage, the owner does not have to do anything now but is likely to face significantly higher flood insurance costs when FEMA adopts the final flood maps and if the homeowner does not elevate.
• If a home sustained 50 percent or more damage, the owner must elevate to the ABFE plus one foot. The additional foot is required under an existing requirement in the Flood Hazard Area Control Act rule.
- Under the rule amendments, property owners who rebuild to the ABFEs (plus one additional foot) will be able to do so by a permit by rule. This eliminates the need to apply for DEP's Flood Hazard Area permits, resulting in savings in permit fees and design and engineering costs, and allowing reconstruction to begin without waiting for DEP review.
- The rule also allows "wet flood-proofing" for non-residential buildings. Wet flood-proofing means that a building may flood but will structurally withstand the water. This enables reconstruction in urban areas in a safe and less costly manner than requiring elevations or dry flood-proofing.
For online maps and more information, visit: http://www.region2coastal.com/sandy/abfe
For FAQs on the rule, visit: http://www.nj.gov/dep/special/hurricane-sandy/docs/rebuilding-after-sandy-factsheet.pdf