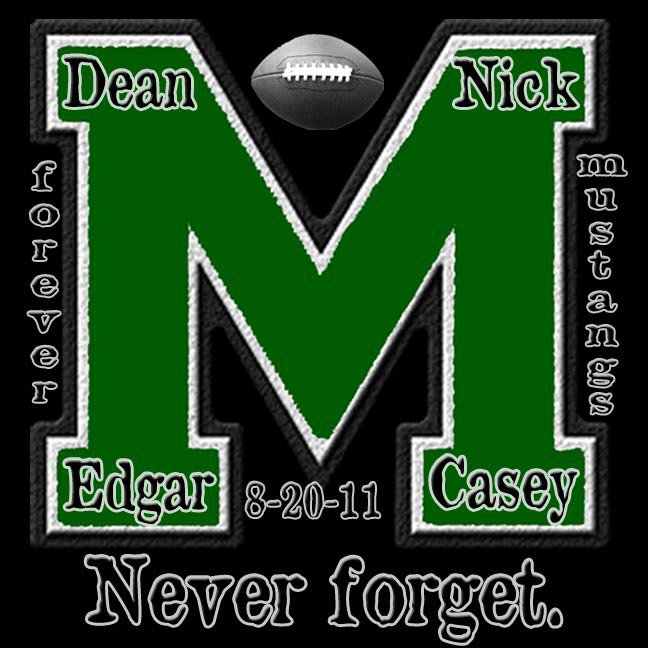 It was a heartbreakiing and devastating weekend at the shore, with the news hitting the beach not even an hour after the tragic accident Saturday that killed the four Mainland Regional High School football players, Casey Brenner, Dean Khoury, Edgar Bozzi and Nick Conner.
I heard about it from my daughter, who saw it on facebook, where tributes and condolences started almost immediately. With so many witnesses _ there were other cars of Mainland football players also headed from practice to a ritual end of summer breakfast in Mays Landing, plus four survivors, there was no mystery about who had lost their lives and how. One boy's mother was on an airplance, coming home from taking another child to college at the time. At the 22d Street beach in Longport, known as the "Mainland" beach, the phones started buzzing on the sand not long after the 11:45 a.m. accident on the Garden State Parkway, according to moms who were there. Teens started crying, talking into their phones , and then leaving, and the beach pretty much emptied, I was told. It was horrible and remains horrible. I know so many Mainland families but don't know these families personally; my own daughters, 14 and 16, know friends of theirs but did not know the boys themselves. ( Th ey were of course friends on facebook, such is the nature of this generations' connectiveness.) My girls picked up snippets and connectedness in the days following, whispering them to me at odd times...This friend of theirs "talked" to one boy in the month when he was broken up from his girlfriend, another boy's girlfriend spent the night grieving in the boy's room, small heartbreaking tributes on the boys' facebook walls capturing all the peaks and valleys of teenaged lives. I thought the moment of silence on Monday afternoon observed by broadcasters Joe Giglio and Mike Krenekon on the local ESPN radio station, based in Northfield where one of the boys lived, was heartbreaking. Tonight, at Citizens Bank Park, the Phillies will also observe a moment of silence in the boys' memory, and about 50 of their teammates will be in attendance in their green and white Mustang jerseys. Their lives, like the boisterous chatter you expect to hear on the radio, at the ballpark, at the field, were filled with exhuberance, a football season ahead of them, comraderie and competition. All cut short. Parents here and everywhere can try to learn the lessons, remind themselves and their kids of New Jersey's law that limits drivers under 18 to one non-family passenger, the dangers of piling too many kids in the car, driving too fast, perhaps horsing around. We can cling to our kids, be grateful that they've even made it to the dinner table (and wonder if their willingness to head out to dinner with us Sunday night with their grandfather, where they might have been expected to grumble a bit, was a result of a similar impulse. Seeing a family of teenaged boys out to dinner that night made it plain. There but... Bob Coffey, the Mainland coach, who organizes the end of summer breakfast every year, is no doubt personally devastated. But in the end, it was tragic and random, taking a curve too fast on a summer's day, running into an unexpected backup of cars, the rollover, and you can only pray, like the facebook tribute page that collected tens of thousands of likes in just a day or so, that the boys will rest in peace, will never be forgotten, and their families, friends and communities can find comfort in their love for the boys, for their teammates, and for all of their children.
The Mainland Regional Community Partnership has established a fund to help the families pay for funerals and for establishing ways to honor their memories in the future. Donations may be sent to MRCP Special Fund, POB 112 Linwood, NJ 08221.