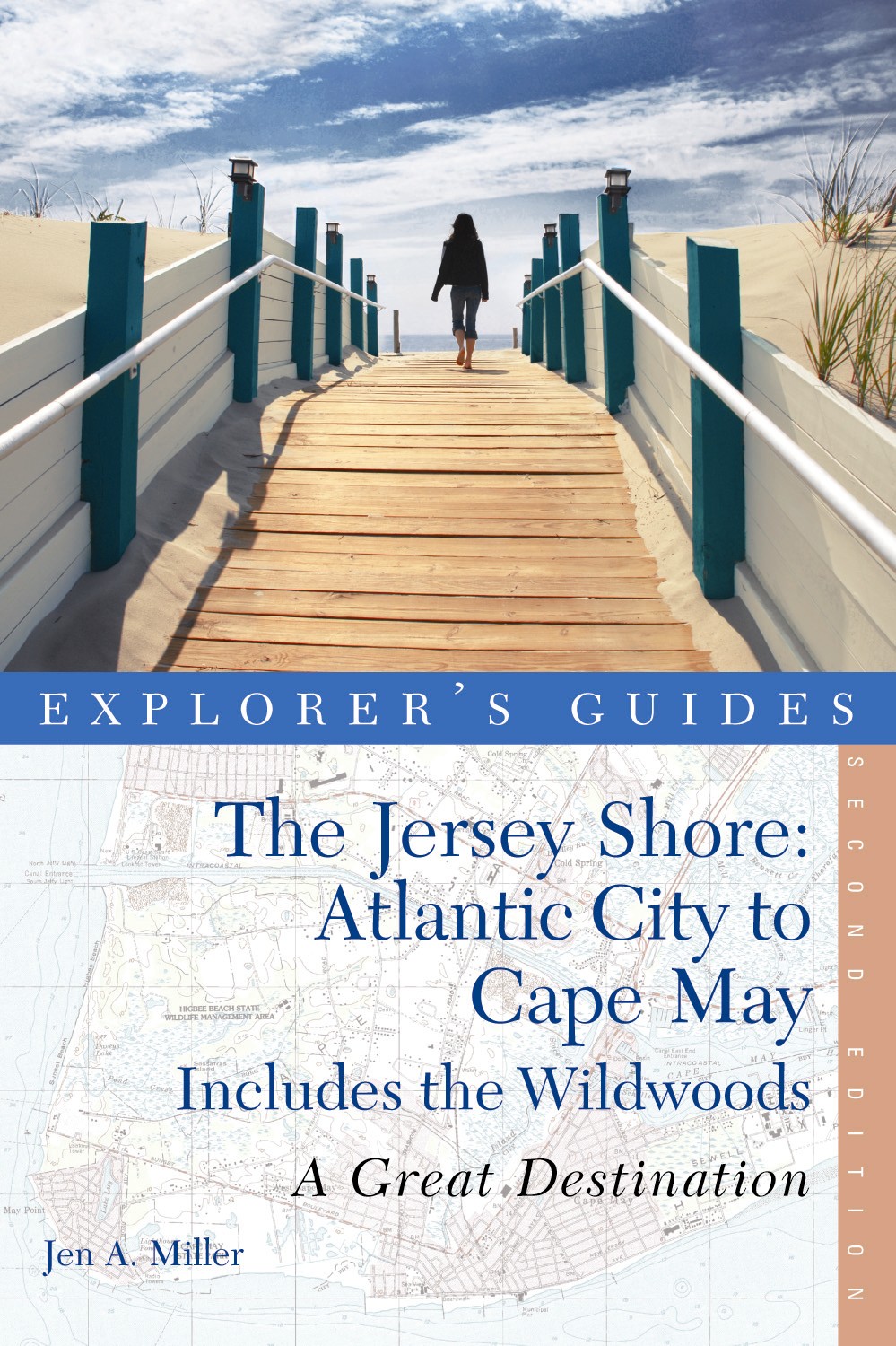 This morning, we chatted up Jen Miller,
author of a guide book to the Jersey Shore,
just out in a second edition.
Jen blogs at
downtheshorewithJen.blogspot.com and
@jerseyshorejen on twitter.
(And my essay in Thursday's Inquirer on my
deep
and existential feelings about the start
of another summer season at the shore,
illustrated with my actual flip flops, is here.)
Jen: Hey
Sorry about that - I was giving advice to a
bridesmaid who is planning an Atlantic City
Bachelorette party.
me: Ha. What did you tell her? Bridesmaids
run amok in Atlantic City. I'd say
P.F. Chang's is the top spot.
Jen: Maybe for dinner, but her questions
were for what clubs they should go to
me: And, the answer? Harrah's Poo l?
Jen: She says the bride isn't a big drinker and wants to dance,
so I suggested mixx at the Borgata, C5 Club
at the Chelsea, Dusk at Caesars, and the
bars inside the Quarter at the
Tropicana IF they want to bar hop. I also recommended Pool
at Harrah's, depending on if there are any "celebrity"
that night, which can change the crowd and atmosphere.
I mean..do you want David Hasslehoff at your bachelorette party?
If it were me, YES. But not everyone would say that.
me: Jen, do you think Atlantic City has finally repositioned itself as a place
young people find hip?
Jen: I do. I know the gambling revenues have been down for an
epic 32 months, but when younger people from this area want to go out - really GO OUT -
it's to Atlantic City.
I've consulted on about a dozen bachelor/bachelorette parties this year already. A record!
me: Amazing. My daughter went to P.F. Chang's for her 14 year old birthday
and the place was filled with bachelorette parties. The Tropicana itself is like roving
bands of bachelorette parties this time of year. This bodes well for Atlantic City's future.
Jen: It does, and it's been that way at least since I started writing the first book in 2007.
I was hanging out with a friend there last summer, and we saw 6 groups, from hipsters to
glam girls to a group of tough looking chicks. All bachelorette parties, all in the same place.
me: Are you doing the consulting like a business? Or just a side perk of being
Jersey Shore Jen (not Jenn)?
Jen: I don't charge for this kind of stuff, though people I help usually buy my book.
I consult with a lot of weddings, too - some of those brides and grooms go on to buy
copies of the book for members of their bridal party (which I will sign, of course).
And it's fun! I just had a reader email me - she and her husband just moved to Philly from
California, and I met her at 7:30am before her doctor's appointment last Friday so
she could have the book for Memorial Day Weekend. She wrote me a
lovely email outlining which of the suggestions she used. Sure, I'm glad
I sold her a book, but I really like helping people making the most out of their trips.
me: Jen, your new edition of the Explorer's Guide book, The Jersey Shore, Atlantic CIty
to Cape May, looks great, with new color photographs and some new essays,
including a great one by Amy Quinn on the Wildwoods. What was the reaction
to the first book, and has a lot changed for the new edition?
Jen: The reaction to the first book was very positive. It was, from everything I've seen
and read, the first book that honed in on the area that we consider to be our Jersey Shore.
I didn't expect it to be as popular as it was - and I certainly didn't expect my blog
to have that many readers, or to become known as "Jersey Shore Jen."
The first difference you'll see about the second edition is what you mentioned - it's in full,
brilliant color.
The content is very different too. My process in doing this wasn't an update. I tore the
book apart and put it back together, focusing more on what I thought was the best rather
than listing as many places as I could.
My publisher subscribes to my blog, and we've talked often about books needing to have
a voice. So I put more of it into this edition of the book.
me: Any new revelations? Any new favorites? You still won't give props to Mento's
Water Ice in Ventnor, which everyone knows is better than custards (for water ice anyway).
But I loved seeing Miss Kitty Hiccups crowned as Miss'd America. The tradition lives on,
as only Atlantic City could conjure up.
Jen: The debates the book brings up are really fascinating to me. You bring up
Mento's. Just get people started on which pizza places are included or not!
Despite this book being written at the tail end of the recession, a lot of places
have opened since the first edition came out in 2008 - the Beach Shack in Cape May
with their bar the Rusty Nail is hands down my favorite. I remembered to put in a photo
of Lucy the Elephant this time - plus the copy of her that was in Cape May called the
Light of Asia. Emil Salvini, who has written a slew of Jersey Shore history books,
allowed me to use some photos from his archives, and we ran some vintage postcard
images, too. I made SURE to put more off season information, which was a criticism
of the first book.
And yes Miss Kitty. I went to Miss'D America to see what it was all about and am
happy that not only is the GLBT community having more of a presence in AC but that
part of the Miss America traditional continues.
me: Yes, though I fear Miss'd America is about to be co-opted by the tourism folks,
which means, of course, that there will have to be a new pageant to subvert the
pageant that was invented to subvert Miss America. In any case, the shore is
such a moving target. I noticed just yesterday that one of my favorite restaurants,
Dune, in Margate is closed, and a Latin fusion place is supposed to open there.
Poof! I think the best local tradition I've happened into over the off season is the
half-price appetizer happy hour at the bar at the Knife & Fork. That's a great,
happy scene, and never kookier than the night of the Rodeo in Boardwalk Hall,
when the locals came in cowboy hats. And there's a great new clothing store in
Ventnor, Scout, on Atlantic Avenue, which could be in downtown Manhattan and
nobody would blink. Very chic. Keeping my fingers crossed for that one.
Jen: Yes, and that's part of the challenge of writing a book like this. Dune is in
my book, too - McGlades on the Pier in Cape May, too, which I learned now has
a different name while I was waiting at the start line of the Great Cape May
Footrace in May. I was adding and deleting up to two days before the book
was sent to the printer. I wrote the book as the whole new state legislation
about the Atlantic City Tourism district was being hashed out, and the mini-casino
legislation as well. Impossible to cover in real time in a book that will be out for years!
But that's where the www.downtheshorewithjen.com blog comes in. That's as up to
date as possible.
me: You recently wrote an essay about the real Jersey Shore not resembling anything
you might see on MTV's Jersey Shore. I'm not sure I agree. I mean, there's definitely a
whole part of the shore that is family oriented, and people just appreciating the beaches
and the ocean, and the boardwalk etc. But I also think that show captures something true
too - exaggerated for sure. But it's definitely a place that brings people in trying for the
big party weekend. Those places in Seaside are true enough. And the Pool at Harrah's is
filled with Snooki wannabe's. Or maybe life is starting to imitate MTV at this point.
Jen: Well, first off - Atlantic City is its own entity. The casinos did that, so it's really
unlike any other shore town. It also imports more visitors than I think any other
shore town, including a lot of New Yorkers who want to see David Hasslehoff or
Kim Kardashian at the Pool at Harrah's.
But for the most part, the big "parties" down the shore are what you'll find at the
OD in Sea Isle, which involves cover bands and flip flops (and for some reason,
guys in sports jerseys. I never figured thatout).
(as in sleeveless basketball tops, I mean)
Does it exist? Yes. But it's a small sliver, and generally not from here. I hate
that the name "Jersey Shore" has come to mean something it's not. As you know,
most of my business as a writer is in magazines. I had two features of major
publications cancelled because of the MTV show and the association those
magazines thought a Jersey Shore article (one about Cape May, one about Asbury Park)
would bring. The GOOD news is that those incidents were in 2009. It doesn't seem to happen
anymore. I have a big article about Asbury Park coming up in American
Way magazine, and the editor didn't bat an eye about a Jersey Shore topic
I mean...Cape May and Seaside. Really? If they had called it Seaside, fine. But
what they're perpetuating is a lie.
me: Well, I do have to say, my daughters think it's amazing that they live in a
place, the Jersey Shore, that is known around the world. The characters are kind of nuts,
but I do think that whole crazed scene is not that far off from what you fine at the OD, different look
maybe, not so tarted up. But that whole party scene is definitely a part
of the summer scene down here. And the place is filled with people not from
New Jersey, so that part of MTV's show doesn't bother me. We watch it as camp
and soap opera, and it's still cool to see the shore as the backdrop. But you know,
it is amazing that the Jersey Shore brand got so coopted in that way. But there you go.
Jen: We will have to agree to disagree on that one...the OD scene with cover
bands is nothing like what's on that show. I really can't stand it. Then again, I
lost a few thousand dollars worth of work about it, and have sort of been forced to
lead a grass roots movement to show the rest of the world that we're not like that.
Said it before, and I'll say it again: once one of them goes bankrupt or does porn, I'm
throwing a big blow out party.
I also see long term damage to the image of the shore from this, especially since
NJ Tourism didn't step up to try to counteract that message...but that's an ENTIRELY
different conversation ;-)
me: So the magazines felt that anything to do with the Jersey Shore was, what,
unsuitable for their image? That's kind of nuts.
Jen: Yup. One story was related to a shop inside Congress Hall. I was tempted to
send them a list of how much rooms cost there in the summer to counter their comment.
me: Amazing. Anyway, thanks for stopping by the blog. Where can people get your
book? You have a signing in Avalon, is that today? Any future plans to be down here?
Are you taking a shore vacation yourself, or is that like a busman's holiday at this point?
Jen: Hey, thanks for the chat. I'm always happy to talk - and debate! - the Jersey Shore.
You can buy the book right now on Amazon at http://tinyurl.com/3fovfj3 or at
bn.com at http://tinyurl.com/68fznv9
It will be in major bookstores starting June 6 and at shore stores starting then as well
I have a signing/meet up at the Princeton in Avalon tonight at 7:30.
On June 8, I'll be hosting a fundraiser for Lucy the Elephant at Lucy's Hat Shop
in Philadelphia from 5-8. It's free, though for $25, you get a book and a drink with
all proceeds going to Lucy.
On June 22, I'll be speaking at a Haddonfield Library Event at 7:30, I believe at
Grace Church.
On June 25, I'll be hanging out at the Shamrock in Wildwood from 5-8pm. They've
added a few extra shore themed drink specials, and of course I'll be selling and signing.
And then if you want to think REALLY long term, I'm going to be a featured author
at the Collingswood Book Festival on October 1.
I've been using twitter and facebook to do a lot of individual sales. I can mail a
signed copy anywhere - that's the beauty of Paypal. I've also met up with people to
sell a copy if they're in the same area I am. Worked out quite well.
me: And for your own vacation, the Poconos?
Jen: HA!
Can you believe Avalon?
me: Awesome. Thanks Jen, and good luck with the book.
Jen: Thanks Amy! See you Downashore!
Previously on Downashore: Flip Flops: The Essay