BYOB petition certified in Ocean City
Ocean City looks headed for a big BYOB vote on the May 8 municipal election ballot.
BYOB petition certified in Ocean City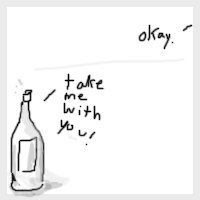 According to my pals at Ocean City patch, Ocean City's clerk has certified the petition calling for a vote on whether to allow people in Ocean City to bring beer and/or wine with them to dinner in the famously dry beach town founded by Methodists, in which everyone just goes to Somers Point to buy their alcohol or drink on the town. This means that City Council will vote on the matter, probably on Thursday, and probably against it. This will then allow petitioners to bring the matter onto the May 8 ballot. Especially during Restaurant Week, the futility of not allowing the excellent chefs in Ocean City to bring in patrons who want to drink wine with dinner seems odd. As a friend of mine who lives in Ocean City points out, if you think the town is not drinking, just check out the recycle bins.
(Illustration from the OCBYOB Facebook page)