This year, instead of one night here, one night there, Atlantic City's putting all its Fourth of July fireworks into one night, the actual Fourth of July. Should be very cool. Grucci family produced Fireworks will start over the Marina at about 9:20 p.m. and run for 22 minutes. (These marina shows are awesome, best viewed from the Farley State Marina. Last year, the wind was blowing such that anyone watching from what was then Trump Marina (now Golden Nugget) probably just got a big smokey gust.)
Three minutes after the end of the Marina Fireworks this year, at about 9:45 p.m., the fireworks will start again over the Pier at Caesars, best viewed from the Boardwalk or the beach. The beach is always a sweet place to watch, especially if there's a nice moon and stars situation, which then means you have to ponder the beauty of natural light and sky and lapping waves versus manmade boom and burst power.
Some of the best spots probably are in an anchored boat, though I've never done that. These Boardwalk fireworks will run for 24 minutes. Ocean City will be doing its fireworks around the same time, not to mention the always festive Margate Mother's Club fireworks on Huntingon Avenue. All of which gives you multiple angles to surround yourself with fireworks.
Used to be, you could position yourself to watch fireworks coming out of the Sand Castle Stadium as well, but those are a thing of the past, although the stadium will see new life that weekend in the form of an always lively Rick Ross concert on July 2. And no mention of Fourth of July fireworks in Atlantic City would be complete without a nod to the excitement of a decade ago, when Atlantic City's fireworks on a barge ended in a actual fire out on the barge that ended up the lead story on the Today show the next day. Always interesting!!!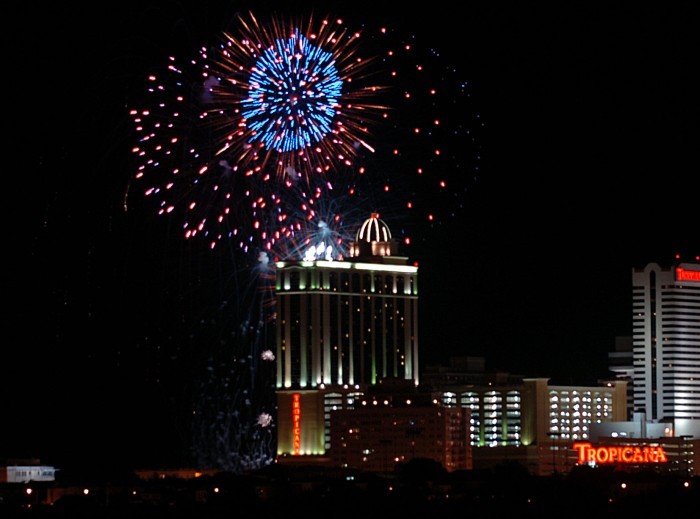 Photo from July 3, 2010 by Ben Fogletto, Press of Atlantic City