Archive: August, 2011
Amy Rosenberg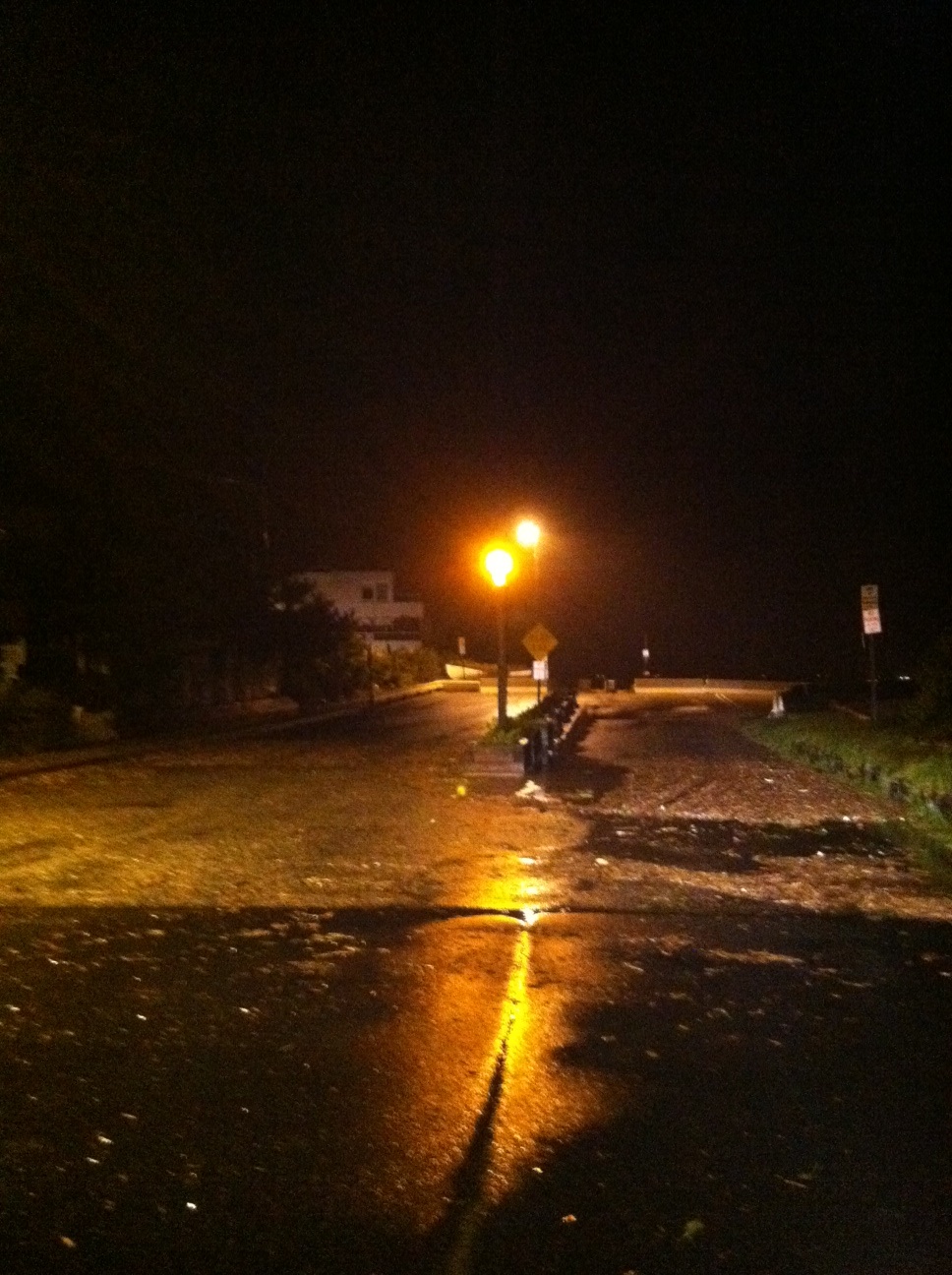 So there's the tip of Longport, sometime in the middle of the night. The fact that I drove the whole length of Atlantic Avenue during a Hurricane event should tell you that this is so far a less than epic storm, though it's been entertaining. Beach blocks have flooded, including Kenyon Ave. - someone tell Vince Fumo, whose house is there _ and there's back bay flooding. Some random screens in the middle of the street and a few branches, and after the high tide receded, there was sand in some streets, especially Longport. Margate beach blocks seemed more flooded than Ventnor's. The rain and wind whipped up the sand. And hey, that cascade of tornado warnings was pretty ridiculous! Still no confirmation that there was ever a tornado in Longport, I didn't see anything on my ride, but I guess it's still possible. We never lost power, but many mainland communities that people evacuated to lost power. There you go. Meanwhile, the eye is pass ing by the Jersey shore even as I write, but frank ly, it still feels like a bad noreaster or something. But the high tide should be interesting.
Here's a photo of Atlantic Avenue flooding in Margate.
Amy Rosenberg
Well, yeah. God Bless Dino's Yup, still open, doing a brisk breakfast and subs-to-go business Saturday morning, even as Margate police patrolled the streets telling drivers to get off the roads. I got pulled over coming back from Dino's. "Only the diehards," the police officer told me of the people left.
Dino's owner Leo Heintzelman was predicting he'd be able to open up Sunday afternoon as well, and would be riding out the storm on Jerome Avenue with his 88-year-old mother. "That house has been there forever," he said.
Amy Rosenberg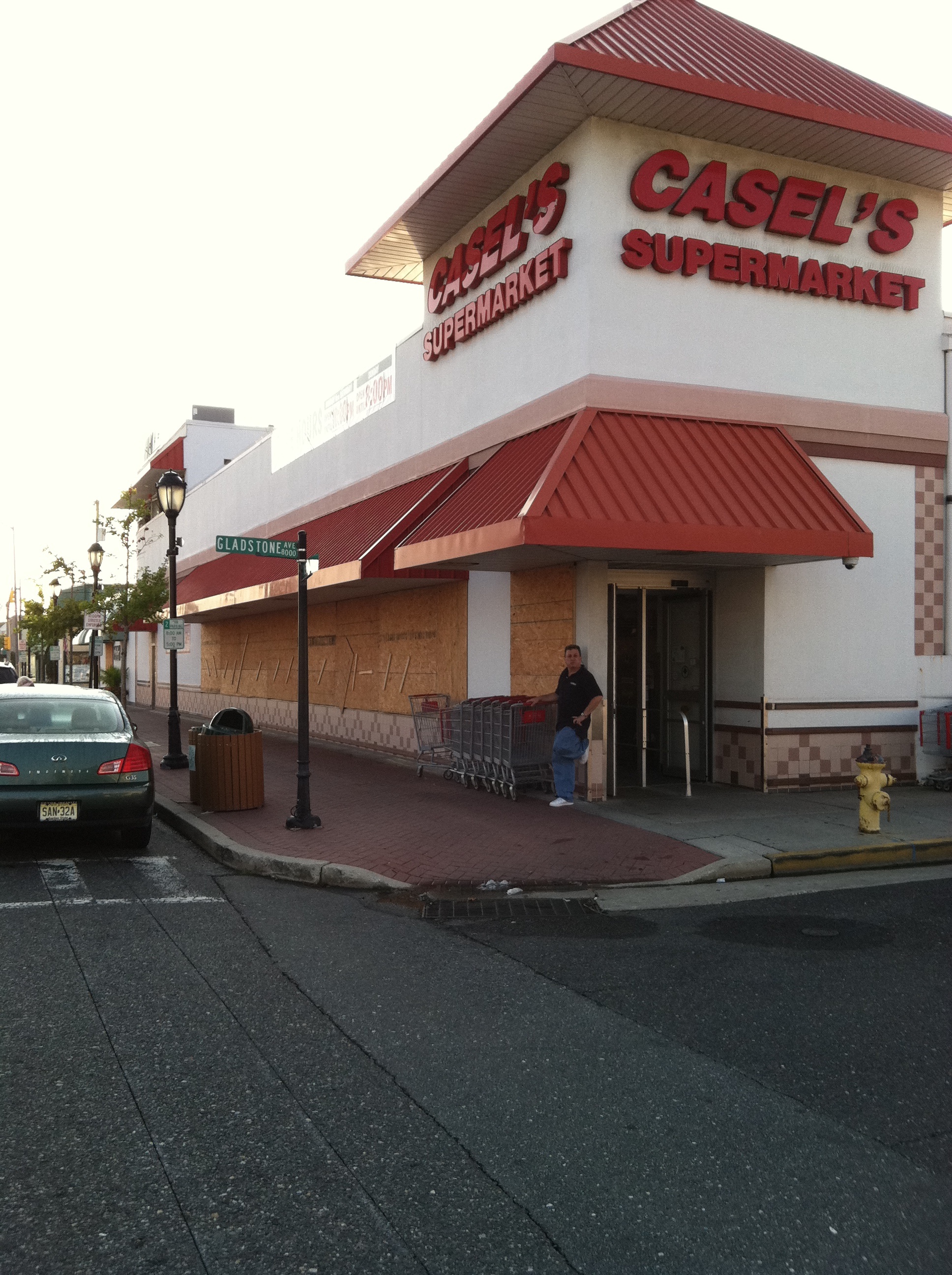 So....this is Howard Seiden, owners of Casel's in Margate, which, as you see, is boarded up but open. The bagel store was open as well! Locals this morning were either a. already gone. b. trying to decide. or c. surfing. The Margate bridge was supposed to have been shut this morning by 6 a.m. to incoming traffic, but this morning it looked more like between noon and 2 p.m. for that bridge and the other bridges leading into Atlantic City, Ventnor, Margate and Longport. "They're trying to get the tourists to leave," said one bridge toll taker. Mostly, they have. Locals are divided. A lot of concern, obviously, on the island, and most people are headed out. But so far this morning, it's sunny and beautiful. I woke up feeling scared, but calmed down with a bagel and coffee as usual (see below). Thanks Hot Bagels! The nuns from Blauvelt, N.Y. who vacation across the street from me in Ventnor left last night mostly (15 of them), and the last two left this morning. Sister Pat left me with her last bottle of wine, a nice big Barefoot Chardonnay. Thanks Sister Pat and God Bless. Thursday night felt really scary, everyone leaving in a hurry all of a sudden, but today the people still here are biding their time a bit. My kid s are now with a friend on the Mainland, (Evacuation: Egg Harbor Township), and I'm weighing my options. Some of their friends are, well, surfing. In Atlantic City, although some casino workers still hadn't been notified, plans were being made to close up the casinos by afternoon, for only the third time in history. The only precedent I guess for Irene is the hurricane of 1944, which tore up the Boardwalk. Margate never re built, which is why all the people in Margate now have to ride their bicycles to Ventnor to get on the boardwalk. Lots of activity at the boat ramps to secure boats. Scary stuff. More to come here and at twitter.com/amysrosenberg.
Atlantic City officials were preparing to open a shelter at the convention center right at the base of the expressway if necessary.
Amy Rosenberg
Well, we felt that too down at the shore. I was sitting on a sidewalk cafe and all of a sudden, things started shifting and rocking slowly. Everybody's looking around, like everywhere, to see, is this just me? I looked up to see a plate glass of the fur shop next to Hannah G's kind of shifting and rolling. Oy!!!! That was nuts. Out on the beach, the sand "felt like jello" said Al Battaglia, coming off the beach at Dorset Ave in Ventnor. "The lifeguards jumped out of their stands because the stand was shaking." "we thought out son snuck up behind me and was shaking our chairs." Nine year old Chris Megella if Spring City was in the surf and said he felt the sand moving beneath him. "I fell on my knees," he said
Amy Rosenberg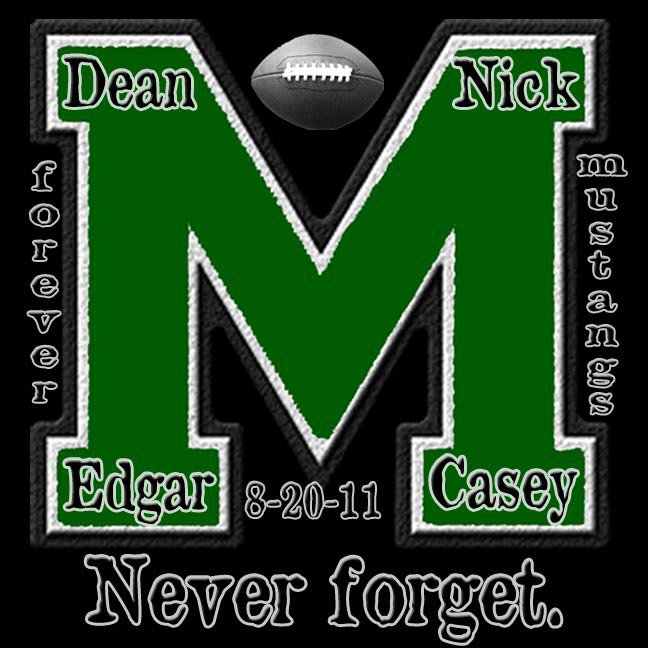 It was a heartbreakiing and devastating weekend at the shore, with the news hitting the beach not even an hour after the tragic accident Saturday that killed the four Mainland Regional High School football players, Casey Brenner, Dean Khoury, Edgar Bozzi and Nick Conner.
I heard about it from my daughter, who saw it on facebook, where tributes and condolences started almost immediately. With so many witnesses _ there were other cars of Mainland football players also headed from practice to a ritual end of summer breakfast in Mays Landing, plus four survivors, there was no mystery about who had lost their lives and how. One boy's mother was on an airplance, coming home from taking another child to college at the time. At the 22d Street beach in Longport, known as the "Mainland" beach, the phones started buzzing on the sand not long after the 11:45 a.m. accident on the Garden State Parkway, according to moms who were there. Teens started crying, talking into their phones , and then leaving, and the beach pretty much emptied, I was told. It was horrible and remains horrible. I know so many Mainland families but don't know these families personally; my own daughters, 14 and 16, know friends of theirs but did not know the boys themselves. ( Th ey were of course friends on facebook, such is the nature of this generations' connectiveness.) My girls picked up snippets and connectedness in the days following, whispering them to me at odd times...This friend of theirs "talked" to one boy in the month when he was broken up from his girlfriend, another boy's girlfriend spent the night grieving in the boy's room, small heartbreaking tributes on the boys' facebook walls capturing all the peaks and valleys of teenaged lives. I thought the moment of silence on Monday afternoon observed by broadcasters Joe Giglio and Mike Krenekon on the local ESPN radio station, based in Northfield where one of the boys lived, was heartbreaking. Tonight, at Citizens Bank Park, the Phillies will also observe a moment of silence in the boys' memory, and about 50 of their teammates will be in attendance in their green and white Mustang jerseys. Their lives, like the boisterous chatter you expect to hear on the radio, at the ballpark, at the field, were filled with exhuberance, a football season ahead of them, comraderie and competition. All cut short. Parents here and everywhere can try to learn the lessons, remind themselves and their kids of New Jersey's law that limits drivers under 18 to one non-family passenger, the dangers of piling too many kids in the car, driving too fast, perhaps horsing around. We can cling to our kids, be grateful that they've even made it to the dinner table (and wonder if their willingness to head out to dinner with us Sunday night with their grandfather, where they might have been expected to grumble a bit, was a result of a similar impulse. Seeing a family of teenaged boys out to dinner that night made it plain. There but... Bob Coffey, the Mainland coach, who organizes the end of summer breakfast every year, is no doubt personally devastated. But in the end, it was tragic and random, taking a curve too fast on a summer's day, running into an unexpected backup of cars, the rollover, and you can only pray, like the facebook tribute page that collected tens of thousands of likes in just a day or so, that the boys will rest in peace, will never be forgotten, and their families, friends and communities can find comfort in their love for the boys, for their teammates, and for all of their children.