Archive: July, 2009
Amy Rosenberg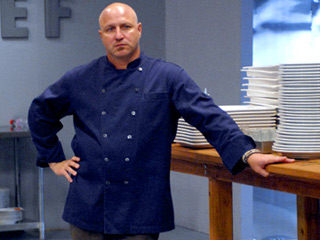 If bald, hunky, judgmental television star chefs are your thing, today is your day to go to the reinvented for 2009 Atlantic City Food and Wine Festival. Noted chef Tom Coliccio, owner of NYC's craft restaurant and top judge on Bravo's Top Chef, will be doing the foodie rock star thing from early afternoon (Healthy Eating with Tom Colicchio at Showboat) to late afternoon (Jeremiah Weed Sweet Tea BBQ Tailgate ... at Bally's Dennis Courtyard ... with Tom Colicchio) to Evening (Food and Wine Spectacular at the Pool at Harrahs ... hosted by Tom Colicchio) to Late Night (Crystal Head Presents: House of Blues After Party ... hosted by Tom Colicchio. Whew. Rock this town, Tom C.
I'll be on assignment for some if not all of Tom Coliccio's big day in A.C. (Who other than Tom could keep up with it all) and will be filing for this week's food section. Tomorrow and Sunday feature more celebrity chefs, including a wine tour with Ted Allen, Feast of Fieri hosted by Guy Fieri, Culinary Demonistration with Ingrid Hffman, The Art of Fondue with Duff Goldman and Ingrid Hoffman, an evening with Emeril lagasse, and, the synergistic shindig, the Malibu Rum Beach Soiree at Bally's Saturday, where all the celebrity chefs will be on hand.
Amy Rosenberg
This has been an interesting marine science lesson in Jersey this week, hasn't it?
From these guys:
Amy Rosenberg
Well we've had quite a streak of warm ocean temperatures this summer, quite unlike last summer, but on Thursday, that thing that happens when the wind shifts and starts coming in from the mainland, and the top layer of water gets blown out to sea, and all of a sudden. Brrrr. Your ocean is as cold as your beer: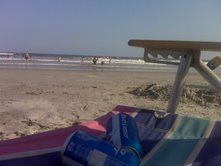 Well, not quite. But during some investigatory happy hour beach reporting, a little Bud Light in honor of our President's choice of brew tonight in his Sgt. Crowley-Skip Gates summit, I discovered that the ocean had dropped about 10 to 15 degrees since Wednesday. It's called upwelling, I tell you. And every summer we write about it like it's never happened before. The lifeguards said the water temp was down in the low 60s, after being nicely in the mid 70s for the last few weeks. Meanwhile, the southern half of Ventnor was still reeking of mussels.
Amy Rosenberg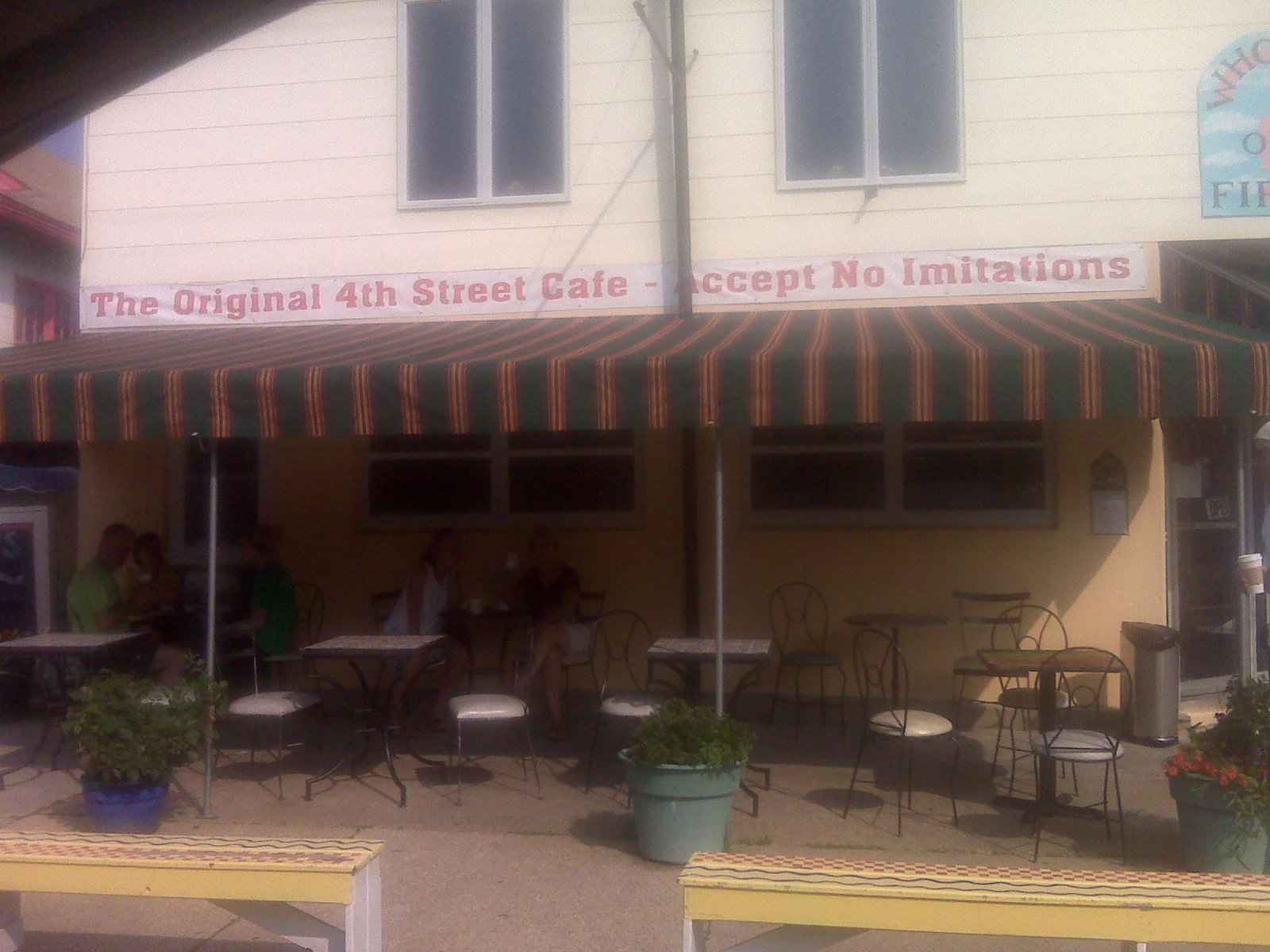 So now that the excitement over the worms in the ocean has settled a bit, a blog post five times more popular than even the one about Paris Hilton, draw your own conclusions, and Ventnor beach goers have been left with only the stench of rotting mussels to bum them out, we can turn out attention to this pressing issue. Which coffee shop is the proper heir to the fabled and beloved old 4th Street Cafe at 4th and Atlantic in Ocean City? I bit the bullet and had coffee and scones at both places this morning (hey, I have a story in today's paper, I'm entitled). As you can see by the photo above, the people at the Who's on First Cafe at 1st and Asbury, consider themselves the real 4th Street Cafe, and believe me, they have the coffee (La Colombe) the scones (how do they get that crust so crusty, that inside so fluffy???), and the management (from the old 4th Street) to make that claim. But yet....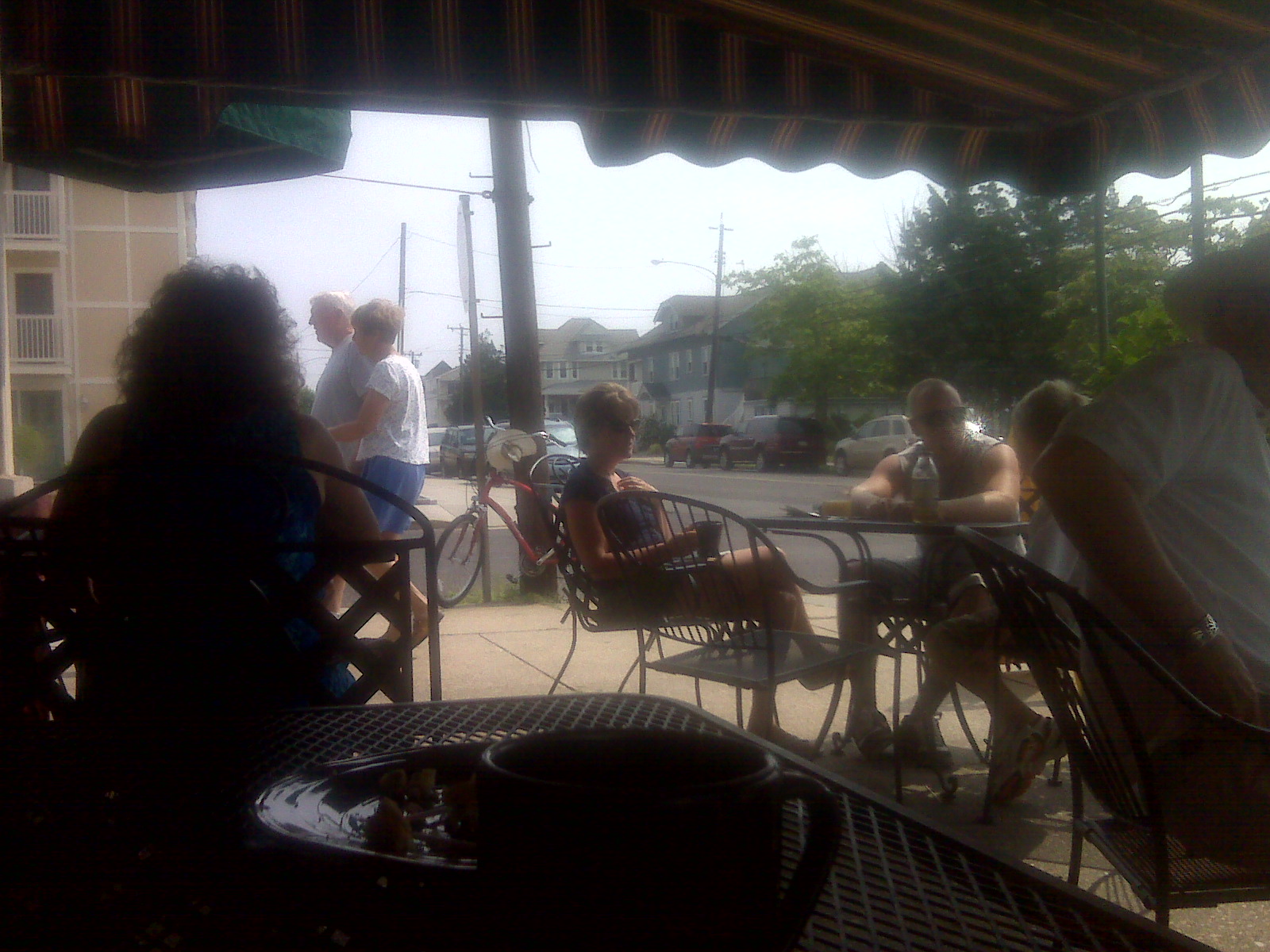 Amy Rosenberg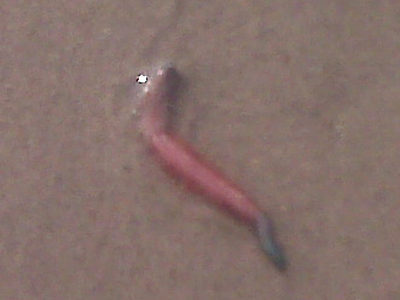 Wow, I thought I'd seen everything at the beach in Jersey. But today, wow, worms! At the shore! And I'm not talking about those slimy politicians in Deal. I'm talking actual worms, red, juicy worms, washing up in your ocean onto your beach. Comme ca:
That's a closeup of one such sucker in the sand in Ventnor. The beach patrol guys said not to worry, they are clam worms, and they are your basic bottom of the ocean food chain, bait for schools of blue fish and the like, washed up to shore by all the churning of the seas, the same churning that brought all that slimy seaweed and smelly mussels that were bumming every one out. The lifeguards said they are not harmful, except that we should maybe watch out for the schools of fish that are coming after them, make sure we don't get zapped by some fins or bit by some hungry fish. Ok.
Amy Rosenberg
So I'm minding my own business inside the Hoy's in Stone Harbor, looking for story ideas and scoring, finally, an updated version of Scategories, and this group of people brush past me breathlessly, stick a camera into my hands, whip out funny sunglasses and ask me to take their picture. Wookay. Multi-generational enthusiasm on the streets of a Jersey shore beach town? This means only one thing: shoobies!
So I take the picture, exchange rolled eyes with the store clerk, get some vague explanation that they're engaged in a game, and they disappear. I move on, looking for story ideas and scoring, nostalgically, an old barrel of monkees game. Cool.
But people like this do not just appear in your life once and go away. No, they come back again and again. Such enthusiasm! It turns out these are the wacky Greco, Roessler and Peak families of Doylestown.
amy rosenberg
I got a phone call the other afternoon that made me kind of glad I live at the shore. It was from a friend who said, hey wanna learn to surf this afternoon? I was like, this is cool. A little change of pace from the usual late afternoon, hey wanna go to Starbucks? Let's do it. I had written about Stacey Marchel, the surfing mom who gives lessons, and so now I was ready to give it a whirl. Never mind I can't even boogie board. I have been rowing for the past two summers at the Viking Rowing Club in Ventnor, and that has been great. Great exercise, great discipline, total focus, lots of quirky cool people, no cell phones on board. I figured, if I can row, I can surf, yes?
Then I discovered the pop up. Like surfing the web, you can't get anywhere until you get through the pop ups. Pop up, it turns out, is the whole key to surfing. It's the part where you go from lying on the board, feeling groovy, to ending up on your feet, feeling really groovy. It's not supposed to involve your knees at all, much to my surprise. It's supposed to be one fluid springy motion. So it's like, lying on your stomach on the board, lift up your head and torso, push down, spring up to your feet, and -- presto -- or, in my case, no presto, crash into shore.
How to Practice "Pop Ups" for Surfing Exercise
-- powered by eHow.com
amy rosenberg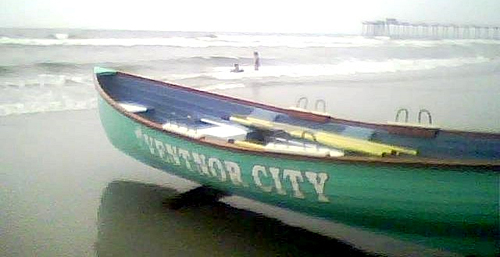 One of the cool things about moving down the shore more than a decade ago was our awesome neighbors, the Dominican nuns from Blauvelt, N.Y. They were, and are, great neighbors and amazing people. One of our best memories, and maybe even theirs, is leaving our infant daughter with the nuns on their porch one afternoon and going to play tennis for an hour or so. They passed her around the porch, rocking chair to rocking chair, and had a great time. Or so they said. They often bring down children of migrant workers for a beach weekend, and for many years, the big gray house was packed every weekend with vacationing sisters. We got to know a few of them pretty well, they oohed over my daughters' growing up over the years and never failed to remember my husband's Labor Day-ish birthday, sending over a bottle of wine from "the sisters." Sweet. Oh well, times change. And economic realities of both shore towns and the Catholic church have forced the nuns to rent out their home almost every weekend this summer, except for the few that the sisters still come down. Better than selling, as the nuns next door to them did a few years back, extracting a promise that the buyers would never tear down the gorgeous green and white trimmed house with the landmark cupola, a promise that was immediately violated. But it's been an adjustment. After all, who rents out a house that has maybe 37 bedrooms and an enormous industrial kitchen? Lots of people at one time, that's who. I'm estimating maybe six different family units from New York are down this week all together, with what sounds like 700 children and teenagers who like to stay up all through the night. C'est la vie, definitely comes with the territory of living down the shore, but man, I got a headache. Last night, Ventnor police had to drive down the block to finally quiet down the rambunctious group. (I was not the one to call, though the thought crossed my mind). It's a far cry from the sisters, especially for that one weekend in October when they come down for a silent retreat (silent except for when we pass in the street and have sotto voce catching up exchanges.) I guess this is the noisy retreat. I'll try to deal.