Archive: June, 2010
Amy Rosenberg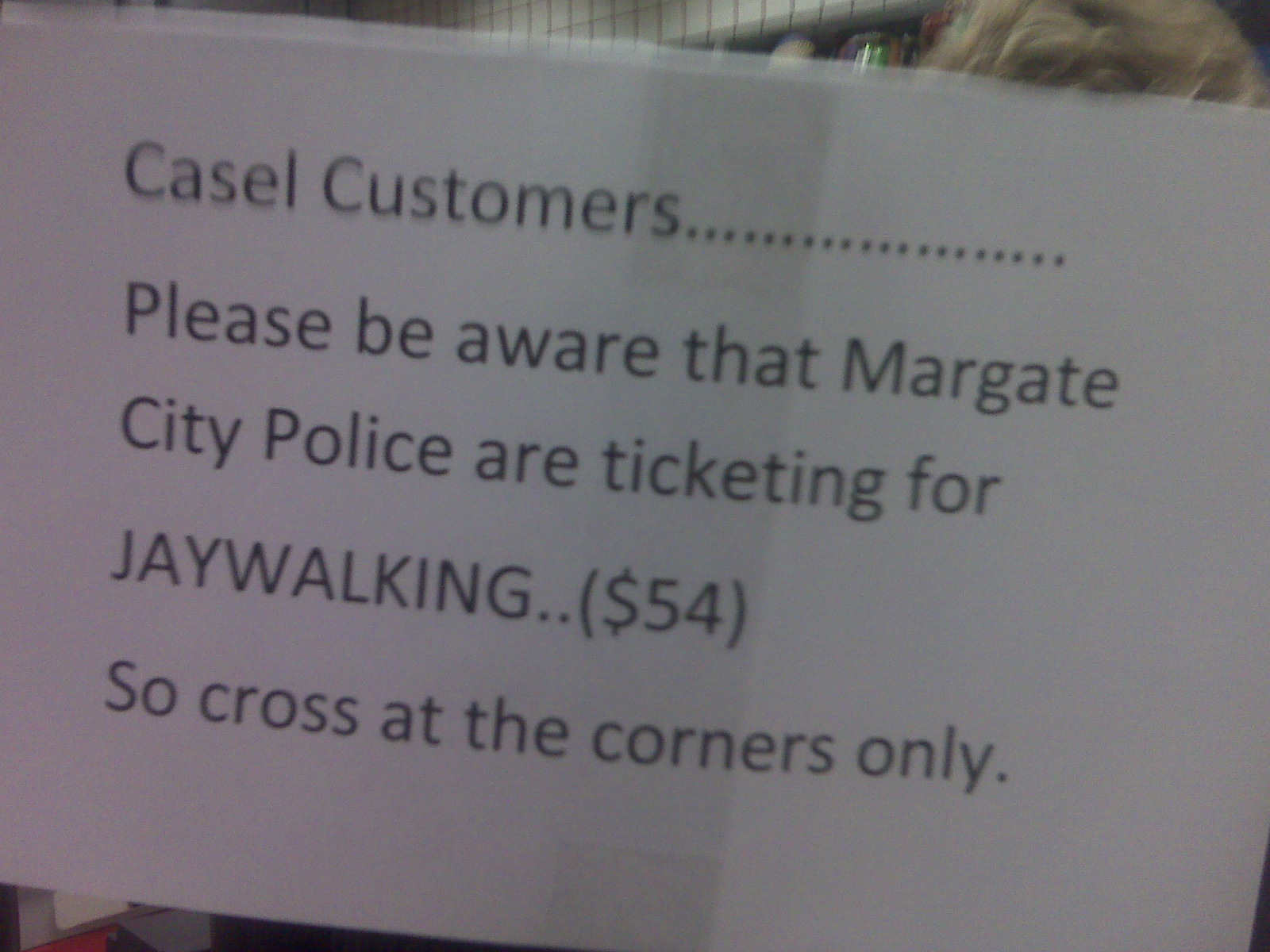 So this was the sign taped by the cash registers at Casel's Supermarket in Margate last night when I went on an emergency run for CocoPuffs and cheesesticks (what the heck, it made my 13 year old happy). Seems that a Casels supervisor got ticketed as she crossed Ventnor Ave in front of Casel's, starting at a crosswalk abut veering off in a Ventnorly direction to reach the other side of the street about mid-block. Unluckily for her, an ever-vigilant Margate police officer was watching and gave her a $54 ($54!) ticket for .... jaywalking. Which led Casels to post warnings up at ever cash register. Because, please, if everyone who crossed from Starbucks to Paper Chase in the middle of the block, or Knit Wit diagonal to the front of Casels, got ticketed, wheee, there'd be enough money to keep those three schools in Margate open after all. I have a call into Chief Wolfson over at police HQ (UPDATE, SEE BELOW) to see whether this represents a new chapter in shore police ticketing trials. I'm guessing since they have begun cracking down on cars who don't stop for pedestrians at crosswalks, they figure they have to enforce the pedestrian codes as well. Because if cars are stopping for pedestrians walking in the middle of this block, nobody will ever get to Downbeach Liquors on the corner. This intersection, Frontenac and Ventnor, is a comically chaotic one during summer time, but I have to say, most of the shenanigans are from cars waiting to park, waiting to make the left in front of Casels and waiting to make the ubiquitous U-turn that visitors to our Jersey Shore love to make. Seems a bit piling on to start ticketing the poor pedestrians among us. But, Casel's customers, you've been warned.
UPDATE: Sure enough, Chief David Wolfson said the jaywalking sting was part of the whole crosswalks initiative brought about by a new state law that toughens the rules requiring cars to stop for pedestrians in crosswalks, a law Wolfson thinks is confusing and potentially dangerous. "Our philosophy is jaywalkers are just as bad as the people not stopping at intersections," Wolfson said. "How do you ticket someone who doesn't stop at a crosswalk and then not ticket someone walking across in the middle of the street?" Yesterday was the start of a summer long crackdown on jaywalkers, Wolfson said, so Margate beach goers be forewarned. Hue to the crosswalks. Unfortunately for Wolfson, in the claustrophic reality that is Margate politics, the first jaywalking victim was an employee of mighty Casel's, a woman who's been crossing that way for 17 years. Needless to say, Casels owner Howard Seiden was not too happy with his buddy David Wolfson after that one and may or may not have given him an earful. "I've got to rethink this whole thing now," Wolfson said. "It's a no win situation for me. I need to find the balance."
Amy Rosenberg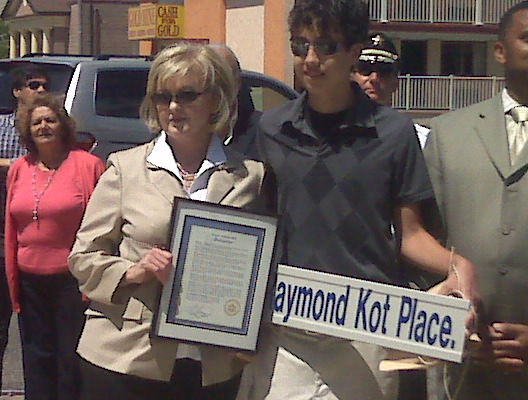 It was a very poignant ceremony on Tuesday morning at the corner of Pacific and Pennsylvania Avenue, as Trump Taj Mahal employees, local officials and the family of Ray Kot gathered to rename the block in honor of the much loved casino shift manager who was killed in a back room on the casino floor by a gunman a year ago. It came just a day after the gunman, Mark Magee, pleaded guilty in court, giving a chilling admission in which he said he targeted Kot because he was convinced the casinos were cheating him. That is Kot's wife, Nancy, and his son, Drew, in the photo. Nancy Kot spoke at length, describing how she and her husband met while both working at Resorts, how they drove to work together every day, turning down this same block to park, and waiting for each other after their shifts. Rather than focus on the violence that took her husband away, she thanked Atlantic City "for giving me Ray", and said their story _ meeting as casino employees, falling in love, making a life and family for themselves in Egg Harbor Township _ was truly the story of Atlantic City. The location of the renaming outside the Taj has taken on an added dimension: it is the same street where a North Bergen, N.J. grocery manager drove his car to enter the parking garage on May 21 at the Taj Mahal before being carjacked and later murdered, allegedly by two local lowlifes just out of jail. "It's been a tough year for the Taj Mahal," remarked one employee. But yesterday, Nancy Kot reminded everyone that Atlantic City is also a place where so many people, like Ray Kot, came to be "day one" employees at Resorts in 1978, and never wanted to leave. Here's a picture of the sign as it appears on the street, designating the block between Pacific and the Boardwalk, as Raymond Kot Place.
Amy Rosenberg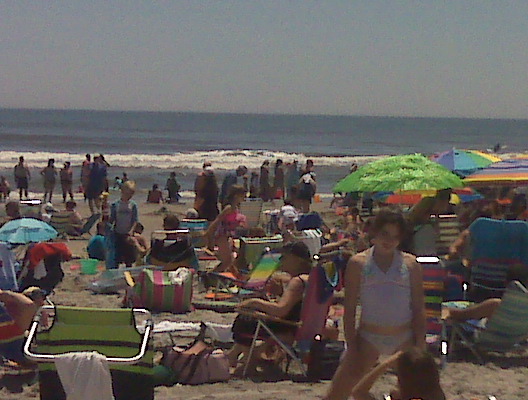 Usually, I take the long view on Memorial Day weekend, watching as everyone descends on the beach towns and tries to pretend the weather, and the ocean, is warmer than it is. This weekend, beach wise, is usually well left, as they say, to the amateurs. But Sunday and Monday were such perfect out-of-nowhere beach days, even locals used to paying it no mind were seduced into behaving like it's mid-July. Ocean temperatures, chilly Sunday, nicely warmed up on Monday. Lines to water ice places snaked through parking lots and down sidewalks. (I can report first hand that those lines were especially long between Flyers periods Saturday night while , in an unfortunate case of timing for those of us on complicated water ice runs, Roy Halliday was finishing up his own brand of perfect.) This weekend made believers out of all of us. And now back to our regularly scheduled end of Spring.
Amy Rosenberg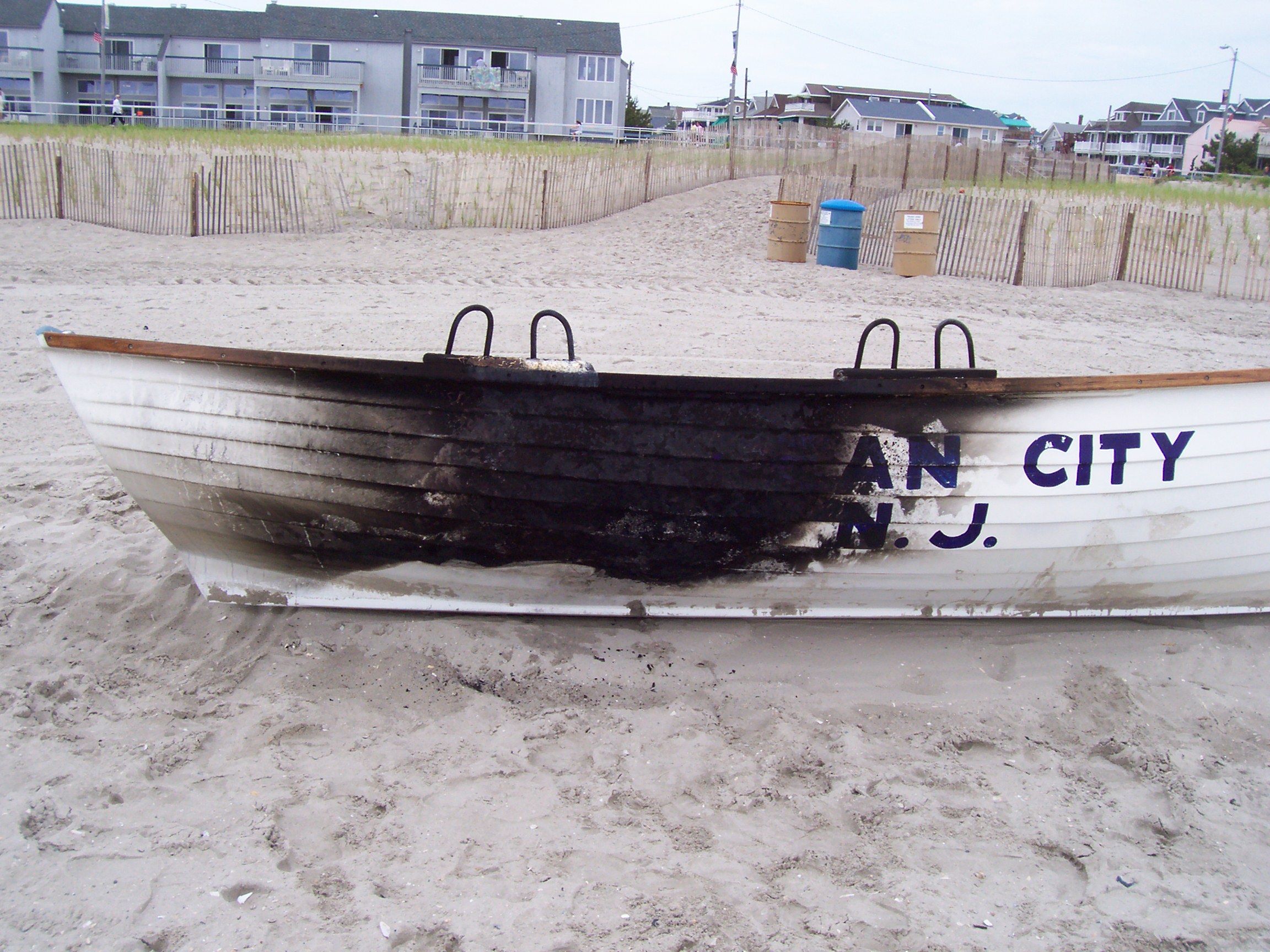 Is nothing sacred? Over the weekend, in the middle of the night (2.22 a.m. on Saturday), Ocean City police and fire were called to the Brighton Place beach and found a lifeguard boat on fire. They found two dudes hiding in the dunes, and a third suspect at a home nearby. They were arrested and charged with second degree arson and held on $1,000 cash bail, according to Sgt. Steven Ang of the Ocean City Police department. They had traveled a long way to do their idiotic brand of (alleged) mischief. They were identified as Brandon Pastell, 21, of Fredericksburg, Va., Timothy OGrady, 23, of Hershey, Pa., and Samuel W. Datta, 20, of Centreville, Va. The lifeguard boat, a fine example of the iconic wooden structures crafted by the Van Duyne family for decades, is valued at $9,000, but really, priceless. Come on, people.