Archive: June, 2009
amy rosenberg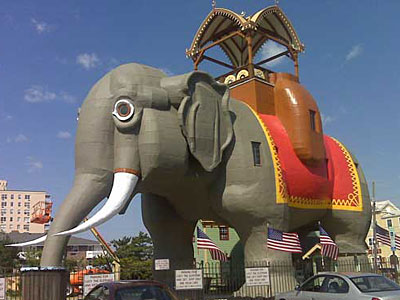 It's been years since Lucy the Elephant looked this good.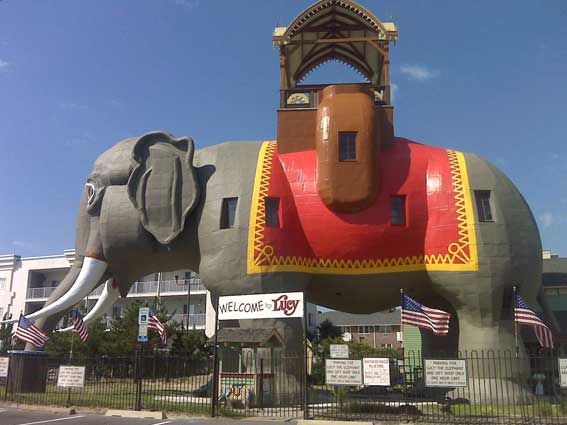 For the last two weeks, Alpine Painting and Sandblasting employees Carlos Fallas and Fernando Ubarno have been putting a new coat on the old pachyderm on Atlantic Ave in Margate.
Amy Rosenberg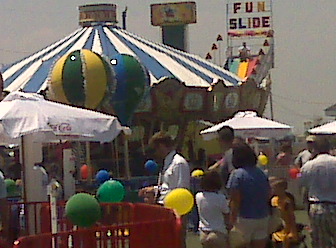 Ten years ago, Fun City, the beloved little amusement park on the promenade in Sea Isle City run by the Pittaluga family of electricians, was shut down, the land sold to developers. There was much sadness over the loss of the little kiddie ride haven that had operated for 30 years, but really, who could blame the Pittalugas? As an amusement park, the land was worth a million, a million and a half. As property to develop, $6 million. But now, thanks to another great shore family, the Gillians of Gillians Wonderland Pier in Ocean City, the kiddie rides are back in Sea Isle City. Jay Gillian says the family tried to buy Fun City when it closed, but couldn't compete with developers, and has been trying in the decade since to buy property. Finally, a deal was worked out for the new park to operate on city owned property at the foot of the bridge leading into town, near the marina and historic Fish Alley, where a new boardwalk is also being built. It's the only new from-scratch amusement park opening this summer in the country.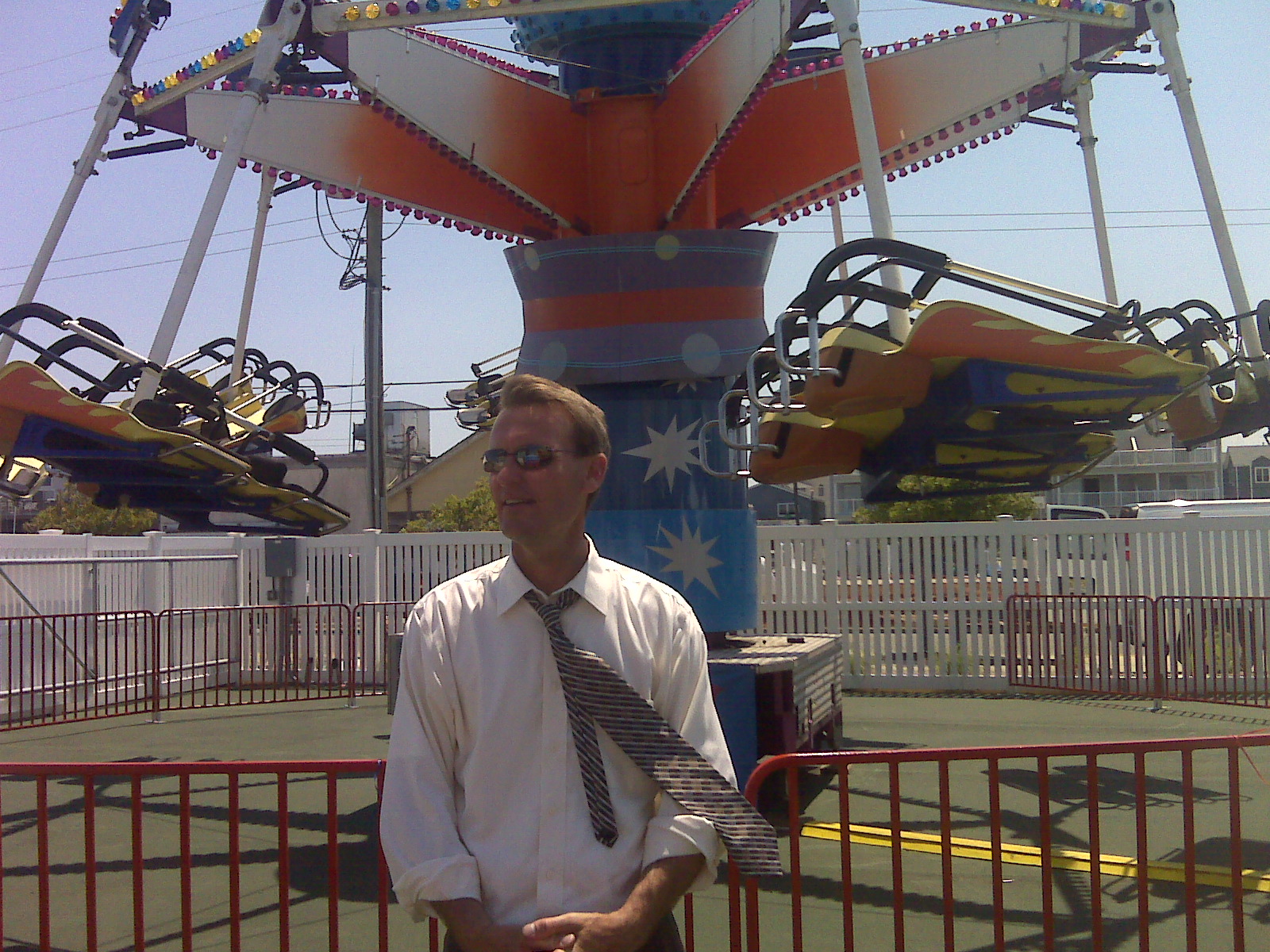 amy rosenberg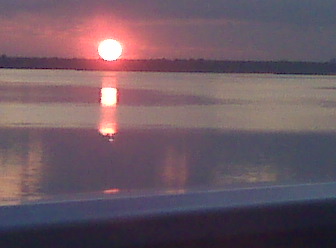 This photo is from Saturday night over the Ventnor back bays, since the sun has not yet set tonight as I write this, but what a beautiful weekend it was. Finally. Two great beach days. Saturday was like suddenly full-out summer, a hot land breeze blowing in from the bay, warm water, crowded beaches, streets lit up at night with sidewalk dining. It was like I was back in the land of the living, and glad of it. Some beaches toward the south end, already narrowed by erosion, were a pretty comically tight wall-to-wall squeeze when I walked by them during high tide on Saturday afternoon. Kind of amusing. Ventnor lifeguards were busy on Saturday, with an impressive rescue of about five people on some kind of field trip from Egg Harbor City who did not respond to repeated whistles to come in from too far out. They sent out a lifeguard boat, a lifeguard jet ski, three lifeguards swimming and hauled the people back to shore in the boat. The people seemed more shaken than embarrassed which makes me think they really did need rescuing. Nicely done. State police on the water were also ready to pounce, pulling over (stopping in mid water?) errant jet skiers in the back bays and having none of any excuses. Or so I'm told. Let's just say, tickets were written, moods were spoiled. Sunday was cooler, nice breeze, but the sun held out very nicely all afternoon. Unlike the United States men's soccer team.
Previously on downashore: Shoobie Slander
amy rosenberg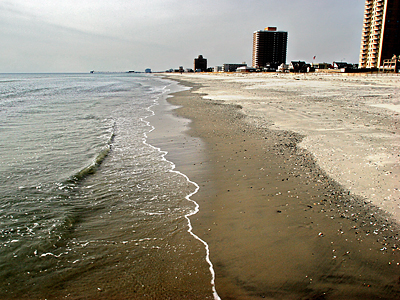 So is this the season of the rains or what? It's getting ridiculous. Last night we had a couple nice evening beach hours and just when we were feeling like the bad weather was a thing of the past, the skies opened up and it was the tropics all over again, a huge deluge. But one has to pass the time at the shore somehow. For locals like myself, it means we head for Philly. And I give a big thumbs up to the Philly Zoo for an excellent day yesterday with myself and three tweeners. Watching the hippos bob for apples was a jaw dropper, literally. In any case, for people here on vacation, they are stuck sticking it out on the beach even though it's cloudy and depressing. I salute you, intrepid vacationers. The water's still pretty warm though, at least there's that.
But that is not the reason I brought you here, to complain about the weather. It's to relate this story: The other night, I was walking home from Mento's, the Ventnor water ice and ice cream stand, with my two daughters, who are 12 and 14. A car passed by and a guy leaned out his head and shouted: "Shoobies, go home!" At us! We were stunned because, hey, we're usually the ones doing the shoobie eye-rolling, though we've never actually suggested shoobies go home, because we like the shoobies. Some of them are our good friends. Anyway, we were thinking, what about us made them think we were shoobies? Here we are, just a block from our home, hey buddy, we LIVE here. Some of us were BORN down the shore. We are graduates of Shore public schools. Our friends surf, even if we do not. We will grow up to be beach badge checkers. So what was it? We narrowed it down to two things.
One: the very act of going to get ice cream at night and then walking around with your ice cream cone is very shoobie. We admit that. Hey, gang, we're at the shore, let's get ice cream! Ok, guilty. But there was another important factor in our shoobie-ness that night. In reality, I had started the outing with just my 12 year old, and then we swung around to pick up my 14 year old at a friend's house. She wanted a ride home in a car, but consented to being picked up on foot because we were already nearby. After the shoobie slander, she realized her mistake: Only shoobie teenagers down the shore and, essentially, held hostage, isolated from their home peer group, would be out walking with their parents at 10:30 at night. The locals, naturally, roam in unsupervised packs until curfew. So there we were, making like shoobies. So much for my walk with the girls. They took off, put a block between them and their mom, and made like locals.
amy rosenberg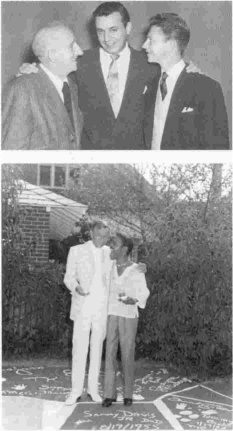 There are show houses and there are show houses. This year's Show House at the Shore, to benefit RNS Cancer & Heart Fund, is a classic: the Ventnor house formerly belonging to the legendary impressario and 500 Club owner and Sinatra pal Paul "Skinny" D'Amato at 12 South Suffolk. This house has changed hands several times since Skinny lived there and, although this is not included in the press release from RNS, has the distinction of having been the scene of a murder in the basement, for which his son, Angelo, pleaded guilty. But we digress. It also is a very cool house, and let's hope the designers know enough not to remove all of the Rat Pack cool, like the frosted silver mirrors in the dining room and other singular touches. In any case, the house is worth a visit if only to see the historic and legendary backyard patio, possibly the coolest patio on the planet, with stones imprinted with the signatures and handprints of the likes of Sinatra, Sammy Davis Jr. and other legends who made Skinny's 500 club the happening joint that it was, and Suffolk Avenue a block from the ocean the coolest street in Ventnor. (Incongruously, I have attended book group meetings in that same swinging living room, one owner back from the houses' present owners). Skinny took over the 500 Club in the 40s, and while there remain those who believe Skinny was a front for the mob, or at the very least, a very congenial host, there is no doubt Skinny left his mark all over Atlantic City. For more on Skinny, look no further than this excellent book: The Last Good Time: Skinny D'Amato, the Notorious 500 Club, & the Rise and Fall of Atlantic City, by Jonathan Van Meter. The Show House opens July 11 and runs through August 16. Admission is $25. Gala open house on July 10. More info at 609-487-1190.
amy rosenberg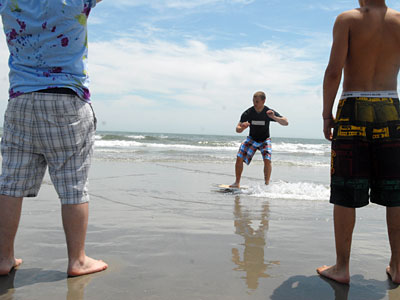 Look, there's no other way to say it. No point in being coy. Also, no guarantees it will last. And, sure, it would be nice if there were a little bit more sunshine, or any sunshine, to go along with it, but listen. The ocean temperature is warm, pushing 70 in Atlantic City, breaking 70 in Cape May, very unusual for June at the Jersey shore, where some years, like last year, the water stays frigid until about mid-August. Or maybe you have already repressed the memories of last summer's shore vacation in which your ocean romping consisted of about a 30 second plunge into a 55-degree ocean, if that. When the ocean finally warmed up last summer, it was like a halleluyah moment. This summer, it's kind of like a, whoa, this isn't too bad moment. Usually, the locals feel lucky to still be here in September and October, when the ocean is always balmy and the crowds have gone. But this year, we had the crazy hot beach day weather in late April, and now, the early warm up of the ocean. The surfers -- that's Ocean City High School's Chris Kelly in the photo, one of the state's best surfers, who is turning pro after graduation -- won't be needing their full wet suits at this point. Though, this being Jersey, things could change at the shift of a wind. And then, depending on whether our editors are down the shore at the time, we will need to do stories and explanatory blog posts about the upwelling effect and its relation to suddenly dropping ocean temperature, usually a late August staple. But for now, nice. Now, we just need to work on those air temps a bit.
amy rosenberg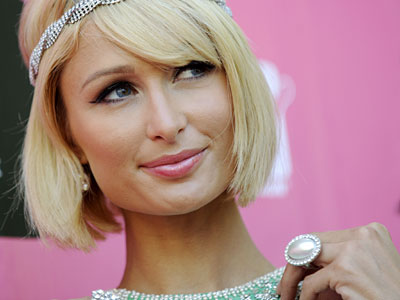 ...what exactly? This was the question that was bandied about the newsroom this week, after an editor got word of her appearing at the Borgata's mur.mur club, and wondered if we should be reviewing it. Was this a performance? Would Paris be singing? Seemed obvious to me, that Paris would be doing what Paris does: being Paris. No heavy lifting required, which is not to say that pulling off that precise mix of glamour, beauty, irony and ennui that is the Paris Hilton aura is something that is simple to accomplish. So if you want to go to a night club and hang with Paris Hilton, Saturday at 10 p.m. at mur.mur is your chance. Or maybe check out the poker room, where Paris has been known to show up unannounced. My kids, unlike my editors, had no problem with the concept of Paris at the Borgata with music by DJ Jesse Marco: "She'll be clubbing," they informed me when we passed the billboard on the Atlantic City Expressway (a much more palatible sign than the one across from it that says: "Ever get Leprosy?" Um, ever not want to think about ever getting Leprosy on your way to the shore?). In any case, a few calls to the Borgata confirmed that Paris' appearance on Saturday was simply that: a Red Carpet entrance and hanging around mur.mur, while Marco handles the music. No performance in the usual sense. Noel Stevenson, public relations manager at Borgata, described Paris's duties Saturday night as "hosting" and said hosting a nightlife event in Atlantic City was something Hilton had never done before, at least not officially. The following Saturday, celebrity DJ and ex-Lindsay Lohan girlfriend Samantha Ronson is at mur.mur along with The Hills star Kristin Cavallari, who presumably will be doing much the same sort of vague celebrity thing as Paris. No word if any of Paris's new BFF candidates (including Jersey girls Elena Miglino and Arielle deRouen) will be accompanying her on Saturday, but one person who probably won't be there is Brittany Flickinger, last season's BFF winner, who Paris cut loose because, my afore-mentioned Paris Hilton expert children informed me, she was only in it for herself. Bombshell.
Previously, on Downashore: Upcake, Downturn.
Amy S. Rosenberg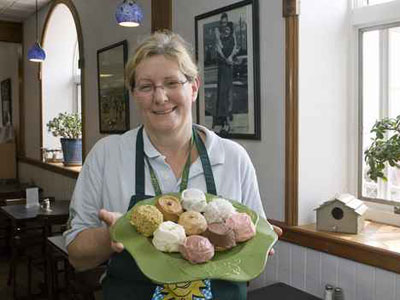 Running a business at the shore is a huge undertaking no matter what the circumstances. The owners work their tails off from May to October and even so, businesses come and go all the time. You never know what
causes one to hit the sweet spot and feel like a shore institution from the minute its doors open (see under: Red Room Cafe, Ventnor), while others languish awkwardly and then disappear quietly in the off-season. The quirky little Dixie
Picnic in Ocean City,
home of the blood orange (and other less menacing varieties of) upcake cupcakes
, managed to accomplish the former, settling in nicely three summers ago in its "Home Depot orange" painted cottage (or Miami Dolphins colored, if you factor in the aqua porch) as a favorite stop on the way to the beach on 8th street. But still, the business has ended up a shore casualty, up for sale, closed before the summer even began, a victim of the subprime mortgage morass, the credit crunch and the recession. No upcakes for you this summer, Ocean City! (Although if you're desperate, go to their store on Route 30 in Malvern, or try online at www.
dixiepicnic.com
.) From the start, the south-of-the-Mason-Dixon line bakery and lunch spot seemed to have found its niche with a quirky concept: the upcake, an iced upside down cupcake minus the top, and freshmade box lunches, including a yummy chicken salad. They seemed like a player in a town that is a mecca for good lunch spots, especially in the chicken salad sandwich niche. (See under: First on Fourth at First and Asbury and Positively Fourth Street at Fourth and Atlantic, the bastard and now competing children of the old and legendary Fourth Street Cafe, both with yummy organic chicken salad sandwiches and platters.) By the second season, people even seemed to know the answer to
the question that had stumped them during the first season:
What kind of upcake would you like? (Best answer: buttercream over
chocolate.) Owner Tracey Deschaine, 54, a former nurse, said she was hoping season three would be the one to put them on surer Shore business financial footing. "I liken it to a creeping vine. It takes awhile to become an institution at the shore. The first year it sleeps, the second year it creeps, the third year it leaps." But before she could get to the leaping part, . Having purchased the building at $480,000 on the understanding that she'd be able to leverage that to help finance operations and provide cash flow, she now found herself turned down by any number of financial lending
institutions. Out of cash, busy in Malvern, Deschaine says she had no choice but to put the building up for sale and focus on Malvern. All this in a town that was named the fifth best spot in the country to open a restaurant by the Nielson Claritas Restaurant Growth Index. If only. Deschaine says she wishes the financial backing had been there
to keep the place open at the shore. "I've been getting emails and phone calls from all over, Washington, New York, saying will you be open this weekend? It breaks my heart."