Archive: January, 2010
Well, not only isn't MTV's Jersey Shore coming to Sea Isle City (totally bogus rumor), but looks like Snooki and the gang are hitting the road to warmer climes. Kind of a dis, don't you think? Will the show even make sense filmed outside of Jersey? Are their antics really just generically-ridiculous? Can you just take the Jersey out of Jersey Shore? Will they be like Miss America, the other TV shore babe who left Jersey, and end up in Vegas? Or will they just blend into a bunch of other girls-guys-gone-wild in Florida over spring break? In any case, MTV announced today the entire cast would return for a second season, to be filmed very soon in a warm weather city somewhere TBD. Presumably, this does not rule out a post-Memorial Day return to the JRZ, where _ I mean, look at this picture _ they clearly belong.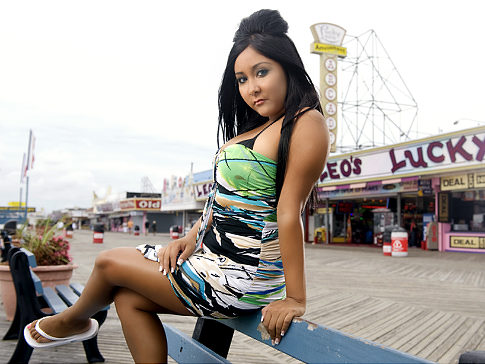 NEW UPDATE: Hmm, this is a situation, isn't it. Well, MTV press person Lina Schade says no decision has been made that the show will have a second season, let alone where it might end up. She's shooting down any Sea Isle speculation, at least for now. Mayor Len Desiderio says he and his town want no part of Snooki et al. "It's not a good fit," he said. Not sure I totally agree with that, Mayor Len.
Rumors are flying that MTV's Jersey Shore, which finishes up its legendary tear through Seaside Heights with its season finale tonight, leaving only a court hearing on a stray assault charge in its wake, will land further down the shore next season, taking up residence in byootiful Sea Isle City. Awesome. Should be a fine time all around, what with all of Philly showing up for no-beach-tag Wednesdays. And this could be huge for our favorite Jersey Shore cover band, Mr. Greengenes, which already has most Fridays booked to be at the Ocean Drive at 40th and Landis. Snookie should fit right in at the O.D. and totally dig Mr. Greengenes lead singer, Bryen, who lists his pet peeves as girls who ask for free stuff without flashing him. Meanwhile Sammi Sweetheart and Ronni will be on hand at McFaddens on North Third Street in Philly for Jersey Shore night tomorrow (Friday), with promises of bikinis and blowouts, guido's and guidettes. And, just for fun, Lindsey Lohan's dad.
UPDATE: This morning, Patti Ponichtera in Sea Isle Mayor Len Desiderio's office says the rumors are not true, or at least nobody from MTV asked them for permission. And, furthermore, she said lovely Sea Isle City wants nothing to do with Snooki and her gang. "We spend a lot of time and money to promote this as a family town," she said. She said business owners, including the bar owners in town, were calling and e-mailing all morning to voice their objections to having anything to do with the Jersey Shore gang. Aww, come on, people! This would have been awesome. Mayor Len, meanwhile, was on his way into the office to put out the rumor fire. There was no word back from MTV in any case. To be continued.
Sometimes, you walk onto the beach and it looks like it did the day before. Sand, dog poop, waves, sky, driftwood. And then some mornings, you walk onto the beach, and it's like you're on Pandora or something, all kinds of crazy stuff. This morning, it was like you were on a a farm, with bales of hay strewn all over the beach. Go figure.