Amy S. Rosenberg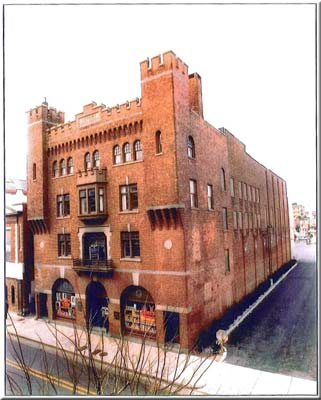 And so on the morning after Atlantic City's Revel dreams fell apart _ again _ there was at least one person trying to stay positive and show the old resort some love: Philly developer LPMG Company, which plans a rehab of the historic Morris Guards Armory Building on the of New York Avenue between Atlantic and Pacific Aves. LPMG sent out a statement Thursday morning proudly proclaiming it is "Rolling the dice in Atlantic City" with a $3 million rehabilitation of the 30,000 square foot building into "an urban feel mixed use apartment building unlike anything that currently exists in Atlantic City." The Armory, which LPMG cooed was "historic and aesthetically stunning" was constructed in1901 as a home for the Morris Guards, an independent military club.
"We love Atlantic City," said John J. Longacre, president of LPMG in a statement. "We intend to address business and housing opportunities for he middle market. We see a tremendous opportunity for Atlantic City to becom enot only a weekend destination, but more of a place where people will live all year long and will also pull from the surrounding suburban markets for shopping and entertainment options."
LPMG specializing in reviving decaying neighborhoods and has been creditied with kickstarting the regentrification of the Newbold neighborhood in South Philadelphia. LPMG is the second high profile Philadelphia developer to buck the Atlantic City is done trend, following Bart Blatstein, who has purchased the Pier at Caesars and targeted for a redevelopment aimed at millenials. Atlantic City planning director Elizabeth Terenik has specifically targeted some of the historic _ and historically vacant _ properties in Atlantic City for redevelopment.
Joseph A. Gambardello
Visitors to Brigantine's 4x4 North Beach recently encountered a tuna's head looking very much like a shoobie buried up to his neck in the same.
Where did it come from and where was the rest of it? folks wondered. This was no small tuna and certainly not something an angler would catch in the surf.
Someone knew and in the latest edition of the Brigantine Times, Andy Grossman, the newspaper's fishing correspondent and owner of Riptide Bait and Tackle, reported that the 225-pound bluefin tuna washed up in the surf, dead but injury free and looking rather fresh.
Joseph N. DiStefano and Amy S. Rosenberg
UPDATE: Ocean City Police Capt. Steven Ang says the family of Corinthian Hammond has now taken custoy of the body through a private funeral home.
The family of the Philadelphia teen who drowned in the surf off the Ocean City beach on June 29 is trying to raise money to bring his body home for burial.
Friends of 14-year-old Corinthian "Corey" Hammond have set up the Corinthian Hammond Memorial Account at Bank of America.
Amy S. Rosenberg
The famed graffiti whale - a dead Minke whale that washed up May 1 under a pier in Atlantic City and was promptly spraypainted with the letters of a fraternity - tested positive for morbillivirus, said Marine Mammal Stranding Center Chief Bob Schoelkopf.
That is the same virus responsible for 135 dead dolphins that washed up along the Jersey Coast last summer and as may as 1,300 animals up and down the coastline to Florida last year.
Schoelkopf said the virus last summer was primarily found in bottle-nosed dolphins but that there was some inter-species crossover, including two humpback whales, a pygmy sperm whale and striped dolphins.
Amy S. Rosenberg
When the Los Angeles Kings won the Stanley Cup two years ago, Former Flyer Justin Williams brought the Stanley Cup to his summer home in Ventnor for his "24 hours with the cup." With all the Former Flyers performing magnificently for the Kings in the Stanley Cup finals, including Monday night's 3-0 victory over the Rangers in which Jeff Carter and Mike Richards scored goals, and Williams had an assist, it looks like the little Jersey Shore town is headed for another turn in the Cup for a Day tour. Williams has a house on the bay in Ventnor Heights and spends the summer there with his wife and two children. Two years ago, Williams bounced around town with the cup, followed by a band of crazy-happy hockey fans, who know that a former Flyer's Stanley Cup might be as close as they'll get. (Everyone on the winning team gets 24 hours with the cup in their hometown or wherever they want, and the cup tends to spend a lot of time in Canada and Russia.) Check out the narrative of the day on the awesome hockey blog peace.love.hockey.
Amy S. Rosenberg
Lance Fung, we hardly knew you. Well, some in Atlantic City would say that we knew the acclaimed San Francisco curator of public art installations too well, or at least his vision. Originally commissioned by the Atlantic City Alliance for a five-year residency, with one large art park to be delivered each year, Fung Collaboratives announced the end of that arrangement with a statement and a tweet Monday night declaring "The end of Artlantic and our farewell to Atlantic City" after "3 projects in 2.5 years." Its next project, commissioned by the D.C. Commission on the Arts and Humanities, is called "Nonuments." Lots of luck, Lance!
It had been a bit of a rocky collaboration, with some criticizing the Alliance for devoting so much money to the projects and others praising the casino-created and funded marketing group for trying to bring some sophisticated culture to a town that still relies on Bert Parks and Miss America as artistic muses. In all, $12 million was spent on the public art, but that amount also included the popular Boardwalk Hall light show, the creation of volleyball courts out of a vacant lot near the Revel, and a work-in-progress sculture walk near the marina casinos. Tom Ballance, chair of the Alliance board, said the organization was moving on from art commissions.
Fung's vision was noble and in the art world, lauded: he transformed an empty lot at Indiana Avenue (the former site of the imploded Sands casino) into a rolling greenscape of unusual, provocative and world reknowned sculpture, including works by Kiki Smith (above, photo by Tom Gralish), and other works by Robert Barry (lighted words like BELIEVE, PURPOSE, UNKNOWN). Art journals praised it, but it suffered from being hard to spot from the Boardwalk and not that inviting a space in general (the symbolically interesting but obscuring landscaping, plus stubborn dune grass that never grew, leaving the outer edge looking raggedy). Although Fung claimed the park was embraced by locals, tourists and tweeters alike, it never seemed to attract too many people. (The whale that was anonymously spraypainted with purple fraternity letters (Tau Epsilon Phi) after washing up on the beach got much more attention.) Fung's statement said they were looking forward to seeing the parks "grow in nature and activites" so it seems the park will stay past Fung's exit. The park was always considered temporary, as the land is privately owned. But future development in the waning economic climate in Atlantic City seems less likely than ever, so the art park seems likely to hang on for awhile. Fung's statement said that Artlantic allowed Kiki Smith to "realize her poetic red garden which was initially envisioned in the 80s but had never had the opportunity to be created before." It is poetic, though the possiblity that it represented blood around the nude female carrying a doe was not the most popular sculptural metaphor in town.
Amy S. Rosenberg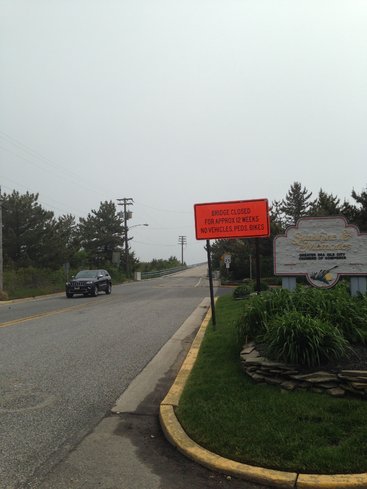 There was rejoicing through the land Thursday afternoon _ or at least in the part of the land that is the Southern tip of Sea Isle City and the northern edge of its sister island, Avalon. At last, the Townsend's Inlet bridge was reopened. "Call the Pope, it's a miracle!" exclaimed one local who rode down on a bicycle to see for himslf. "Did you make it over? Did your car make it over? Were they charging?"For the record, yes, yes (both directions) and no, they weren't charging the usual $1.50 toll from Sea Isle to Avalon, at least when I went over. I did naturally immediately find myself behind a slow moving car with Pennsylvania plates headed to Sea Isle. The bridge was initially closed after Hurricane Sandy caused millions of dollars in damage to the road leading up to the Avalon side of the bridge, tearing up boulders and pavement like a lego set. Open in time for the summer season, the bridge closed again in February for more permanent structural repairs. Originally set to open in late April, then pushed back to mid May, it opened just in time for Memorial Day, much to the relief of merchants like Gail Hughes, who owns Scoops, who drove down (but not over) just to see it with her own eyes.The southern Shore is connected with these lovely old causeways and bridges (I rode across six of them on Sunday during the MS Coast the Coast Day 2 Tuckerton to Cape May bicycle ride) and they are beautiful and fragile. Some close and never make it back, like the bridge between Somers Point and Tuckahoe, stuck in an open position, without funding for repairs, replaced only by the Garden State Parkway. But the Townsend's Inlet made it back, restoring a little piece of Jersey shore past to the present, a bit more sturdy, with mostly new parts and a weight limit that will allow NJ Transit buses, not to mention the new Uber service debuting at the Shore (and, presumably, the ever popular Jitneys who service Sea Isle and Avalon/Stone Harbor, but were not allowed last summer to travel betwixt and between, in some cases memorably dropping off some determined island hoppers to walk over the bridge and summon another Jitney).
The foggy view from the top, where the toll taker was sweeping, not taking tolls:
Amy S. Rosenberg
Just in time for Summer, it's the return of the iconic Longport water tower Smiley Face, courtesy of the borough of Longport, which forked over another $90 grand to get the job done after a stalemate with the contractor that painted the tower its characteristic robins' egg blue but left with a blank non-stare.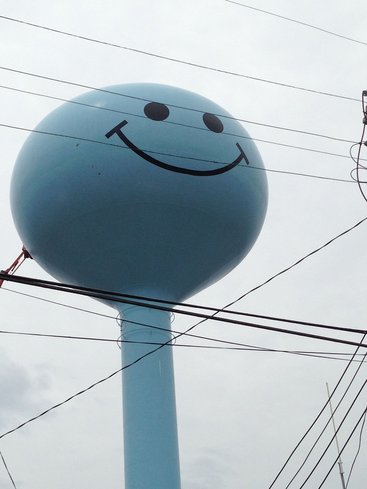 The lack of a smiley face had so depressed people in Longport and caused some weird kind of existential identity crisis, especially post-Sandy, that Mayor Nick Russo said he was considering driving over there in his truck and painting the thing himself. In any case, the job has been done.