You can't take it with you, I guess is the moral. There's been a lot of moving out of places people thought were forever going on in the last weeks, the Inquirer from the Inquirer building at Broad and Callowhill, the Archdiocese from the Archdiocese shore home for retired priests on Princeton Avenue in Ventnbor. In both cases, a lot had to be left behind. At the Inquirer building, I found some old pica rulers and a guide to reporters rights written for the Atlantic City Press, and a lot of New Jersey legislative guides, marked not to be removed - ever, it seems - from the copy desk. And there they shall remain.
Over on Princeton Avenue, where the mansion assessed at $6.2 million
has been emptied of its vacationing priests and will soon be listed for sale, assuming those old stories of restrictions on the sale were just stories (the deed reflects no restrictions), some books just had
to be left behind for the recycling bin. I still feel like the story of that house has yet to be totally unraveled, like why does the plaque on the door say that Anne Hogan donated the property when it was her sister, Hannah G. Hogan who sold the place to Cardinal Krol in 1963 for $100,000? The Hogan sisters are wrapped up in a lot of mystery from here to Palm Beach, and certainly amassed a lot of real estate, much of which they transferred or sold to the Catholic Church, which in turn made a good amount of money off them. There's also the part of the priest they knew as a child in Philadelphia who they kept in very good digs down in Florida and who apparently stashed away a lot of their money. Stay tuned for how much the Church gets for the Princeton Avenue property. In any case, walking my dog the other morning, recyling day, I saw the boxes left on the street and took a brief inventory, which is below the photo of the porch, where presumably some of that summer reading was done.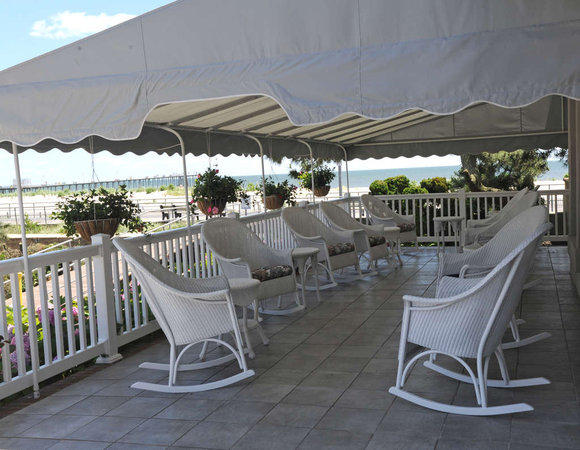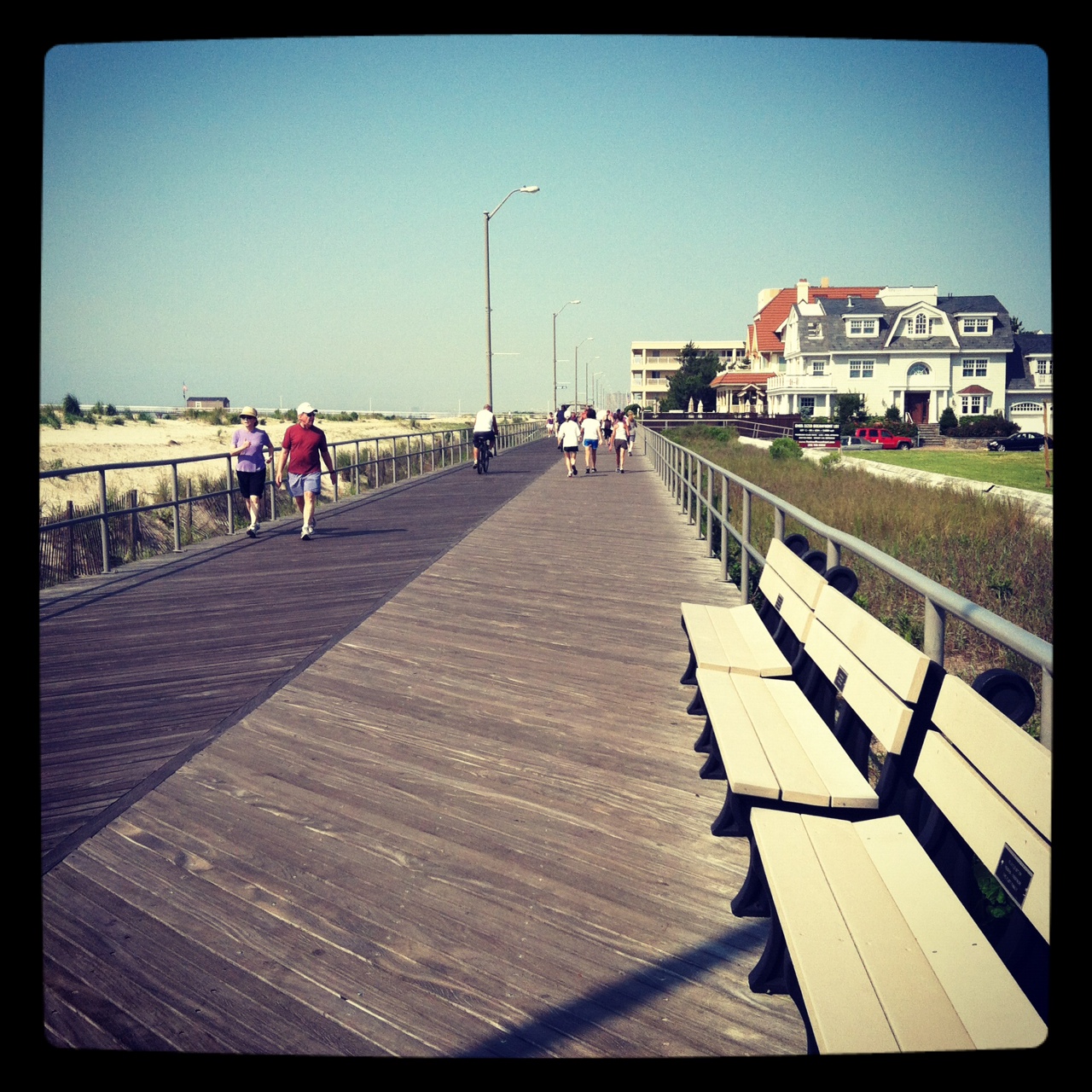 Not your usual pre Fourth of July crowd on the Ventnor boardwalk, above.
It's the morning after the morning after the freakish straight-line wind and lightning storm that knocked out power to most of Atlantic County and sparked a fire that, sadly, destroyed the lovely Church of the Redeemer in Longport.
It was Metallica's turn to transform Bader Field and Atlantic City into a music festival venue this weekend, following last summer's Dave Matthews Band Caravan and last weekend's Phish takeover. Once again, good old Bader - an old municipal airport located just a short walk over the now-iconic Albany Avenue bridge from the Boardwalk - proved to be a fetching and roomy backdrop.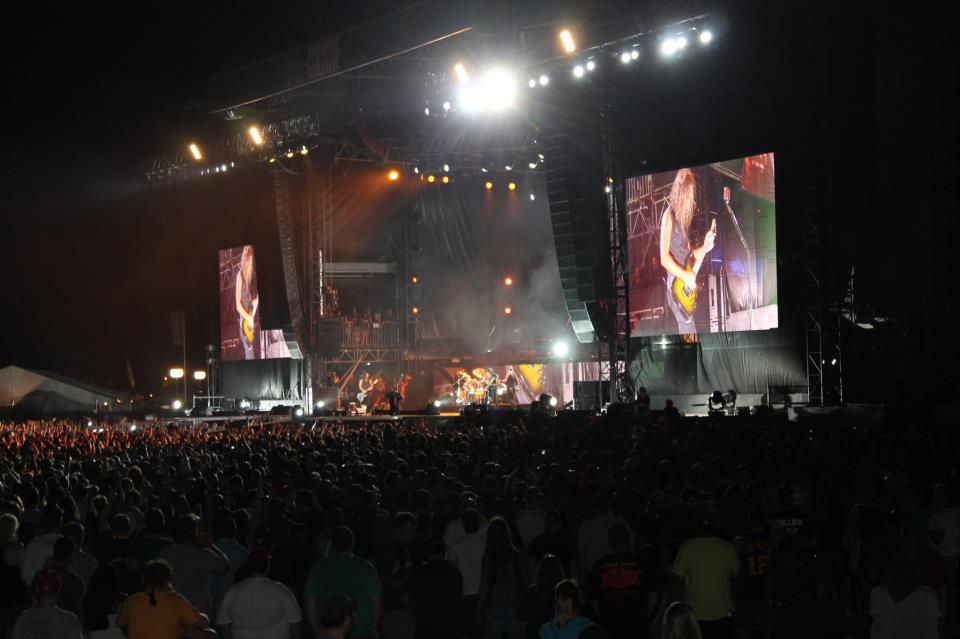 Metallica's Orion Music and More festival seemed to go off smoothly enough, with crowd estimates varying but mostly settling into the 22,500 the first day, fewer the second day. A little lower than predicted, and smaller than either Phish or the DMB Caravan last summer. Hopefully strong enough to keep the festivals coming. The rituals of a festival at Bader have their charms: walking over the Albany Avenue bridge before and after, when the ACPD close the span to cars and allow the amazed crowds to exit the venue on a street all their own. There was not as much singing on the bridge as during the DMB Caravan last summer, and I didn't see anybody sucking on nitrous oxygen tanks on the way down, but seeing all those happy campers fill the street from the Monument to the top of the bridge is a great sight and a happy end to a day of music.
If you're a foodie at the Shore this summer, this sounds like so much fun: The Viking Cooking School at Harrah's Resort in Atlantic City is offering a star-studded summer lineup of cooking classes where you can learn tips and tricks and new recipes using the high performance Viking ranges.
"Atlantic City is quickly becoming a true culinary destination, with Harrah's Resort helping to lead the charge," said Chef Jack Whelan, executive chef at Harrah's. "Viking Cooking School is really a playground for cooks, and epicureans will be delighted with our new summer classes and celebrity chef guest instructors.
Starting things off on June 29 will be the larger-than-life Sam "Sammy D" DeMarco, of the resort's Sammy D's Restaurant and Bar with a spicy demonstration called "Cocktails and Cravings: Keepin' It Hot" that will feature how-to's for some of his most popular appetizers, including cheesesteak dumplings and tasty pork eggrolls.
Climatological spring ended on June 1, and this year marked one of the hottest on record in the northeast, according to Jessica Rennells, a climatologist and extension support specialist at the Northeast Regional Climate Center at Cornell University.
Some 35 stations within the region – from Caribou, Maine, down to Dulles, Virginia, and as far west as Huntington, West Virginia – report weather temperatures to the Cornell center for analysis. Scientists study the findings to determine possible patterns and climate changes.
"All of the first order stations in the Northeast ranked in their top three warmest springs; 28 of the 35 had their warmest spring on record," Rennells said, referring to stations that monitor a wide variety of weather variables around the clock.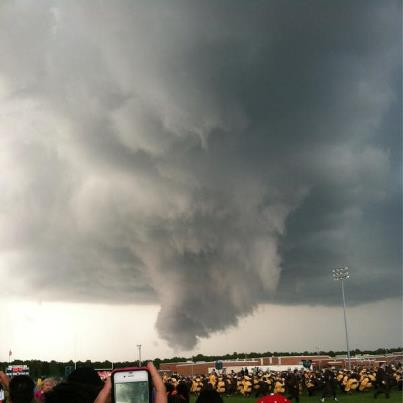 UPDATE: Absegami school oficials are getting a scolding this morning from New Jersey shore weather guy Dan Skeldon, who cannot believe they didn't run for cover at the first sight, at their graduation, above, of, well, something that looked a lot like a tornado! It wasn't a tornado, and the grads managed to get to the hat throwing point of their evening without any casualties, but a lot of is this really happenning consternation. And some awesome video by Matt Blanchard, below. Some parents protested, saying he was being too critical and that school officials and parents did everything they could, given the circumstances. Skeldon scolded: Again, I offer my sincere congratulations to the class of 2012 on your accomplishments, and your graduation is certainly one you will never forget. And I am grateful and consider it very fortunate that no one was hurt seriously. As the video and pictures make the national rounds, I'm hearing two things, awe and surprise. The awe comes from the intense and unfolding meteorological scene captured on camera, the surprise that action wasn't taken sooner. While not assigning any blame to what did or didn't happen in Galloway...I think we can learn from this incident...and all be safer in the future with a local and loud lesson in the dos and don'ts of severe weather safety." Preach it brother Dan! See video below by Matt Blandhard. And Inky weather ace Tony Wood's take is here.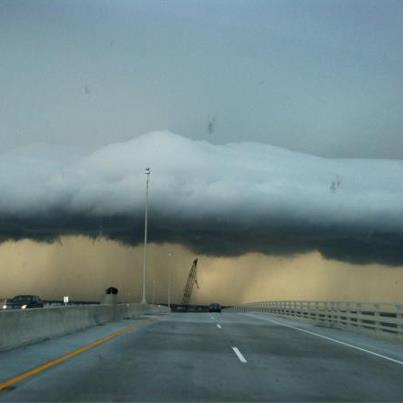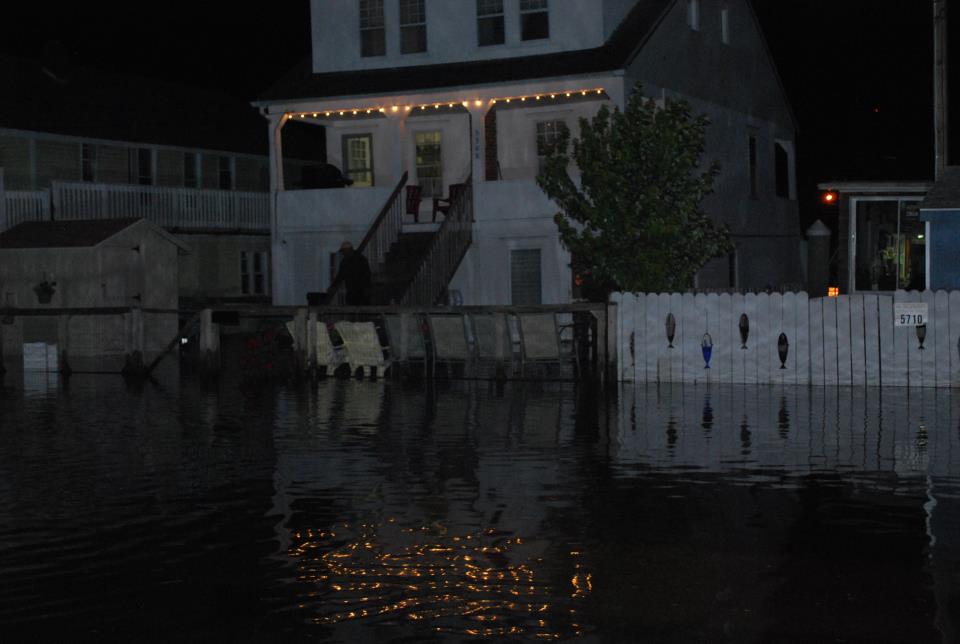 Photo of flooding along Edgewater Avenue in Ventnor Heights by Catherine Van Duyne
Sometimes, it's the storms less hyped that wreak the most havoc. Or, in Monday night's case, the June full moon, astronomical high tides, and off shore winds which led to rising water that was recorded at the highest level since 1996 on the barrier islands. Around 8:30, the high water water level measured at the Steel Pier was 7.5, above what is considered "moderate flooding" conditions and a level not seen since the Halloween storm of 1996. Personally, my flooding gauge was measured by the flood of teenagers who suddenly appeared at my house (on a non-flood prone area of the island, actually) around 10 p.m., as the bay tide crested and both Wellington Avenue and the Dorset Bridge access to Ventnor Heights was cut off, leaving the Heights its own island, moored to its WaWa. In any case, the teens "taking refuge" seemed to have a good excuse (and hey no school today in Atlantic City) to ride out the storm all together (and in the hot tub). Kind of reminded me of the epic ice storm from my childhood, when kids were suddenly out roaming the streets, power was off and all the usual rules did not apply. In any case, water was cresting up to car door levels, washing over docks and bulkheads and leaving the usual flood prone streets flooded. It's still flooded out there this morning, with parts of the Black Horse Pike shut down and additional flooding expected tonight. But it's a school night.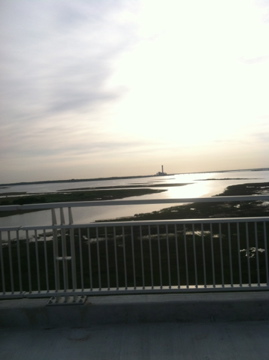 Who were all those strange dogs barking down from porches at me, Clifford and Spot today as we took our usual walk along Atlantic Avenue this morning? Oh yes! Shoobie dogs! Listen, pooches, back off. And why are you all so little and wierd and fussy and noisy and, oh, right. Anyway, it's that time again, time for the beaches In Atlantic City and Ventnor to be marred by rusty pipes that keep hobie cats off the beach, and turn the sands into construction zones, courtesy of our friends, the U.S. Army Corps of Engineers. Plus, in Atlantic City, the emergency management folks are complaining that the newly pumped sand is now blocking access ways to the beaches themselves. Plus, the beaches up at Revel, now, you know, as in Revel Beach, aren't even finished yet. Plus, the Army Corps promised they wouldn't interfere with the summer tourist season. Plus, ah well, I give up. People in Atlantic City don't want high dunes, and they build them anyway. People in Ventnor don't want the Army Corps anywhere near their beaches this time of year and still, here they are, putting back the sand that was lost since they were unwelcome visitors last July. At least the ocean is cooperating at a balmy 65 degrees. So ignore the beaches and head for the water.
In other news, the new causeway bridge into Ocean City, despite a few kinks to be worked out, has a nice 11-foot shoulder where bikes are welcome. (The shoulder sort of dissolves around the fishing pier, but the DOT says lanes will be shaded to make sure motorists know they're merging into a bicycle lane.) The new 10 foot wide sidewalk is only half open and is for cruiser type bikes, pedestrians and strollers. DOT spokesman Tim Greeley wasn't able to totally explain how that pedestrian lane will work, as it's only on the south side of the bridge and has signs in both directions that call for bikes to the left, pedestrians to the right. That means, sports fans, if you're walking on the right toward Somers Point, you could have a bicycle coming at you in the other direction. Unless they mean four lanes of cruiser/walker traffic, two in each direction, which sounds a little spotty. But I took a nice bike ride on the bridge itself, in both directions, and thought it was a great addition to the bridges of the Jersey Shore for cycling, not as steep as the Longport Ocean City bridge, but longer with nice views from the middle (see above photo, looking south). There's no shoulder coming into and out of Ocean City, but cars are supposed to be down to 25 miles per hour by then. And, as Bob Farnsworth of Tuckahoe Bike Shop in Ocean City, pointed out, it creates a perfect little loop with the existing Ocean City Longport Bridge.
"I'm going to use it a lot," he said. "It's a little hairy at the start, but it's great loop for people who want a ten-12 mile loop. It's a beautiful trip across the bay."
So that's Irish Pub owner Cathy Burke, God love her, she offered to buy drinks and food for the entire press and security corps with Gov. Christie. Gov. Christie was in town to sooth the nerves of a jittery city a few days after the stabbing deaths of two Canadian tourists in broad daylight and just a day before Memorial Day. As the DO AC folks handed out free popcorn and shirts, Christie said he'd be forging ahead with sports betting regulations in defiance of the federal ban. He wants the sports book legal in A.C. in time for football season.
He dismissed the idea that Atlantic City is a dangerous place, and said he was not giving in to the perception that tourists are not safe. "I'm not buying into that," he said. "We're never going to try to justify senseless acts of violence that happenned recently," he said. "But things are much better. "
Courtesy of the @AtlanticCity911 twitter feed (not an official police site, but a scanner monitoring twitter feed, here's the police audio feed from the horrible stabbing of two Canadian tourists Monday morning in broad daylight, a half-block from a trauma hospital, a block from the Walk outlets and right near Bally's, at Michigan and Pacific Avenue. Despite the fact that a police officer, Jacob Abbruscato, was there almost immediately, and with the hospital nearby, the women, ages 80 and 47, died within a few hours. The suspect, Atoinette Pelzer, 44, is being held on $2 million bail. Her mother told Action News her daughter was a schizophrenic who was probably off her miedication. The murders couldn't have happened at a worse time for Atlantic City, which just launced its multimillion promotional campaign, DO AC, and markets heavily to the Canadian market, and which had high hopes for the new state run tourism district, in which this occurred.