(Inquirer photo by Elizabeth V. Robertson/staff photographer)
So the moral of the story is, the squeaky flooded out wheel gets the endlessly-stalled insurance settlement money. In the case of Maurice Corkery, above, in his gutted little slice of paradise in Ocean City, N.J., his frustrations really touched a nerve with the many people whose insurance claims - despite FEMA reassurances - remain up in the air, stalled, or in need of appeals and supplement. But about a week after Corkery went passionately and eloquently public about his endless bureacratic frustrations with FEMA Flood Insurance - have your engineer talk to my engineer about sums it up - the Hartford Insurance Company told him they were cutting him the $79,300 check he had sought in order to tear down the ruined little rancher and put up an elevated modular home that meets all FEMA requirements. (The settlement was $88,000, minus depreciation and deductible). Corkery, who spoke with the passion of a WIP caller complaining about former Eagles coach Andy Reid, told his tale in the Inquirer, and then leveraged that into an appearance on Fox Business Network and an outraged on his behalf Gerri Willis. It touched a nerve, judging from the response, among people like Corkery who paid their insurance premiums, spent their savings on modest beach homes and hoped to secure a little bit of Jersey Shore goodness for their families (in Corkery's case, a new grandson). "I will be installing pilings to 13 feet," Corkery reports, "and putting a new home on them." Corkery at first thought the check would mean the home would be ready by June, just in time for beach tags. Now, he's thinking mid-July is more realistic. "I have applied for demo permits," he wrote in an e-mail Monday morning. "The modular house has been ordered. My builder told me O.C. still has only one guy who approves the permits. I hope it moves fast." One thing is certain: the new house will be the same yellow as the old one. "My wife thinks it is a shore color," he said. Agreed. Stay tuned sports fans.
OCEAN CITY – A quaint downtown stretch along Asbury Avenue that has mostly managed to avoid corporate homogeneity by favoring hometown mom-and-pops – the likes of Benetton and Domino's Pizza left town long ago after relatively unpopular stints – will be graced by the resort's first Starbucks come fall.
Starbucks will, in fact, occupy Domino's old digs at 11th and Asbury just as soon as designers, contractors, and the franchisees can create a "beach-beautiful" theme in the old pizza joint. Installing snazzy seating for up to 70 people, including a gas fireplace and special lighting features, the space could become a favorite hangout for locals and visitors alike, said Anne Betz, of Betz & Associates of Phoenixville, Chester County, which will operate the location with partner Pierce Keating of the Daniel J. Keating Co. of Narberth, Montgomery County.
The partnership operates Starbucks in nearby Margate and Atlantic City.
With their backs up against the seawall at the end of Brigantine Avenue, U.S. Reps. Frank LoBiondo and Jon Runyan announced they were introducing legislation that would ease some of the burden from the planned whopper of a rate increase to fund the once-hemorrhaging national Flood Insurance program. They were joined by Brigantine Mayor Phil Guenther, above, in the suit and tie. (The Congressman dressed down for the beach).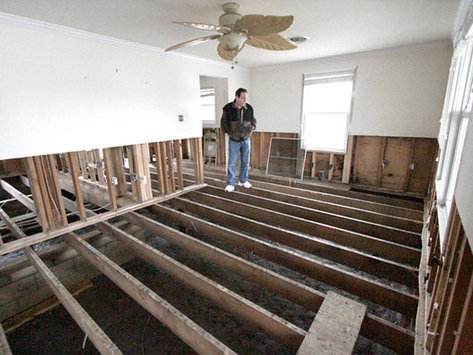 Among the responses to my story today about Sandy victims who can't shake any insurance money out of the National Flood Insurance Program, featuring Maurice Corkery of Delaware County, above, was an e-mail from Anne Cancelmo of Ocean City, who writes, "How about an article on the topic regarding insurance companies when writing a check to cover losses write it to the homeowner (aka morgtage holder) and the bank (mortgager).
When fired ripped through The Gables in Beach Haven just after the dinner service Easter Sunday last year, some feared the devastating blaze would mean the end of the beloved Long Beach Island landmark restaurant.
But the owner persevered and restored the ornate Victorian to all its former splendor in time to reopen just before Labor Day. In addition to a fine-dining restaurant, the establishment offers five upstairs guest rooms that each features Frette linens, marble fireplaces, and luxury bathrooms. It was the second time owner Sondra Beninati had to undertake a massive restoration of what she calls her "Grand Old Lady" after purchasing it in 2006.
Then along came Sandy.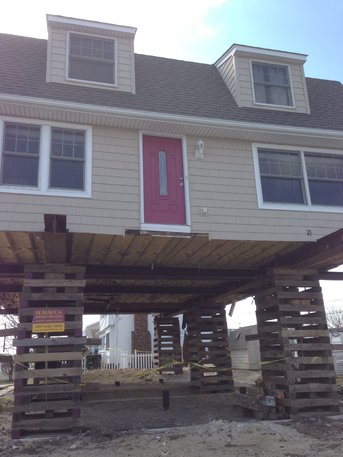 The certainty admidst the confusion continued to be the norm in New Jersey this week as the Christie administraiton continued its earlier announced policy of adopting FEMA's new flood maps as the standard for rebuilding statewide. This action, the Department of Environmental Protection said in a statement, "provides clear direction for residents as they rebuild from the devastating effects of Superstorm Sandy."
That direction is as clear as the house in the photo, left: UP. But just how far up remains murky. FEMA's recently released Advisory Base Flood Elevation maps hit like its own tsunami, reassigning thousands of homes into High Velocity zones and requiring vast swatches of homes to be elevated several feet or face hikes in insurance premiums that many predicted would chase people off the island. (Something environmentalists might think is a good outcome, but Gov. Christie has not endorsed.)
One thing we can all agree on: Atlantic City should be cooler than it is. It ebbs and flows in this area, the music scene got a lot better for awhile, then sagged, Borgata and House of Blues keep the town in the game mostly. If you're into the club/d.j. scene, then A.C. gets lots of points. Bachelorettes and their entourages, in particular, seem most happy with Atlantic City. But A.C., in addition to being a casino town, is a surfing mecca. The guys behind the proposed new Skate Park tried to capitalize on this, uging the CRDA (successfully) to nurture a youthful beach vibe associated with surfing, skating and local band scene that seems to have only one venue in Atlantic City: the Boneyard at Gordon's Alley up in the Inlet. But where are the other great cool bars and venues like you might find in a place where the original Ugg nation changes out of its wetsuits on beach blocks? Ski towns have their cool divey bars and music and arts scenes where people congregate. Why not Atlantic City? The CRDA has been trying another shortcut to cool lately: encouraging artists to take up root in Atlantic City: Ducktown in particular. The Noyes museum is supposed to open up gallery space for artists on the ground floor of the Wave Parking Lot near the Outlets, and the Master Plan calls for a fullfledged Arts District in Ducktown, the closest thing Atlantic City has to an original neighborhood. In the meantime, the Atantic City Arts Commission is planning a Boardwalk Art Show in September, a juried show with $2000 in prizes, including a $400 Mayor's Prize to be selected by Mayor Langford (Gov. Christie need not apply). Organizers are currenlty soliciting submissions. More info to be found on doartac.com
The New Jersey Attorney General's Office announced Monday that more than 2,000 guns — including 14 assault weapons and 1,000 handguns — had been turned in during a state-sponsored gun buyback held at churches in Atlantic County over the weekend.
The number of guns obtained in five statewide weapons buyback programs held since December — including in Camden, Mercer, Essex, and Monmouth counties — totals 9,153 firearms, according to Attorney General Jeffrey S. Chiesa.
Among the weapons surrendered in Atlantic County were 199 illegal firearms. The weapons turned in also included 445 shotguns, 411 rifles, and 348 semiautomatic handguns. Those turning in guns were paid up to $250 per weapon.