Did I mention Ocean City is a great coffee town? I drive over the bridge all the time to get a drink in Ocean City, home of some of the finest lattes at the Jersey Shore. Alas, these same cafes that also serve dinner in the summer will not be able to draw the wine with grass-fed beef crowd now or any time soon. The BYOB measure that finally made the ballot was trounced by a 2 -1 margin Tuesday night by people in town who just want the town to stay the way it is: Dry, with a splash of your own alcohol from Circle Liquors in Somers Point. I guess I understand people don't want to mess with a good formula, and Ocean City has achieved an unassailable brand of family-friendly, founded on Methodist values. Pre-teens gather in hordes in the summer on the Boardwalk and I guess people didn't want any adults walking out of nearby restaurants with a glass or two of wine in them. I don't know, I wouldn't want Ocean City to be a place where liquor stores popped up, but BYOB seemed rather civilized.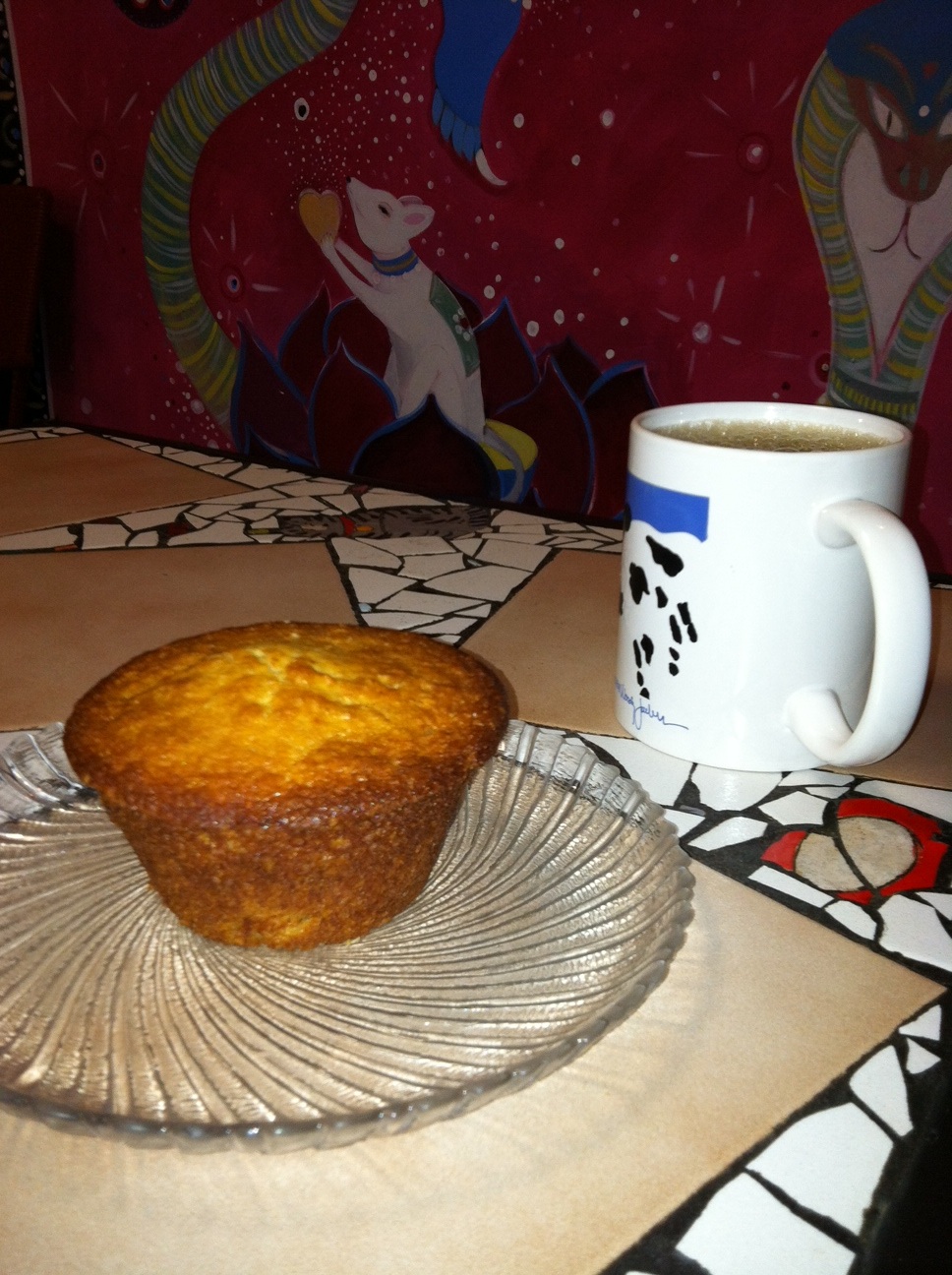 I like to walk along the beach studying the carpet that has been laid before me by the tide: the shells, stones, bits of sea life swirling around in the little whirlpools.
Every now and then, there's a bright, colored glint, and my heart beats a little faster.
Could it be? Is it really a piece of sea glass?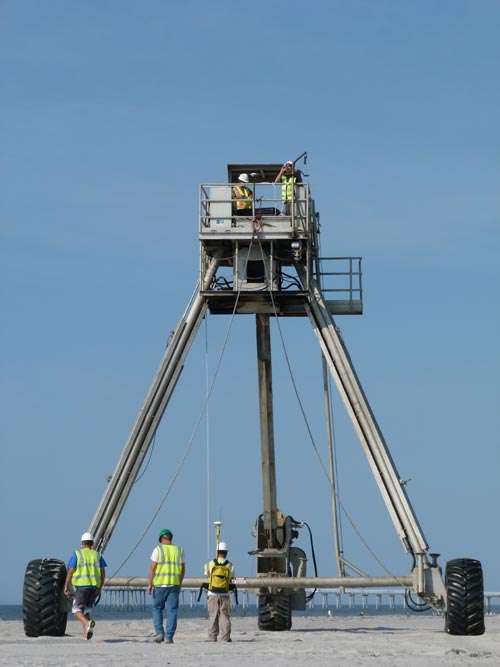 Well, well, well, if it isn't our good friends the Army Corps of Engineers come knocking at our door just int time for Memorial Day weekend. Don't know if they're coming with that crazy beach vehicle they used last summer (above, from the Shore News Today site), but in Ventnor, Public Works Director David Smith has ordered all hobie cats off the Suffolk Avenue beach by May 7th with an end date not expected before June 1, according to an e-mail sent to a few owners of boats (including a friend of mine). So much for that inaugural big weekend sail, though in a phone interview this morning, Smith said he actually believes the Army Corps will be finished with that portion of their job before Memorial Day and the boats will be allowed back. The entire project in Ventnor will be finished by the end of June. It involves shoring back up the dunes built, in a really badly-timed project, last July, from Richards north to the Pier. Those dunes lost about half their sand over the last year, Smith said. They will also pump sand from Richards south to the Margate border, but will not bother with any dunes there, as they have proven to not hold at all. I guess unwanted guests over Memorial Day is a wee bit better than July and August, but these guys have a way of spoiling our fun. They're also very busy, according to Richard Degener of the Press of Atlantic City, removing tons of rocks from some beaches in Cape May that resulted from some new replenishment techniques to avoid the dangerous gullies that formed in the past. Read all about that here.
CAPE MAY – Before I let the rock of the waves and the hum of engines lull me off for a nice little nap on a recent crossing on the Cape May Lewes Ferry, I noticed a new promotion encouraging exploration of the "Twin Capes Region."
Instead of using the ferry only as a means of transportation to get from, say, South Jersey to the Chesapeake Bay region – without having to negotiate the traffic-laden landlubber route along I-95 – ferry-operator Delaware River and Bay Authority recommends the boat as a conduit to a day trip to explore Delaware's coastline.
Or those on the Delmarva can come over here and see what lovely Cape May County has to offer.
ATLANTIC CITY – I've always been one of those people who'll run in the opposite direction of a crowd. Maybe, it's because my job will often send me right into the middle of a big bunch of people. Maybe I just don't like the noise.
So after I checked out the big hoo-hah that was the "soft" opening of the Revel a couple of weeks ago for work purposes -- crowds everywhere, lines to do everything, very noisy indeed -- I headed over to the Golden Nugget. I'm not much of a gambler. But I was hungry. And I like contrasts.
And I wanted to see whether the big, bad $2 billion Revel really was beginning to suck the life out of the other casinos as AC watchers have predicted it will.
After five years of asking people to name their favorite beaches at the Shore, the New Jersey Sea Grant Consortium says the annual contest is the really gaining momentum.
Response to the annual online poll has been steady and strong in 2012 and may end up being double what it was last year, according to Kim Kosko, a spokeswoman for the Sandy Hook-based consortium, an affiliation of colleges, universities and other groups dedicated to the stewardship the state's coastal and marine environment by educating adults and children.
The consortium forges deeper connections to the Shore by helping people care for coast, through activities such as beach cleanups and educational workshops.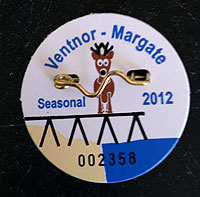 Ah Bucky. We were never quite sure how you got on the island (over the Margate bridge? swimming? down the Black Horse Pike?) But we loved you while you were here in our streets last spring, mourned your death at the hands of the law when you wandered into the wrong neighborhood in Atlantic City, and now, have immortalized you in a way no offshore community ever could: on a beach badge. The deer whose adventures in the streets of Margate and Ventnor were captured by residents and, famously, by Margate firefighter Michael Palmer in the video below, before being shot to death by an Atlantic City policeman last October after wandering too close to a casino porte cochere, will be on beach badges shared by the two towns this summer ($7 now, $15 in June). Designed by a student in a contest, the beach badge features a white-tailed deer on a wooden walkway over the ocean and sand. In other words: deer on a pier. RIP Bucky. Like so many, your luck may have run out when you hit Atlantic City, but downbeach will never forget. We take care of our own.
Here's the video: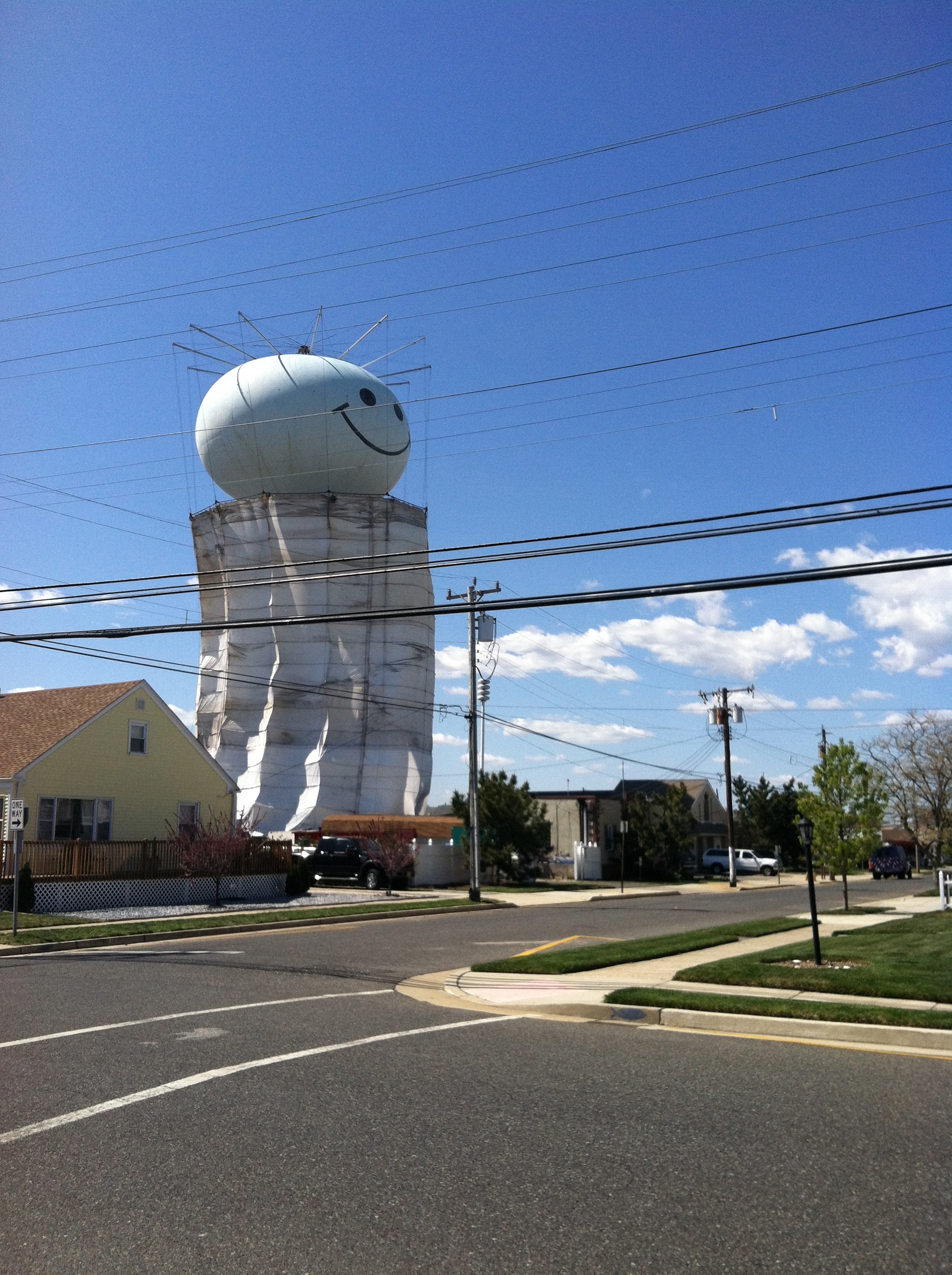 Saw this little glimpse of conspiratorial heaven the other day on a bike ride through Longport. I guess the answer is, being power washed, but sure looked like some extra special preparations were under way just in time for the summer season, which apparently is arriving today, April 16, when temps will top 80 degrees at the shore (it's cooler at the shore, remember?).
Longport also added a nice new old- fashioned looking clock at the base of the bridge, the better to occupy you after the police pull you over for speeding merrily into town. Looks like they may even be fixing up the epic potholes and cracks on the bridge itself, which make it even more of a hazard for bike riders such as myself. On my way back into Longport on the bike, I always think, the drivers will thank me for forcing them to slow down as they pass me on the bike into town, thereby avoiding the speed trap. But on the way out to Somers Point, people seem impatient to rev it up. Wish there were another way off the island on the bike, one with a better shoulder, but there is not. Still waiting for the new Ocean City bridge to open up their bike/pedestrian lane. Island- hopping is one of the great joys of bicycling down here, especially some of the old causeways and bridges, like past Corson's Inlet and into Strathmere, but shoulders can be non-existent.