Jacqueline Urgo
ATLANTIC CITY – The big question of the evening was: Would they go there? Would Neil Young & Crazy Horse perform "Like a Hurricane" at a Hurricane Sandy benefit concert Thursday night at the Borgata.
The answer came after a 12-song set – played the good old-fashioned, rock-and-roll way with giant Fender Deluxe amps and Young on Fender Stratocaster guitars. After classics and new tracks from their latest album "Psychedelic Pill" came the lithe strains of the 1977 masterpiece that Young wrote not about an intense storm, but about his intense desire for a girl.
And the crowd went wild.
Amy S. Rosenberg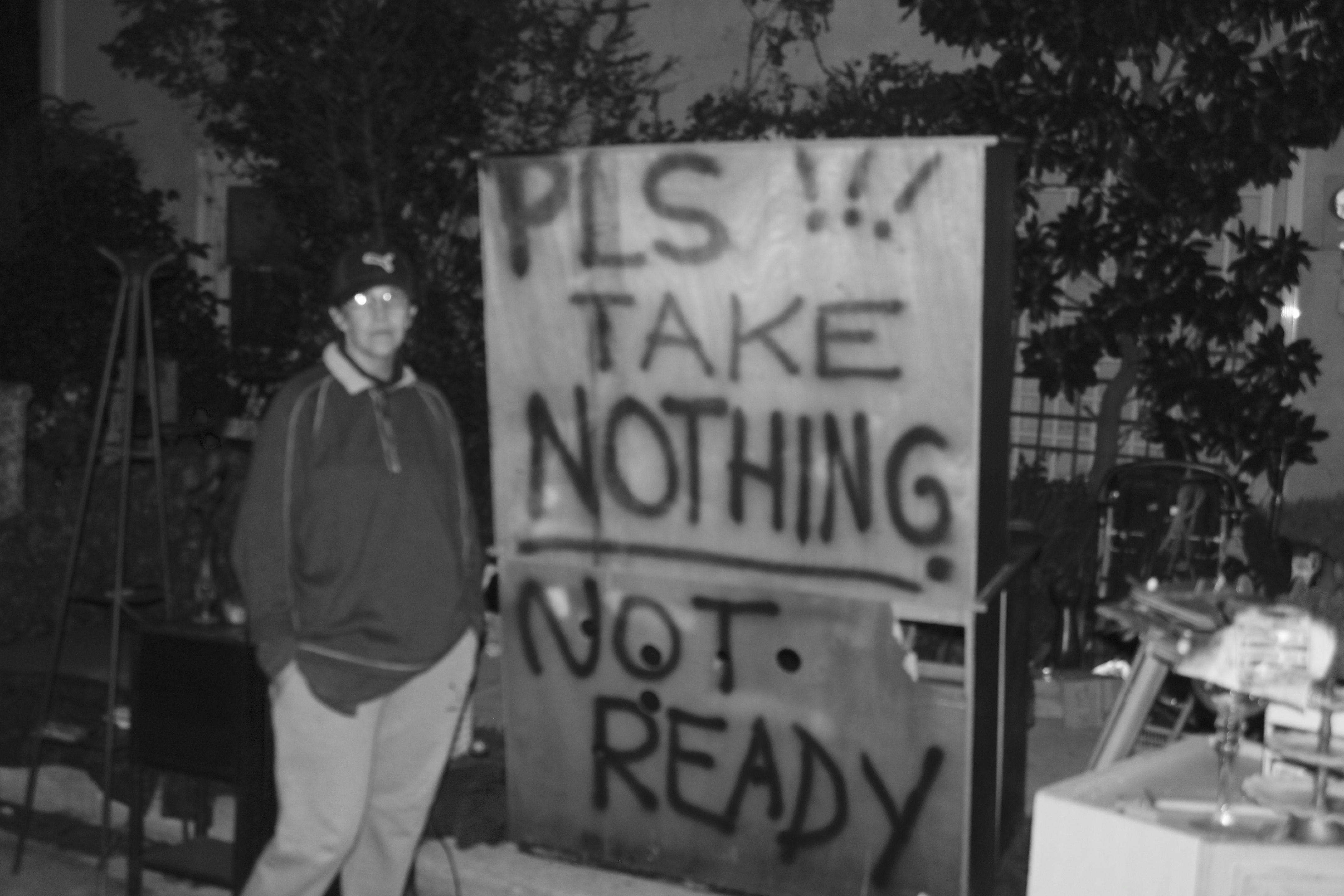 This is Christel Andersen, my neighbor, who like so many people in Ventnor and Ventnor Heights dragged her life to the curb, as another friend described it, in the aftermath of Hurricane Sandy. Not ready to totally declare the flooded contents of the first floor of her home (an apartment her mom lived in), she painted to the sign to shoo off scavengers and trash trucks. But eventually, the block long collection of furniture, clothing, photos, antiques, rugs, bedding and so much more will surely need to be let go of.
Anyone who went on the Ventnor Garden Tour this summer would know Christel's house, and her 68-year-old mom, because their house was on the way to a house officially on the tour, but the beautiful garden with the antique bicycles and her mom, a lovely woman with a Danish accent, stopped every garden tour trekker at an unofficial spot. So sad to see this way. Christel said her mom was staying elsewhere Sunday night, too much rearranging of her belongings, and anxiety over the loss. She and her children would remain upstairs, though at the moment they have no heat or hot water.
Amy S. Rosenberg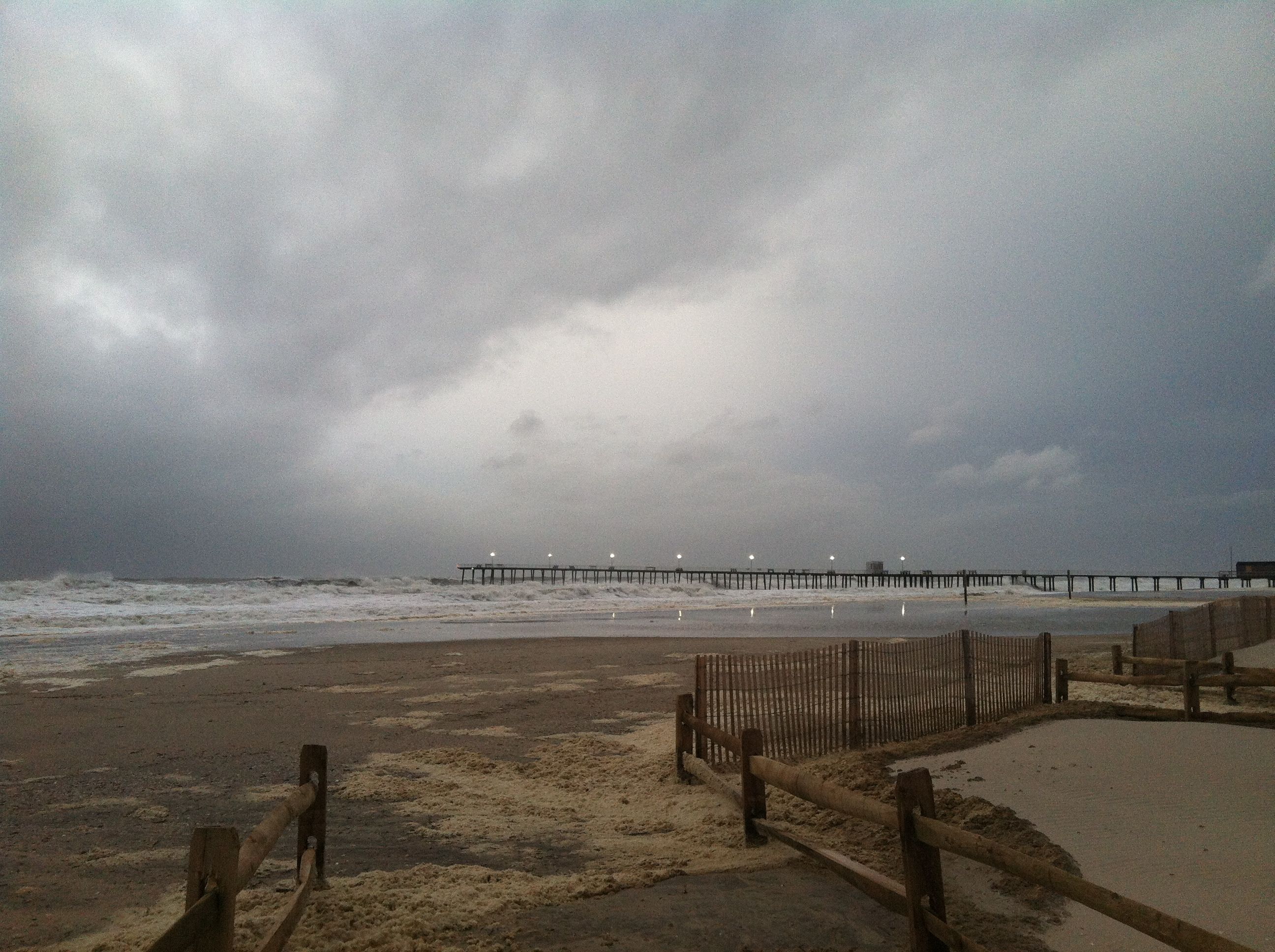 UPDATE: Route 40 headed into Atlantic City has been shut down already this morning due to flooding. This is usually the first road to flood during storms. All roads into Atlantic City and downbeach will be shut down at 4 p.m., when the mandatory evacuation of Atlantic City, Ventnor, Margate, Longport goes into effect. Atlantic City is maintaining shelters for people who stay.
Morning and high tide coincided Sunday and while I woke up relieved to see the storm's track a bit north _ nothing against anybody up there _ it was sobering to walk out to the beach. The sky screams nor'easter inside of a hurricane, doesn't it? The frothy sea foam of the high tide can still be seen coming up into the walkway, newly fashioned by the Army Corps this summer, along with some monster dunes. The winds were gusting a bit, and the light had that pregnant with hurricane glow. One of my neighbors who had been planning to stay made other plans after seeing the ocean already all the way into the dunes. Of course, the tide will soon recede. And be back this evening for its next photo opportunity. Below is a video of the view, from Atlantic City to the pier in Ventnor. Feel free to follow me on twitter.com/amysrosenberg. Weather channel is on board with the E Street Scenario, with Sandy making landfall near Asbury Park with a double barrelled punch. Impressive.
Amy S. Rosenberg
God Bless Dino's. Just like before Hurricane Irene, they were manning the Formica rolls and churning out subs pre-Sandy and vowing to stay open. It was kind of sad, and the talk was a lot about the late owner Leo Heintzelman, who vowed never to close, ever, and joyfully made subs during Irene, but who died just a month later.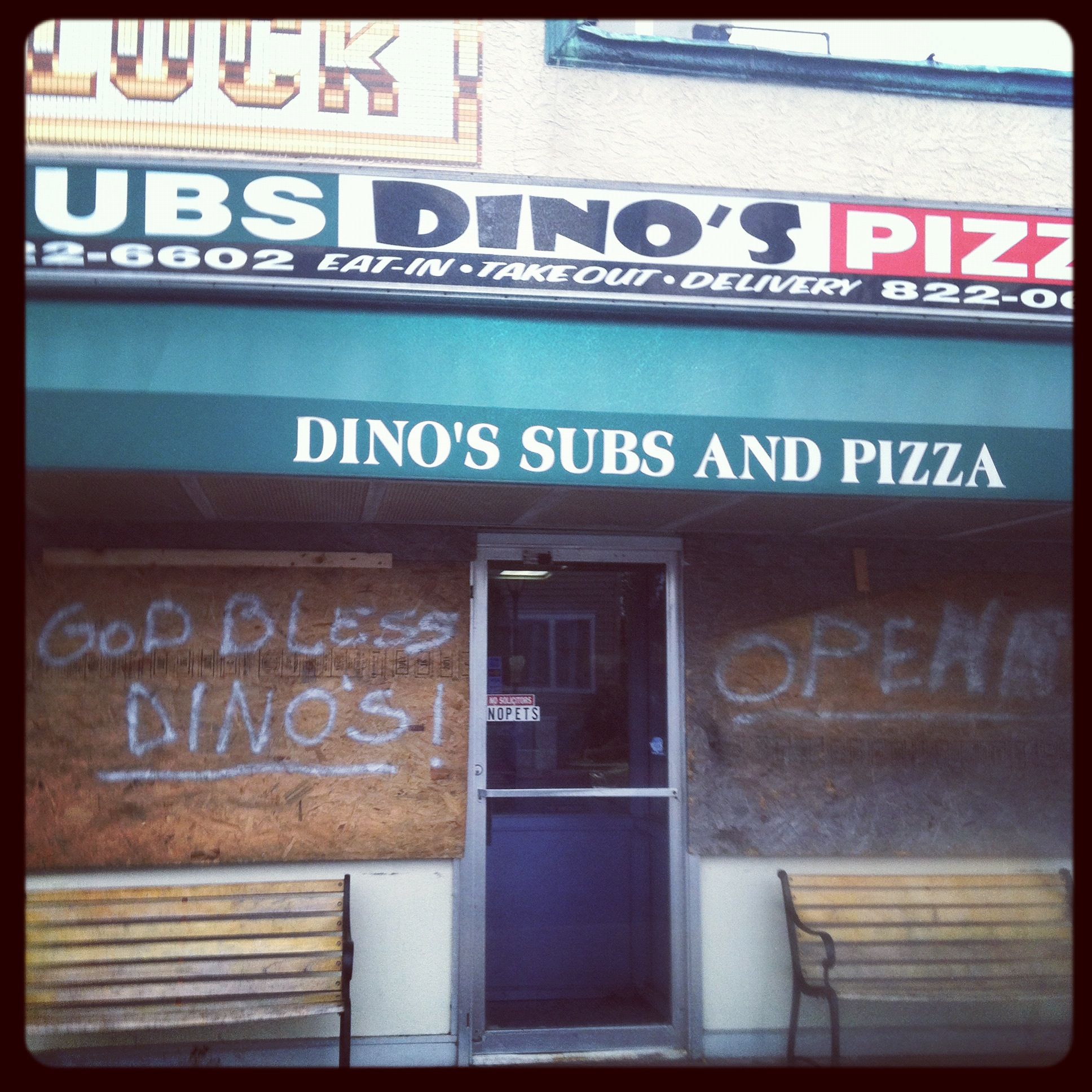 Meanwhile, a lot of people were clearing out. Casinos were emptying. Gov. Christie was calling people who were hunkering down on the islands "stupid" and advising we all go watch football for a couple hours. I have to say, I know a lot of people around Ventnor and Margate who are planning to stay, on the theory that they can ride it out. Well, as they say, time will tell. A stream of cars headed out of town, but also into town for one last look before Sandy at that most vulnerable piece of Jersey Shore real estate: the tip of Longport, the one that stops at 11th Street because sometime a long time ago the waves swallowed up blocks one through ten. LONG LIVE 11th Street. Videos below. Please follow on twiiter @amysrosenberg.
Amy S. Rosenberg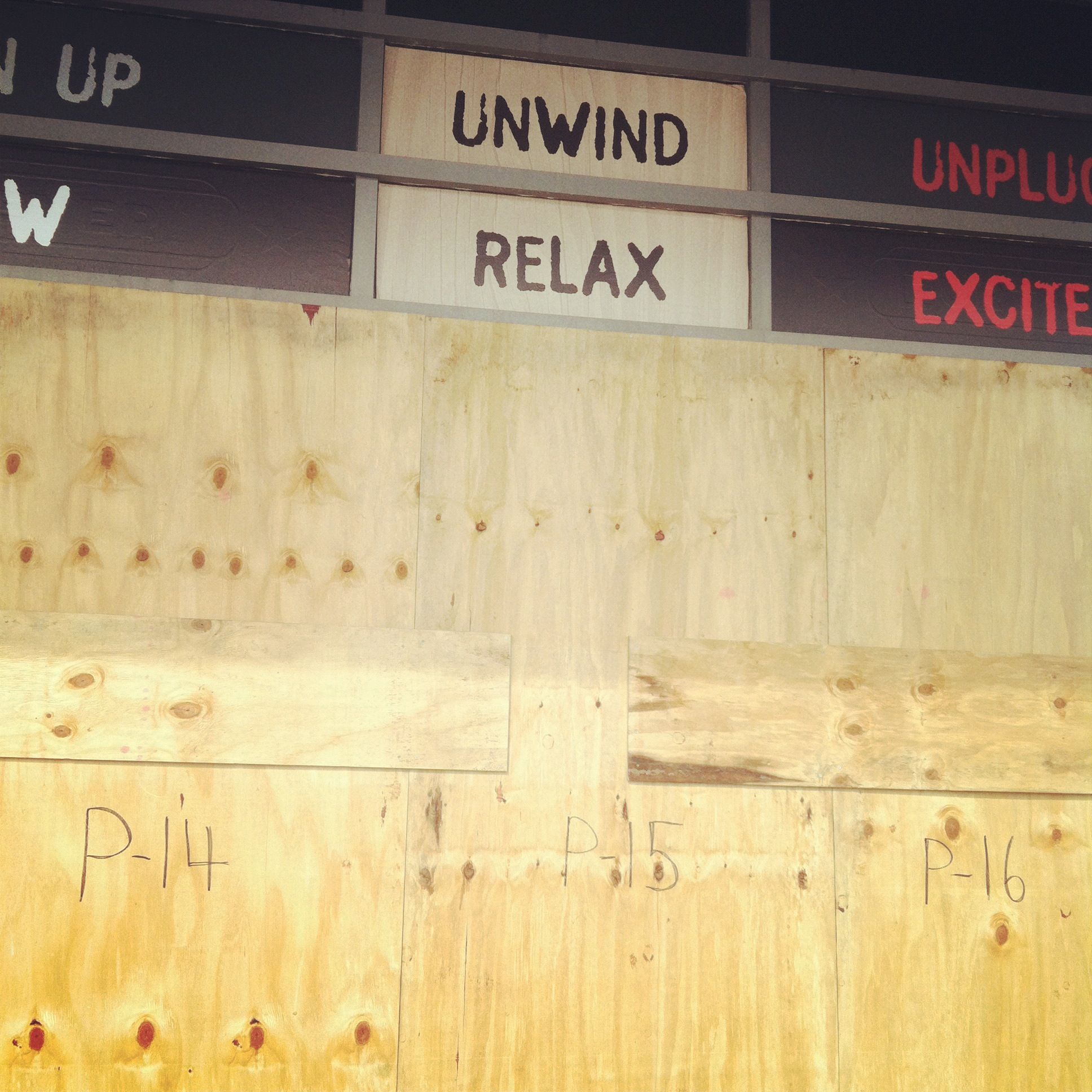 So the Governor has just ordered mandatory evacuations for all barrier islands. Up until then, it was looking like maybe Atlantic City would not be evacuated, there was talk of setting up shelters inside the city and allowing casinos to stay open, but i guess Frankenstorm demands otherwise. For locals, here's an A.C. Press story detailing the city's evacuation plans. (Roads into A.C. will close at 4 p.m. Sunday, roads out will close when sustained winds reach 40 miles per hour.) Please follow on twitter @amysrosenberg
A general twitter feed for Sandy can be found here. I know last time, a lot of people stayed put and were vindicated as places people evacuated to got hit worse than the islands. Sandy doesn't seem worth messing with, I'd have to say. On a biike ride up the Boardwalk this morning, I only saw the casinos on the North end boarding up, Resorts, Showboat (That's the House of Blues with the Unwind, Relax suggestions) and Caesars a little bit, but I guess there's time. Revel seems particularly vulnerable out there on the edge of the island, all glass, that darned ball resting on its giant golf tee, but only time will tell how she holds up.
Amy S. Rosenberg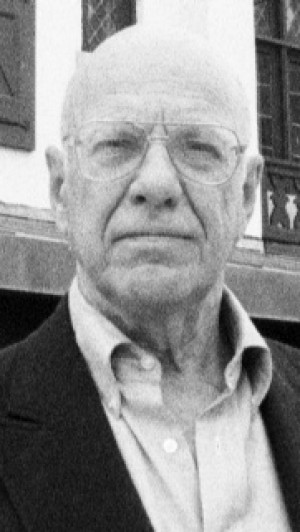 Mack Latz was "a big liver" he once told me, meaning he was hightailing it out of the business to get on with life, having sold his family's crown jewel, the Knife & Fork Inn in Atlantic City, over the objections of his son Andrew Latz, who now runs Latz by the Bay in Somers Point. But Mack - who famously couldn't get along with anyone, especially his brother, causing them to work on alternating weeks - left the great Knife & Fork in good hands: the Dougherty family, which also owns Dock's Oyster House, and, more recently, Harry's Clam Bar. The Knife & Fork is still going strong, one of the city's few remaining ties to the old old days, converting the enclosed porch that once played host to a lunch scene played by Burt Lancaster and Susan Sarandon in the Louis Malle movie Atlantic City to the city's best bar for locals or anyone. The food is still incredible, the atmosphere is pure old Atlantic City charm (so much so, that the Boardwalk Empire inspired Roaring 20s outfits for waiters seemed somewhat superflouous), and the location still unmoved, despite threats, the Flemish building moored to its odd place at the intersection of Atlantic and Pacific. The Knife & Fork celebrates it 100th birthday next week. Alas, Mack Latz, 95, didn't make it, but who knows if he would have bothered to show up anyway. His parents, Milton and Evelyn Latz, had owned the Knife & Fork Inn since 1927 (it was a speakeasy before that, with lockers under the seats for your booze) and made their reputation on period dishes such as Lobster Thermidor. His grandparents were hoteliers in Atlantic City as well. Mack Lack's feud with his son Andrew, who desperately wanted to take over his family's birthright, led to the obligatory lawsuits and press releases, with Andrew publicly accusing his father of duplicity and betrayal, and Mack Latz firing back, "All I want is 6 percent of the gross. A knife and fork in the back, as we all said at the time.
Mack, who raced sailboats when he wasn't running restaurants or arguing with somebody and supposedly had a tattoo of the knife and fork crest on his hand, was a helluva guy who left his mark on a helluva restaurant and a helluva town. He told me back in 2003, in a hostility-filled story that ran, fetchingly, on Christmas Day: "I want money, baby. I have a car and a boat. I race sailboats. . . . All I've wanted is money. Boats and women - it's expensive. Nothing's enough for me. I gotta live. I'm a big liver."
Jacqueline L. Urgo
The tourists are mostly gone, but this time of year the Jersey Shore welcomes another crowd: our fine feathered friends.
Everywhere you look in what veteran birders consider to be the premier North American flyway, there are migrating bird species -- besides the ubiquitous squawking geese. The monarch butterflies put on a pretty good show, too.
To get into the high-flying spirit, one of the best things to do is to head to the Nature Center of Cape May, at 1600 Delaware Ave. in Cape May, for one of its seasonal programs.
Amy S. Rosenberg
Did we mention Nik Wallenda walked on a wire between the Atlantic Club and the Tropicana earlier this month? And that it was seen by about 100,000 people, give or take 50,000, according to crowd estimates. I thought it was super cool, in an unexpectedly subdued and meditative way, watching Wallenda walk high up in the air, on his own personal balance beam. I was relieved he didn't swing off it and have to grab it like a Fab Fiver on the Balance Beam, or meet a worse fate, like his great grandfather, Karl, who fell to his death on a similar walk. To me, it felt like everyone flying the same kite, that same kind of breathless wonder you feel to be connected to somthing so fantastical, so far away. Nik was cool the way he maintained eye contact with people during the walk. In any case, it was a big success for Atlantic City, say the marketers and image-keepers, but that still left Nik Wallenda, his wife Erendira, his mom, Delilah, his cousin Blake and a cast of a dozen or so old-fashioned circus performers _ a contortionist, an aerialist, a quick change of costume artist, a juggler, some swinging rope Guachos, his main man Michael Richter, who plays a clown in the act (with a particularly funny bit trying to get the audience to do a clap, snap, slap your thighs Louie Louie rendition) to go on with the show, which plays the Tropicana through Sept. 22. Nik relentllessly flogged the show, even pointing to the plane banner in the middle of his high wire walk. My daughter and I caught the show Sunday night, along with a bunch of other people who seemed to have gotten free tickets (there was a separate employee section and a comp section in the general admission seating area). Like the Morris Day and the Time show I saw the night before in the party like it's 1978 Superstar Theatre at Resorts, which has somehow escaped the glitzy redo of the rest of Resorts, it was an act that called on a lot of old fashioned entertainment values. Like Wallenda, Morris Day employs his own comic foil, who carries around a mirror. Between the two shows, I felt like I was back in an Atlantic City of an earlier era, maybe even like 1950, though Morris Day dates only from 80s Minneapolis.
In any case, the Wallendas put on an old fashion vaudeville variety act, put Nik and his lovely wife up top high swaying poles out over the audience (see photo above, and I mean way above), and then recreated his great grandfather Karl's signature chair pyramid with bicycles act, the act that caught the attention of Ringling Brothers in the 1920s and brought the famous Wallendas to the United States. It's also an act that when expanded from four people (as it was done at the Tropicana) to seven people led to two Wallenda deaths in 1962. See, these stunts really are dangerous, though Wallenda makes them look like you could just do it yourself. Which, since I can even stand on a paddle board for nore than a second and a half, I know I could not.
Anyway, I dug the show and so did all the little kids around me, though the contortionist guy who put his head through his legs backwards sort of freaked out the teenages. The daring bicycle acts are silly-dangerous but performed to very dark, adventure in the forest music like a movie score. Kind of hokey, but it underscores the serious heart to all the theatrics: this is at its core an homage to the memory of Karl and all the Wallendas that came before them, seven generations back. It was touching to see Nik, his mom, his wife and cousin Blake, continue to pay homage to the unique family legacy, quirky as it is. Who else but the Wallendas does the Wallenda thing? (See video below). It made me think, what would my family do on stage to honor grandpa Murray Rosenberg, our patriarch? Play a little tennis, maybe, and then all together on tables suspended in the air, slice that side of lox paper thin. Thinner, even. A legacy's a legacy.
And the grand finale: