Amy S. Rosenberg
ATLANTIC CITY — The head of the John Brooks Recovery Center, who sounded the alarm that his center would have to close against the backdrop of Gov. Christie's megaviral speech on drug addiction, says the Governor's office has summoned him to Trenton for a meeting.
Alan Oberman says he will be meeting with Deputy Chief of Staff Amy Cradic on Monday. He said Cradic contacted him after stories appeared about the plight of the 119-bed inpatient center
"She called me saying the the governor doesn't want to see us close," Oberman said.
Amy S. Rosenberg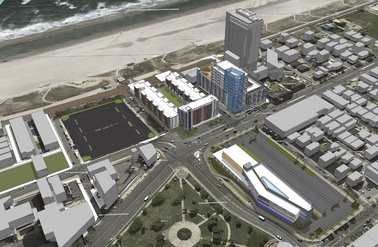 Stockton University's dream of an island campus in Atlantic City will have new life on the other side of town.
Although Stockton has not yet completed its $23 million sale of Showboat, where its plans for an Atlantic City campus previously collapsed, plans are under way to build the college a campus on southern end of Atlantic City.
Amy S. Rosenberg
Atlantic City Mayor Don Guardian said Tuesday he can live with the suggested changes to the rescue package made by Gov. Christie in his conditional veto of the package. The city, he says, desperately needs the package to continue to be solvent.
Guardian said the additional state controls on aid to the city do not represent a big change from what is already a heavily monitored and state-managed municipality.
"Honestly, the restrictions on the city in terms of finances and budgets are already in place," he said. "The state already has those in place. This gives them a little bit of a carrot. This is a cooperative program with the city and the state. They're providing a lot of support for Atlantic City to help us get through this."
Amy S. Rosenberg
Ah, Pinky, we all knew this day would come, but somehow, it seemed like it might never come. Pinky Kravitz, a radio icon, Atlantic City booster, man about town, every reporter's friend, every politician's egger-on-er, the ultimate insider, the ultimate symbol to the outside, a guy who outlasted all others to become, by his last chapter, the ultimate go-to guy, the voice of Atlantic City, died Saturday night (right on deadline, way to go champ!) at the age of 88.
I first met Pinky coming off the tennis court in the indoor courts in West Atlantic City, where Pinky was in a regular doubles game. I later met Pinky at Atlantic City events, over and over again. Pinky was everywhere, he went to everything. His Saturday night television spots had real information. I made a point of periodically calling Pinky up to find out what he knew, and he knew a lot. He could save you on deadline.
Pinky was proudly the tall guy in the sweater at the front of the press conference, the first row of the ribbon cutting, the first questioner, the guy with the final word, the guy blocking your view. But to call Pinky merely a booster sells him short. Pinky knew stuff, he worked sources, even after he became the best source of them all (rivaled these days maybe only by another Pinky-esque booster, another tall guy with a signature style who always tells you more than you anticipated, the Mayor himself, Don Guardian). Pinky lobbied for the Salute to America's Armed Forces Parade, then did running commentary on the radio. He was angry when Miss America left town for Vegas in 2006, but was instrumental in bringing them back, graciously. He survived the tragic death of his daughter, Cherri, a teacher in Atlantic City's public schools, who died of breast cancer May 6, 2006. Pinky created a foundation in her memory that gives scholarships to Atlantic City graduating students every year. And there's a bench on the Boardwalk. And once again, I apologize for accidentally breaking my Pinky bobblehead, which raised money for Gilda's Club, first, then for the Cherri Kravitz Foundation.
Amy S. Rosenberg
ATLANTIC CITY — Former casino workers in this economically battered city will be among the first batch of workers to staff the new Atlantic City Contact Center.
Apparently, dealing with a gambling clientele who may or may not have won money is good training to be a telemarketer, where they will be dealing with people who may or may not want their product.
And perhaps no better prior experience for those tough calls than at Revel, said Deborah Shurig, 57, who worked at the defunct casino in customer service and sales. "I dealt with unhappy customers many times," she said. "I don't miss Revel."
The Contact Center, opening next week in new offices built into the Claridge Hotel parking garage, will eventually be staffed with 330 customer service agents by 2016. The company hopes to create 1,000 jobs by 2018.
It is operated by NETCAST BPO Services, a Nevada-based family run company that has operated call centers in the United States and the Philippines. Officials said they were happy to be back in the U.S., and believe customers will be well served by Atlantic City's ex-casino workers.
It was this base of "large employable yet unemployed customers management workers," that lured the company to Atlantic City, said Fred Shadding, senior vice president of business development, himself a former exmployee of the old Sands Atlantic City, which closed in 2006.
"They have the skill set, and they're hungry," said Mark Golden, son of the founder, who will be manager of the center. He said they were all put through extensive training — known fondly as "the torture chamber" — where they practice how to deal with tough customers on the other end of the line.
The company received $3.27 million a year in tax credits through the Grow New Jersey Assistance Program, but company officials said that was just "gravy" in their decision to locate in Atlantic City.
The workers on board initially will be "outward sales specialists," for products including a medical alert type device, he said. They will soon be hiring customer service workers to receive calls for catalogue companies, utilities and travel and hospitality.
The jobs are fulltime, though the company is also looking to hire part time college students to supplement the work force. The initial jobs pay between $12.50 and $13 an hour with incentives, Golden said.
The newly hired — with backgrounds in customer service, front desk and call centers at Harrah's, Borgata, Revel, Tropicana — said they were thrilled to be in a professional work environment. The company held an elaborate ribbon cutting Wednesday for its 7,859 square foot space on two floors of the Claridge.
It was a sign of the city's distressed job picture — 8,000 casino jobs lost in the last two year from four closed casinos — that an announcement of a few hundred jobs was so enthusiastically heralded.
"Let's give Atlantic City a chance," company founder Warren Golden said, describing his decision to locate in a city looking to diversify its economy. "They really need a boost."
The company has hired 25 people so far, with another 25 coming on board in two weeks. About 40 percent of the people hired so far are Atlantic City residents.
Avery Jefferson, 23, of Absecon was a front desk clerk at Golden Nugget. David Banks and Raysa Pelaez both worked in the call center at Harrah's until it was relocated to Las Vegas. They will reunite at the Call Center.
"We would sell expensive suites," said Pelaez, 57. She said she was thrilled to be working in a non-casino job.
"I do work hard for the company," she said. "There was no apreciation. At the casino, you were just a number. I feel very excited — I was waiting for two months for the call."
While the cliche of the call center locates it somewhere near Bangalore, India, Shadding said there are in reality 5 million people employed in call center jobs in the United States. Five percent are located in the Northeast.
Golden said companies are interested in having call centers they can visit to "physically see how the center handles calls."
Julie Santana, 33, of Atlantic City, said she worked in reservations at Revel until it shut down just over a year ago. "We're all happy," she said. "It's been a long time looking. The pay is nice."
Paula Avear, 35, was a promotions specialist at Revel, while Chidi Emetamjo, 33, was an online banking specialist with Capitol One.
Lillian DeVane, 26, of Pleasantville, was a former debt collector who also worked at Borgata. "I'm excited to be here at the start," she said. She was hoping to work her way up to supervisor, called "Personal Performance Driver" at the company. "It's a glimmer of hope."

Amy S. Rosenberg
MARGATE - A week after calling the city "selfish" for refusing to give up land needed for the state's dunes project, Gov. Christie on Thursday moved to give Margate no choice.
The state first offered Margate $29,000 for nine beachfront easements, based on an appraisal, the city said. When that was rejected, the Christie administration filed an eminent domain action to secure land they need to proceed with an island-wide dunes project Margate voters have repeatedly said they want no part of.
The state had been threatening to file eminent domain against Margate since January, when a federal judge told the state that would be the proper way to get control of the easements. The state had earlier attempted to take the land through an administrative order, which prompted Margate to file a lawsuit in U.S. District Court.
Amy S. Rosenberg
As rain and winds pounded the beaches overnight from the Not-Joaquin Nor'easter, one precariously perched uninhabited house in North Wildwood met its match. Neighbors posted pictures this morning of the house at the end of the row of houses reaching into Grassy Sounds, just over the bridge to North Wildwood from Stone Harbor. This photo courtesy of @wildwood365.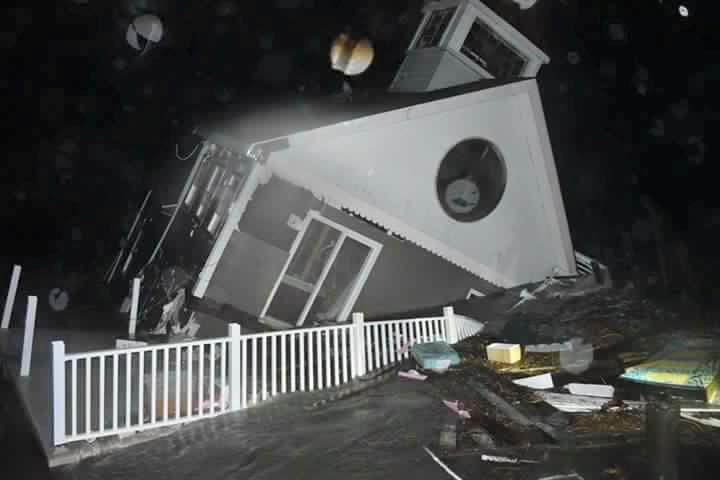 This morning, more photos were posted of the house floating in the bay. Reports indicated the house was uninhabited and structurally unsound for some time, and neighbors had been expecting it to give way. More details TK.
Amy S. Rosenberg
ATLANTIC CITY - There he'll be, once again.
The familiar and iconic voice of Bert Parks singing "There She Is" will again serenade a newly crowned Miss America in Boardwalk Hall, pageant head Sam Haskell announced Thursday night.
The song, which rhymes Atlantic City with "Queen of femininity," has not been played the last five years because of a dispute with the estate of the songwriter, Bernie Wayne. That has all been worked out, Haskell announced from the Boardwalk Hall stage, on the last of three nights of preliminary competition. The pageant airs Sunday at 9 p.m. on ABC.