Amy S. Rosenberg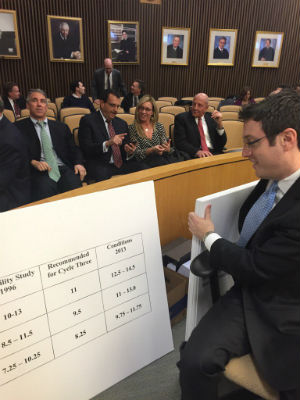 The city of Margate, with bayside flooding from the recent nor'easter as exhibit A, begins a four-day court battle Thursday to convince a judge that the state of New Jersey abused its eminent domain power by attempting to seize city lots to build dunes.
Mayor Mike Becker said before the hearing that the state is withholding a $3.5 million grant it was counting on to deal with the bayside flooding the city has argued is much more damaging than any flooding from the ocean. Becker said the city was led to believe in June 2014 that the grant would be forthcoming, but four months later, after the fight against the dunes began, the city was told "What grant."
Meanwhile, the city closed off a section of Amherst Avenue near Jefferson near the bay because of instability due to chronic bayside flooding and eroding bulkheads on the bay.
Amy S. Rosenberg
The third high tide of Jonas came and went in Stone Harbor, but shop owners and residents with damage they say rivals Sandy were still mad at Gov. Christie for minimizing the event.
"I was in my waders in three feet of water and my friend is saying Gov. Christie is on TV saying it's not that bad," said Maggie Day, owner of Nesting children's boutique on Third Avenue, whose home and shop sustained damage from flood waters similar to during Sandy. "Oh yeah? Gov. Christie should come down here and get in his fishing waders and live my life."
She said the shop would require gutting as in Sandy. And her house had water damage in the crawl space. She had neither the time nor money to raise after Sandy. "When your house is wrecked and your business is wrecked and your business pays your mortgage, how do you pay your mortgage?"
Amy S. Rosenberg
Gov. Christie refused to sign a package of bills Tuesday designed to plug gaping holes in Atlantic City's state-approved budget and stabilize the economic and tax situation in the seaside resort rocked by a cratering casino industry.
The veto leaves the city with a $33.5 million gap in its budget and still fending off state elected officials storming its gates for a proposed municipal takeover. It also leaves them vulnerable to future damaging tax appeals from casinos, which have left the city at the brink of bankruptcy. Estimates have the city running out of cash by April.
"Bankruptcy is now back on the table," said Mayor Don Guardian in a statement.
Amy S. Rosenberg
Atlantic City Mayor Don Guardian, fighting for the political sovereignty of his city, called State Sen. President Steve Sweeney's takeover plan "absolutely senseless."
In an interview following a fiery series of speeches at a community gathering in honor of Martin Luther King day, the mayor noted that the state spent more than $2 million to employ an emergency manager in Atlantic City and an army of accountants, and that the city has done everything the team has asked them to do.
"it's absolutely senseless," Guardian said. "The emergency manager made recommendations. We had about $25 million cut out of the budget based on his recommendations. We've been working right along with him.
Amy S. Rosenberg and Andrew Seidman
UPDATED with Sweeney comments:
The news overnight from Trenton left local leaders rattled in Atlantic City - yet another proposal by the state to storm the beaches of the casino resort that is already under two layers of state monitoring.
Mayor Don Guardian, a Republican, said on Atlantic City's WOND Radio Don Williams show Tuesday morning: "It caught us completely off guard. It was our Pearl Harbor here."
Amy S. Rosenberg
Ashton Funk, a Margate City firefighter, lifeguard and champion beach patrol rower, could lose both his city positions after being convicted of shoplifting $7.98 from a local Wawa.
Atlantic County Prosecutor Jim McClain said Tuesday that Funk, 34, of Northfield was arrested Sept. 10 on a complaint of shoplifting from the Margate WaWa.
Funk, for years a dominant oarsman in the South Jersey beach patrol competitions, was off-duty from his position as a firefighter and on the beach patrol at the time he was allegedly seen carrying away several items without paying, McClain said.
Amy S. Rosenberg
Atlantic City's long-awaited PILOT is one step closer to taking control of the nose-diving casino resort.
On Thursday, the New Jersey Assembly voted in favor of accepting Gov. Christie's conditions on a package of bills - including a set "Payment in Lieu of Taxes" for casinos and redirected aid for the city - aimed at keeping Atlantic City solvent and free of crushing tax appeals in future years.
The Senate was scheduled to vote Thursday night but delayed the vote. If the Senate passes the bills, they will be sent back to Christie's desk for his signature. Christie conditionally vetoed the long-sought tax stabilization package a month ago, seeking added state control over the aid.
Amy S. Rosenberg
Will Atlantic City one day soon be able to say, not just Do AC, but come on down and smoke weed by the sea?
"I would love to be able to say that," said Atlantic City Council President Frank Gilliam on Wednesday, following a noontime talk on the history of master plans from Elizabeth Terenik, the city's planning director (a topic that, in the city of plans, plans and more plans, ran over its one hour time limit by nearly another hour.)
"We did a resolution in support of decriminalization and commercialization within Atlantic City," Gilliam said. But he said the council would not as yet push forward because of likely opposition by Gov. Christie, and the possiblity of being pulled into court.