Amy S. Rosenberg
MARGATE - A week after calling the city "selfish" for refusing to give up land needed for the state's dunes project, Gov. Christie on Thursday moved to give Margate no choice.
The state first offered Margate $29,000 for nine beachfront easements, based on an appraisal, the city said. When that was rejected, the Christie administration filed an eminent domain action to secure land they need to proceed with an island-wide dunes project Margate voters have repeatedly said they want no part of.
The state had been threatening to file eminent domain against Margate since January, when a federal judge told the state that would be the proper way to get control of the easements. The state had earlier attempted to take the land through an administrative order, which prompted Margate to file a lawsuit in U.S. District Court.
Amy S. Rosenberg
As rain and winds pounded the beaches overnight from the Not-Joaquin Nor'easter, one precariously perched uninhabited house in North Wildwood met its match. Neighbors posted pictures this morning of the house at the end of the row of houses reaching into Grassy Sounds, just over the bridge to North Wildwood from Stone Harbor. This photo courtesy of @wildwood365.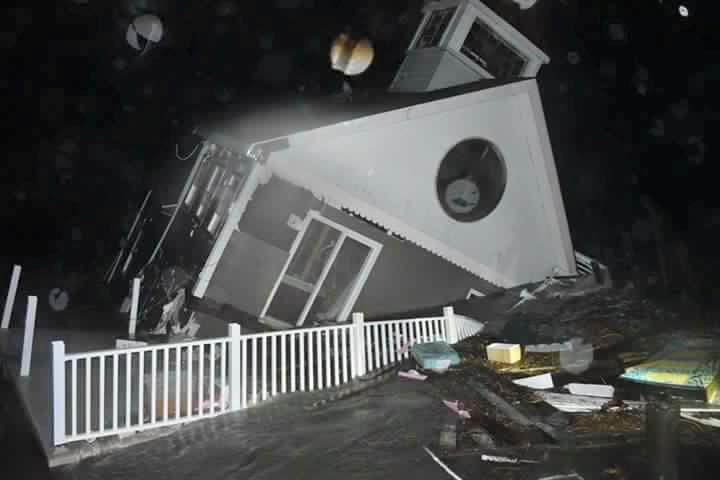 This morning, more photos were posted of the house floating in the bay. Reports indicated the house was uninhabited and structurally unsound for some time, and neighbors had been expecting it to give way. More details TK.
Amy S. Rosenberg
ATLANTIC CITY - There he'll be, once again.
The familiar and iconic voice of Bert Parks singing "There She Is" will again serenade a newly crowned Miss America in Boardwalk Hall, pageant head Sam Haskell announced Thursday night.
The song, which rhymes Atlantic City with "Queen of femininity," has not been played the last five years because of a dispute with the estate of the songwriter, Bernie Wayne. That has all been worked out, Haskell announced from the Boardwalk Hall stage, on the last of three nights of preliminary competition. The pageant airs Sunday at 9 p.m. on ABC.
Amy S. Rosenberg
Atlantic City officials said Tuesday they were ready for tens of thousands of people to attend each of this year's not-free-like-last-year's beach concerts: Maroon 5, Nick Jonas and Matt McAndrew this Sunday (Aug. 16) and Rascal Flatts and Ashley Monroe the following Thursday, Aug. 20.
Officials are hoping the beach concerts will reinvigorate the struggling resort in a season that has been somewhat flat, tourism wise.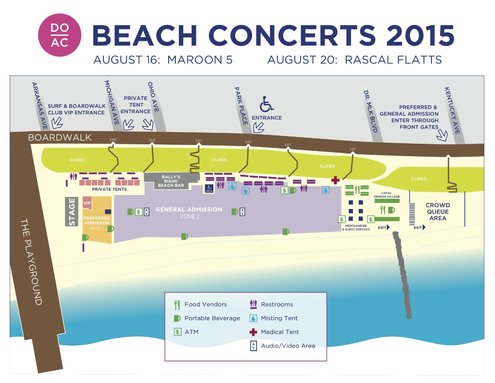 Amy S. Rosenberg
UPDATED w/past statement from the band on Jorgensen's termination.
Daniel P. Jorgensen, a former musician with the band Owl City, has been indicted in Atlantic County on charges of attempting to lure a 14-year-old to his hotel room and engaging in criminal sexual contact with the girl on the beach while on tour with the band in Atlantic City two years ago, Atlantic County Prosecutor Jim McClain announced Wednesday.
Jorgensen, 30, of Minneapolis, Minnesota, faces penalties of up to ten years in prison for the child luring charge and up to 18 months in prison on the fourth degree sexual contact charge. Superior Court Judge Bernard E. Delury set bail on the warrant at $100,000 cash or bond, the prosecutor said. The indictment was handed up Tuesday.
Amy S. Rosenberg
Take my empty buildings and lots - please. This is the message the city of Atlantic City is sending out by issuing Requests for Proposals for 14 vacant lots and buildings owned by the city, or in a few cases, the Casino Reinvestment Development Authority.
The properties range from various empty commercial lots far from the tourism zones to residential lots in the South Inlet to the city's picturesque but underutilized Garden Pier (see photo) and the historic but in need of rehab Comfort Station across from Boardwalk Hall. The full RFP can be found here.
The goal, according to city officials, is not to make some quick cash just by selling the land, which encourages speculators, but to encourage creative and sustainable development that would anticipate a future Atlantic City not so dependent on casinos and tourism, more hospitable to residents and the coveted millenials.
Amy S. Rosenberg
There will be poetry at the Farmer's Market in Atlantic City after all.
After the Casino Reinvestment Development Authority scrapped a proposal to pay poets to read in between music performances at the city's Farmer's Market because politicians complained about the spending, area poets offered to read their poetry for free.
And so they shall.
Amy S. Rosenberg
Atlantic City's Emergency Manager, Kevin Lavin, appointed by Gov. Christie in January, did not issue an updated report this month as promised in his previous report, when he recommended $10 million in budget cuts, hundreds of layoffs, and mediators to negotiate with casinos and unions.
He did, however, produce a $375 an hour newly hired spokesman, Bill Nowling, previously the spokesman for Detroit's Emergency Manager Kevyn Orr, who also served as a consultant for Atlantic City. Orr earned about $70,000 for about three months of work before departing in April.
Nowling was in Atlantic City Tuesday from Detroit (he flew in cheap on Spirit Airlines, he said) to meet with a couple of reporters and some of the Emergency Manager's staff, including people from accounting firm Ernst & Young, who have a $250,000 contract with the city, and law firm Skadden, Arps, he said.