Amy S. Rosenberg
Atlantic City officials said Tuesday they were ready for tens of thousands of people to attend each of this year's not-free-like-last-year's beach concerts: Maroon 5, Nick Jonas and Matt McAndrew this Sunday (Aug. 16) and Rascal Flatts and Ashley Monroe the following Thursday, Aug. 20.
Officials are hoping the beach concerts will reinvigorate the struggling resort in a season that has been somewhat flat, tourism wise.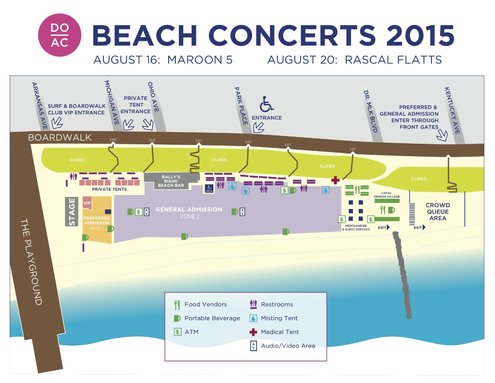 Amy S. Rosenberg
UPDATED w/past statement from the band on Jorgensen's termination.
Daniel P. Jorgensen, a former musician with the band Owl City, has been indicted in Atlantic County on charges of attempting to lure a 14-year-old to his hotel room and engaging in criminal sexual contact with the girl on the beach while on tour with the band in Atlantic City two years ago, Atlantic County Prosecutor Jim McClain announced Wednesday.
Jorgensen, 30, of Minneapolis, Minnesota, faces penalties of up to ten years in prison for the child luring charge and up to 18 months in prison on the fourth degree sexual contact charge. Superior Court Judge Bernard E. Delury set bail on the warrant at $100,000 cash or bond, the prosecutor said. The indictment was handed up Tuesday.
Amy S. Rosenberg
Take my empty buildings and lots - please. This is the message the city of Atlantic City is sending out by issuing Requests for Proposals for 14 vacant lots and buildings owned by the city, or in a few cases, the Casino Reinvestment Development Authority.
The properties range from various empty commercial lots far from the tourism zones to residential lots in the South Inlet to the city's picturesque but underutilized Garden Pier (see photo) and the historic but in need of rehab Comfort Station across from Boardwalk Hall. The full RFP can be found here.
The goal, according to city officials, is not to make some quick cash just by selling the land, which encourages speculators, but to encourage creative and sustainable development that would anticipate a future Atlantic City not so dependent on casinos and tourism, more hospitable to residents and the coveted millenials.
Amy S. Rosenberg
There will be poetry at the Farmer's Market in Atlantic City after all.
After the Casino Reinvestment Development Authority scrapped a proposal to pay poets to read in between music performances at the city's Farmer's Market because politicians complained about the spending, area poets offered to read their poetry for free.
And so they shall.
Amy S. Rosenberg
Atlantic City's Emergency Manager, Kevin Lavin, appointed by Gov. Christie in January, did not issue an updated report this month as promised in his previous report, when he recommended $10 million in budget cuts, hundreds of layoffs, and mediators to negotiate with casinos and unions.
He did, however, produce a $375 an hour newly hired spokesman, Bill Nowling, previously the spokesman for Detroit's Emergency Manager Kevyn Orr, who also served as a consultant for Atlantic City. Orr earned about $70,000 for about three months of work before departing in April.
Nowling was in Atlantic City Tuesday from Detroit (he flew in cheap on Spirit Airlines, he said) to meet with a couple of reporters and some of the Emergency Manager's staff, including people from accounting firm Ernst & Young, who have a $250,000 contract with the city, and law firm Skadden, Arps, he said.
Amy S. Rosenberg
Tickets go on sale this Friday for the second non-free big Atlantic City beach concert this summer.
Country group Rascal Flatts will bring their Riot Tour to the beach Thursday Aug. 20, with the odd time on Ticketmaster listed at 4 p.m., along with the fan friendly price of $20. Ashley Monroe will also be on the bill.
Maroon 5, Nick Jonas and Matt McAndrew were previously announced to be the beach acts for Aug. 16. General admission tickets available for that concert at $39.50.
Amy S. Rosenberg
Atlantic City is one step closer to getting its PILOT _ a new casino taxation system _ and other bills designed to stabilize the city's finances and steer the city through rough economic seas. On Thursday afternoon, the N.J. Senate approved a package of bills designed to "bring stability and predictability" to the city's finances, sending the package to Gov. Christie.
The long awaited package of bills, stalled since December amid political wranglng and an unsettled labor situation at the Trump Taj Mahal, have been endorsed by both the casino industry and elected officials, including Mayor Don Guardian, who said the stabilized tax system under the new PILOT was better than defending against repeated tax appeals that have put the city near bankruptcy.
Amy S. Rosenberg
Blake Shelton apparently had such a cool time in his wildly succesful free concert on the Atlantic City beach last summer that he went back to The Voice and told all his friends. Or at least Adam Levine.
In a big coup for the ailing but suddenly musically resurgent Atlantic City, sources confirmed Sunday that Maroon 5 and Nick Jonas will be performing on the beach Aug. 16th. But unlike last summer, tickets will not be free. Maroon 5 is not touring this summer, but will make a special appearance just because, well, Atlantic City.
The country group Rascal Flatts is also reportedly looking at gracing the old seaside survivor with a second beach concert, date to be announced, also paid tickets, but nothing final has been inked.