Archive: October, 2012
Ellen Gray, Daily News TV Critic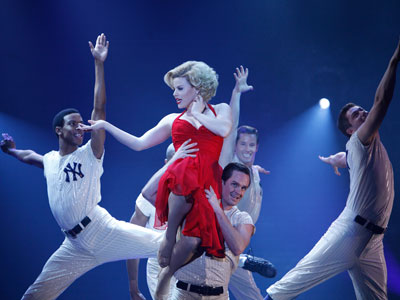 Fans of NBC's "Community" have a new date to circle on their calendars: Feb 7.
Might want to do that in pencil, since the cult fave (translation: watched by a passionate few) was earlier scheduled to return this month, albeit without creator Dan Harmon, who oversaw the show for its first three seasons.
The good news? Feb. 7 is a Thursday, not a Friday, the night the show had earlier been relegated to. The bad? It's going to be on at 8 p.m., which puts it up against CBS' "The Big Bang Theory." Among other things. On Jan. 17, "Parks and Recreation" will move to 8:30 p.m. Thursdays.
Ellen Gray, Daily News TV Critic
I may have trouble making it through a single episode of MTV's "Jersey Shore," but I've never been able to resist Hurricane TV, the multichannel show that lives for disaster.
It doesn't take a storm aimed directly at my house in New Jersey to keep me up into the early morning hours watching the same Doppler maps over and over -- I've been holding vigil for Gulf Coast storms since long before Katrina reared her ugly head.
This time, of course, it's personal. And so like a lot of you, I'll be spending time with the Weather Channel, with the cable newsies and all the local stations, at least as long as the power stays on.
Ellen Gray, Daily News TV Critic
Showtime's war on terror will continue.
The premium-cable network Monday announced it had ordered a third, 12-episode season of "Homeland," its Emmy-winning drama about a bipolar CIA operative (Claire Danes) and the war hero (Damian Brody) she's convinced -- correctly, as it turns out -- has been turned by al-Qaeda.
On Sunday, Showtime says, the series achieved its largest audience so far for an episode premiere -- 1.75 million viewers at 10 p.m., a lot for a network whose shows are less likely to be watched in real time than on repeat viewings, On Demand or DVR.
Ellen Gray, Daily News TV Critic
Zombies rule. Again.
Sunday's Season 3 premiere of AMC's "The Walking Dead" walked all over the records for those feuding "Hatfields & McCoys" and the staggering living of "Jersey Shore" -- and outperformed a bunch of other cable and broadcast hits -- with 10.9 million viewers at 9 p.m. and a further 4.3 million for the reruns at 10 p.m. and midnight.
That's "the biggest telecast for any drama series in basic cable history among all viewers," according to AMC. The series, which last season broke the cable record for viewers 18-49, apparently wasn't hurt by its ongoing dispute with the Dish satellite service, which no longer carries any of AMC's networks.
Ellen Gray, Daily News TV Critic
Robin Roberts is home.
ABC's "Good Morning America" updated viewers Thursday on the progress of its ailing co-anchor, who received a bone-marrow transplant three weeks ago to combat the blood disorder myelodysplastic syndrome.
Here's an excerpt from Roberts' latest blog post:
Ellen Gray, Daily News TV Critic
This is going to seem obvious to a lot of you, but it turns out that some of the time guys spend NOT watching TV is spent in front of a TV set playing video games.
That's the latest word from Nielsen, which reports that time spent with "seventh-generation" gaming systems is helping to bridge the traditional gap between the amount of time women and men spend in front of the set.
""n March 2012, women aged 18-34 watched an average of 4 hours 11 minutes of TV per day, while men in the same demo logged 3 hours 34 minutes of TV time in homes with a 7th generation game console. Factor in daily time spent using a 7th generation game console; however, and the gender delta of more than 30 minutes daily is nearly neutralized as women 18-34 clocked 22 minutes of console time, while men 18-34 spent 48 minutes with their consoles."