Archive: January, 2012
Ellen Gray

, Daily News TV Critic
Charles Barkley, that no-longer-quite-so-round mound of rebound, hosted NBC's "Saturday Night Live" this weekend for the third time.
Weight Watchers might not be so thrilled with its newest spokesman's joke that dieting's left him so hungry he might just eat musical guest Kelly Clarkson, but Eagles fans probably appreciated that clip of Andy Reid in Sir Charles' fake commercial for an app that translates the meaningless garble of post-game interviews into Barkley-speak.
If you missed the show, here are a couple of highlights, courtesy of Hulu:
Ellen Gray

, Daily News TV Critic

Television may be youth-obsessed, but it makes an exception for Betty White.

The "Hot in Cleveland" actress turns 90 Jan. 17, and not only is she readying a new hidden-camera show for NBC with a group of people she calls "oldsters" -- so far unscheduled but titled "Betty White's Off Their Rockers" -- but the Peacock's built a Jan. 16 special around her birthday, with a lineup that includes Ellen DeGeneres, Morgan Freeman, Tina Fey, Ray Romano, Seth Meyers and Tracy Morgan.

The title's a mouthful: "Betty White's 90th Birthday: A Tribute to America's Golden Girl," and even the quip-a-minute White seems a little flummoxed by the fuss.
Ellen Gray

, Daily News TV Critic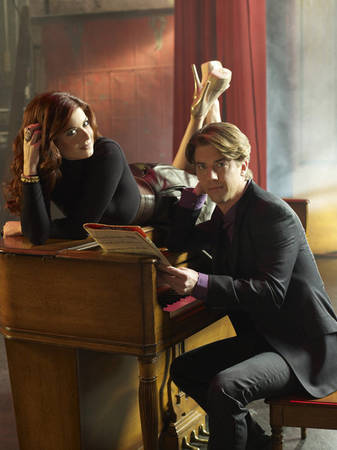 "Smash," NBC's new drama about the making of a Broadway musical, won't premiere on TV until Feb. 6, but the Comcast-owned network is making the series premiere -- which stars Debra Messing -- available through Xfinity On Demand (yes, that's Comcast, too) starting Jan. 16.
Want to watch on an iPad or online at XfinityTV.com? That's happening Jan. 23.
NBC entertainment chief Bob Greenblatt, who used to run the show at Showtime, knows that broadcasters get nervous about putting stuff online before it's aired -- though Fox, he reminded us, surprised itself by employing that as a winning strategy in launching "The New Girl" last fall -- but he often did it in cable, where getting a show sampled is more important than the premiere numbers.
Ellen Gray

, Daily News TV Critic

Tony Bennett, who marked his 85th birthday with last fall's release of a followup to his popular "Duets" project, has outlasted many an artist.

Including Amy Winehouse, who can be seen in the studio with Bennett in a Jan. 27 PBS special, "Tony Bennet Duets II," singing "Body and Soul."

Yes -- Amy Winehouse, Tony Bennett, PBS.
Ellen Gray

, Daily News TV Critic

Silvio Dante may be dead, but Steven Van Zandt's days as a mobster apparently aren't over.


Netflix announced today that "Lilyhammer," starring the "Sopranos" actor and E Street Band member -- and what looks like a different hairpiece -- will premiere its entire eight-episode season on Feb. 6, streaming to customers in the U.S., Canada and Latin America.


Here's how the video service describes the show: