Ellen Gray, Daily News TV Critic
Note: Depending on news developments, broadcast networks may be pre-empting some or all of their schedules Friday night for coverage.
It's been a while since I've caught an episode of NBC's "Grimm," which ironically has been one of the brighter spots on the network's schedule this season. (On Friday, NBC announced it was moving "Grimm" to 10 p.m. Tuesdays starting April 30 to replace "Ready for Love.")
But after a week of real-life grimness, an episode in which Nick (David Giuntoli) attempts to keep a volcano from burying the city of Portland might actually feel like a bit of relief.
Ellen Gray, Daily News TV Critic
It's probably not the best news for Eli Roth's "Hemlock Grove" that I didn't hate it -- and not just because "didn't hate it" will never make it as a pullout quote in any ad, as much as I might long to see it there.
But that I, too much of a wimp to have seen Roth's "Hostel" movies, would have made it through three episodes of his new series for Netflix without looking away once suggests the show's target audience might be a little disappointed.Yes, there's some grisly stuff, including the evisceration of a young girl's corpse, but nothing more disturbing, frankly, than you might have seen on NBC in this week's episode of "Hannibal."
Not that that's not plenty disturbing.
Ellen Gray, Daily News TV Critic
"Moral outrage motivates me, but I don't see it as a useful tool to get people to engage with the world. I think that we need to build bridges to people."
That's photographer and filmmaker Tim Hetherington, who was killed by mortar fire in Libya on April 20, 2011, and who's the focus of "Which Way Is the Front Line From Here? The Life and Time of Tim Hetherington (8 p.m., HBO).
Sebastian Junger ("The Perfect Storm") who co-directed the Oscar-nominated "Restrepo" with Hetherington, also directs this look at Hetherington's career, illustrated with his work, which, like this documentary, is both visually stunning and emotionally rich. And undeniably sad. (So, yes, you might want to record this one for a later time.)
Ellen Gray, Daily News TV Critic
After tonight, there are only two more episodes this season of "The Americans" (10 p.m., FX) which makes me sadder than I care to think about.
Will Russian spies Elizabeth (Keri Russell) and Philip Jennings (Matthew Rhys) reach some kind of detente in their own Cold War before the season ends? I hope so, because their arranged marriage was a lot more interesting than any TV divorce could be. First, though, Elizabeth takes on a mission for which she'll need her estranged husband's help. That mission, as always, will require at least one or two great wigs.
You may also want to check out:
Ellen Gray, Daily News TV Critic
I have two words for Lena Dunham: "Downton Abbey."
The creator and star of HBO's "Girls" reportedly has a problem on her hands: Christopher Abbott, who plays Charlie, the boyfriend with whom Marnie (Alllison Williams) was so abruptly reunited in the Season 2 finale, has left the show, apparently just as abruptly, as work begins on Season 3.
"Abruptly," at least is how the New York Post describes Abbott's departure, to which it attributes creative differences with Dunham. For all I know, there's a far less interesting explanation. Maybe Abbott's been abducted by aliens.
Ellen Gray, Daily News TV Critic
I met Roger Ebert only once, in 1995, a little more than a year after I'd begun writing about television for the Daily News.
I've been quoting him ever since.
Because though what I wrote after the Chicago Sun-Times movie critic and his Chicago Tribune counterpart Gene Siskel passed through Philadelphia on a promotional tour for "Siskel & Ebert" didn't include it, what I remember most from that luncheon audience (which included other reporters) was Ebert insisting that no critic would spend two hours in the dark hoping for a movie to be bad.
Ellen Gray, Daily News TV Critic
Well, it's official: Jay Leno is leaving "The Tonight Show." Again.
In a press release headlined, "JAY LENO ANNOUNCES HIS DEPARTURE FROM SUCCESSFUL 22-YEAR RUN FROM NBC'S 'TONIGHT SHOW" IN SPRING 2014," the late-night host Wednesday confirmed the worst-kept secret in show business, that he'll step aside next year to make room for a younger successor.
That would be Jimmy Fallon, host of NBC's "Late Night," which follows "The Tonight Show" (that would be the same "Tonight Show" that, under Leno, is still No. 1 in its time slot).
Ellen Gray, Daily News TV Critic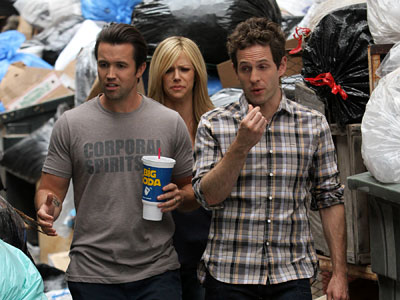 "It's Always Sunny in Philadelphia," the sitcom created by (and co-starring) St. Joe's Prep grad Rob McElhenney, has been renewed for a 10th season, FX announced Thursday.
With the ninth season scheduled to premiere this fall, that takes the show through the fall of 2014.
But instead of remaining where it is, "Sunny," along with "The League," "Legit" and "Totally Biased with W. Kamau Bell," will be used starting this fall to help launch a new spinoff network, FXX, aimed at 18- to 34-year-olds.