Archive: March, 2012
Ellen Gray, Daily News TV Critic
The wait's far from over, but at least now fans of Showtime's "Homeland" and "Dexter" have a date to mark on their calendars: Sept. 30.

That's when we can expect to see the second season of the fall's breakout hit — premium cable division — about the cat-and-mouse game between a U.S. Marine (Damian Lewis) who returned from captivity as a hero and the bipolar CIA agent (Claire Danes) who suspected he was a terrorist.

"Homeland" episodes will premiere at 10 p.m. Sundays, preceded by the seventh season of "Dexter," which stars Michael C. Hall as a sympathetic serial killer with a code of conduct all his own.

Production on both begins this spring, according to Showtime, with "Homeland" shooting in North Carolina and Israel — where the show that inspired first aired — and the Miami-set "Dexter" continuing to film in Los Angeles.
Ellen Gray, Daily News TV Critic
Elmore Leonard (and Timothy Olyphant) fans, rejoice: FX has picked up "Justified" for a 13-episode Season 4.

No huge surprise there: With 4.3 million viewers a week, 2.1 million in the advertiser-targeted 18-49 demo, ratings for Season 3 are up 8 percent from last year, with six more episodes to go (including tonight's) until the April 10 finale.

Developed by Graham Yost ("Boomtown") from a short story by Leonard about a character named Raylan Givens — whom Leonard continues to write about, including his current bestseller "Raylan" — "Justified" stars Olymphant as a trigger-happy deputy U.S. marshal dealing with old friends, old enemies and old demons in his native Kentucky.

"There are many reasons all of us on 'Justified' are grateful to get a chance to do another season," said Yost in a statement released by FX.
"We get to do more work with amazing actors, writers, producers, directors, musicians, editors and a jaw-droppingly talented crew. We get to keep doing a show that appeals to a wide demographic: people in Harlan, retired U.S. Marshals, criminals (we honestly did hear that), and, most happily, our guide, our muse, Elmore Leonard. Best of all, we get to keep doing a show on FX (and while that may sound like craven ass-kissing, when you look at their roster, you can't help but feel grateful to be on that list)."
Ellen Gray, Daily News TV Critic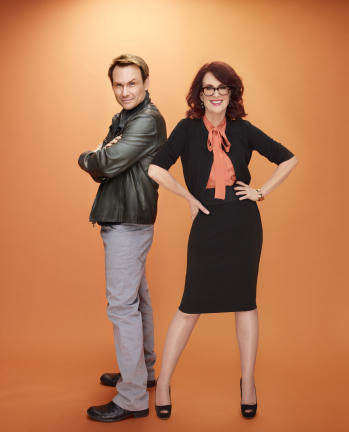 When Fox's "Breaking In" returns tonight — at 9:30 p.m., following "The New Girl" — Jenkintown's Adam F. Goldberg figures he'll probably be tying a record of sorts with "Family Guy" creator Seth MacFarlane — for most resurrections of a network-canceled show.
"I think we're tied. I said, even if they want to pick us up this year, I might call [Fox entertainment president] Kevin Reilly and just say, 'Cancel us, real quickly, just so I can be in the lead and beat Seth MacFarlane at something,'" Goldberg joked in an interview in January.
Honestly, I'd lost track of how many times Goldberg's single-camera sitcom about a group of high-tech security firm employees led by a guy named Oz (Christian Slater) has been resuscitated, so I'll take his word for it.
And with Megan Mullally joining the cast tonight, there's an opportunity here for those who didn't catch "Breaking In" last spring to start fresh with the lovable nerds of Contra Security.
I'm hoping it goes well, but I'm also curious to see Goldberg's Plan B, another show he's developing for Fox.

"It's a show about my family, it's like a 'Wonder Years'-type show. It's set in Philadelphia and it's set in the '80s and I'm supposed to be writing it right now, but this show's kept me so busy. I'll do it at some point," said the Penn Charter grad.

"Right now, it's called 'How the F- Am I Normal?' It's very autobiographical and actually the way I sold it to Fox was as a kid I was a giant nerd, and I recorded every moment of my childhood and my family's very loud and we argued all the time and so I made a three-minute trailer of my family arguing — my actual family — Thanksgiving meltdowns, people storming from the table, my mom yelling at me to get the f- in the house, my dad calling me an idiot, it's all in a little trailer, like a movie trailer. And they just watched it and they said, 'We want to put this on the air.' Done."

Well, maybe they won't air the childhood highlight reel.

"My one brother's a neurologist, my other's a radiologist, so he was like, 'Do not let this go on the Internet. Please.' So that's how I sold that show. It was going to be that or this. So I'm back at this ['Breaking In']."

As for his mother, "the thought of it horrified her, because she was there, she remembers. And then then she watched it and she was just like very touched, 'cause she's like, 'It really captures our family.' Which is, we're loud and we really yell at each other a lot, but we love each other," Goldberg said.