Ellen Gray, Daily News TV Critic
Mariah Carey will join Fox's "American Idol" as a judge next season, Fox entertainment president Kevin Reilly confirmed Monday.
And Jennifer Lopez is definitely gone.
Reilly led off his semiannual meeting with the Television Critics Association by saying that he couldn't say much about changes at "Idol" -- except for one thing.
Ellen Gray, Daily News TV Critic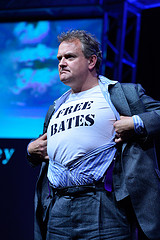 Just how far will a British gentleman go to support the man who dresses him?
Hugh Bonneville, who plays the usually very proper Lord Grantham on PBS' "Downton Abbey," tore off his tie and unbuttoned his shirt Saturday night before a roomful of TV critics to reveal a T-shirt that read "Free Bates."
So, OK, it wasn't exactly a striptease. And it's not as if Bonneville dropped his trousers – something that's happened, onstage, during at least a couple of Television Critics Association events in recent years – but for PBS' portion of the group's summer meetings, which began this weekend in Beverly Hills, it counted as a Moment.
And a nearly spontaneous one at that, Bonneville having conceived the idea only that morning. "I don't know how it came up, but I said, 'How about getting a T-shirt with "Free Bates" on it?' and someone went out "and bought a T-shirt and stenciled it on," he said afterward.
"Downton Abbey," whose second season on "Masterpiece" last week received 16 Emmy nominations, including one for outstanding drama and another for Bonneville as a lead actor, is giving once-staid PBS plenty of moments these days, none perhaps more anticipated than the one in which Maggie Smith, as the dowager countess, comes face to face with Shirley MacLaine for the first time onscreen in Season 3.
PBS ran a teaser reel for critics and let's just say hilarity does ensue.
Offscreen, too, apparently.
The Emmy-nominated Smith, alas, wasn't among the cast who crossed the pond for the critics' shindig. Besides Bonneville, they were the Emmy-nominated Brendan Coyle, who plays the unlucky Bates, currently serving a life sentence for a murder we're all pretty sure he didn't commit; the Emmy-nominated Michelle Dockery, who's Lady Mary; the Emmy-nominated Joanne Froggatt, who portrays Bates' loyal wife, Anna; and Elizabeth McGovern, who's Cora, Lady Grantham.
Ellen Gray, Daily News TV Critic
The nominations for the 64th annual Emmy Awards are out and AMC's "Mad Men" and FX's "American Horror Story" are leading the field, with 17 apiece.
But they won't be facing each other in the competition for best drama.
Ellen Gray, Daily News TV Critic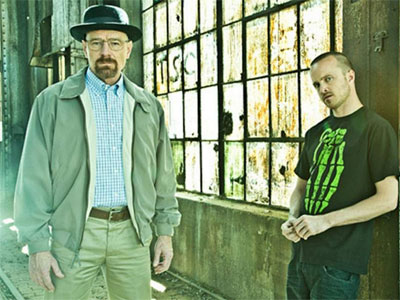 Looks as if Walt White (Bryan Cranston) has a few more customers.
Sunday's Season 5 premiere of "Breaking Bad," which stars Cranston as a chemistry teacher-turned-meth magnate, was the series' most-watched ever, reports AMC, which said the episode attracted 2.9 million viewers, up 14 percent from last season's opener. Between the 10 p.m. premiere and the 11:30 p.m. encore, 3.5 million tuned in.
More important for the ad-supported cable network: 1.9 million of those first viewers were 18- to 49-year-olds, the demographic most advertisers target.
Ellen Gray, Daily News TV Critic
Arsenio Hall is heading back to late night.
CBS Television Distribution -- not to be confused with CBS the network -- has signed a deal with Hall, whose previous late-night series, "The Arsenio Hall Show," was canceled in 1994, to develop a syndicated late-night show that would launch in the fall of 2013. Partnering with CBS Television is Tribune Broadcasting, whose 17 stations will carry it.
According to Monday's announcement, the show's already been sold in the Top 10 markets (Philly's No. 4) and in 17 of the Top 20.
Here's the full text:
LOS ANGELES – June 18, 2012 – CBS Television Distribution has signed actor/comedian Arsenio Hall to develop a syndicated late-night talk show for Fall 2013, it was announced today by John Nogawski, President of CTD.
With Tribune Broadcasting partnering in the production of the show, the new strip is set to launch on 17 Tribune stations, including in the three largest markets on WPIX, New York, at 11 p.m.; KTLA, Los Angeles, at 11 p.m.; and WGN, Chicago, at 10 p.m.
The late-night show is sold in all top 10 markets and 17 of the top 20 markets. It is already sold in 52% of the country.
While Tribune is the anchor of the station launch group, also signing on are major market stations from the CBS Television Stations group including Boston, San Francisco, Atlanta, Detroit, Tampa and Pittsburgh, plus Local TV LLC stations including key markets Denver, Cleveland, St. Louis, Kansas City, Milwaukee, Greensboro and Norfolk.
Hall, who recently won the latest edition of NBC's "Celebrity Apprentice," is best known for hosting the Emmy Award-winning "The Arsenio Hall Show," a late-night syndicated talk show produced by Paramount Domestic Television (now CTD), which ran from 1989 to 1994. The show's place in pop culture history was cemented in June 1992 when then-presidential candidate Bill Clinton appeared on the show and played "Heartbreak Hotel" on the saxophone.
Ellen Gray, Daily News TV Critic
If you Google "myelodysplastic syndrome" -- as I'm guessing many of us did in the wake of the announcement that "Good Morning America's" Robin Roberts has it, you'll find, as she says, "some scary stuff."
Roberts -- and ABC News' chief medical expert, Dr. Richard Besser -- are fighting the Wikipedia doom and gloom by turning her illness into a teachable moment.
Here are some highlights of the statements from each that ABC News released Monday (the full versions are below):
-- Roberts, a breast cancer survivor, has been diagnosed with myelodysplastic syndrome, also known as MDS, which she describes as "a disease of the blood and bone marrow [that] was once known as preleukemia." She's known about the diagnosis for a while. ("I received my MDS diagnosis on the very day that Good Morning America finally beat the Today Show for the first time in 16 years. Talk about your highs and lows!")
-- At 51, she's been told she's younger than fitter than many with the disease, which in her case is considered potentially curable. "Published statistics don't shed much light on her prognosis as the vast majority of patients with this condition are diagnosed in their 70s and 80s," notes Besser. "Robin has a donor who is an excellent match, an important prognostic factor. And so importantly, she has the faith, the spirit, and the will to beat this."
-- She's starting chemotherapy, which will be followed by a bone-marrow transplant, the donor to be her sister [identified by the Associated Press as New Orleans TV anchor Sally Ann Roberts], who's said to be an "excellent match."
-- She'd like you to think about becoming someone else's excellent match. "Bone marrow donors are scarce and particularly for African-American women," notes Roberts. "Many people don't realize they can be bone marrow donors. I encourage everyone to sign up on a donor registry like bethematch.org.
Roberts' Note:
"Here we go again…
Ellen Gray, Daily News TV Critic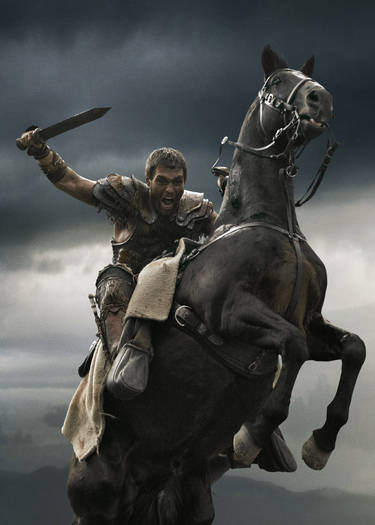 "Spartacus" fans are going to have to get their fix of slow-motion blood spatter somewhere else after 2013, when Starz' most popular series wraps up its third -- and final -- season with "Spartacus: War of the Damned," the premium-cable network announced Monday.
"The fans have been tremendously supportive of our show," said "Spartacus" creator and executive producer, Steven S. DeKnight in an understatement released by Starz, which also said the series averaged more than 6 million U.S. viewers last season and aired in 150 countries in 15 languages.
"We did not come to this decision lightly. It was an extremely difficult and emotional decision for my partners and I. Yet, in the end, the story was best served by rolling all of the remaining action and drama of Spartacus' journey into one stunningly epic season that will be extremely satisfying for everyone who's been along for the ride."
"We are in agreement with our partners in the decision to conclude the story after 'War of the Damned,' as we believe it is the best way to maintain the integrity of the series and secure its legacy," said Starz CEO Chris Albrecht. "While everyone may know the fate of Spartacus, we believe this will be a spectacular season that will startle, amaze and honor the legions of fans."
(And if you didn't happen to know the fate of Spartacus, I'm not going to spoil it for you here. But "War of the Damned" doesn't suggest a happy ending, does it?)
Now shooting in New Zealand and scheduled to begin in January, the 10-episode third season, according to Starz, takes place after "the defeat of Roman commander Gaius Claudius Glaber. Spartacus and his men have amassed major victories against the Romans after the Battle of Vesuvius. These victories have not only forged the legend of Spartacus, but have greatly increased the ranks of the rebellion slaves to more than 30,000. Rome is indeed beginning to tremble at the threat Spartacus now represents."
In its relatively short history, "Spartacus" helped make Starz a player in the realm of original series, though none of its other shows have so far captured the kind of viewership that the violent, highly stylized epic did.
Few shows on any network have faced the tragedy it did, in losing the actor who'd played the title character.
When Andy Whitfield, the show's first Spartacus, was diagnosed with non-Hodgkins lymphoma after starring in the show's successful first season, producers delayed the second while he sought treatment, producing instead a Spartacus-free prequel that focused on characters played by John Hannah and Lucy Lawless.
Ellen Gray, Daily News TV Critic
The History Channel's "Hatfields & McCoys" has already made history, drawing 13.9 million viewers on Monday night for its first installment, making it the "No. 1 non-sports telecast in ad-supported cable history."

So, OK, maybe that's not the kind of stat you memorized in school, but 13.9 million people watching anything on television these days is a lot. On Memorial Day, it's particularly impressive.

And like a studio blockbuster that keeps pumping out sequels, this one isn't even over, with four more hours to go on Tuesday and Wednesday.

(Spoiler alert: The feud that inspired it, happily, has been over for some time.)

If you weren't among the 17 million who watched either the original showing or its later encore, Sunday's episode is being repeated at 7 p.m. Tuesday, before the second episode, which begins at 9.

Kevin Costner and Bill Paxton play the leaders of two backwoods families who engaged in a decades-long conflict in the 19th century that was at least partly triggered by a dispute over a misappropriated pig.
Ellen Gray, Daily News TV Critic
Who knew the kid with the snow globe would age so badly?

OK, so that's not how Fox's "House" ended Dr. Toad's Wild Ride Monday night, in an episode that averaged nearly 8.7 million viewers, enough to win the time slot in both viewers and among the 18- to 49-year-olds advertisers target.

But while "St. Elsewhere's" claim to strangest season finale ever (medical show division) remains intact, "House" did manage to surprise.

(Read no further if you don't want to know how.)

Oh, I never actually bought that the addicted doctor (Hugh Laurie) was dead. Dr. Gregory House was playing the modern-day Sherlock Holmes long before Benedict Cumberbatch signed on for "Sherlock" and Holmes he was, right to the not-so-bitter end, faking his own death in a warehouse fire to escape the six-month prison stretch that would have coincided with the final months of his best friend Wilson's life, then interrupting Wilson (Robert Sean Leonard) with a text message in mid-eulogy to take him on one last road trip.

I was mildly surprised, though, that Cuddy (Lisa Edelstein) wasn't there, not in House's guest star-studded hallucinations, in which he was supposedly debating life or death, and not even at the fake funeral, where Wilson got a text from the guest of honor in mid-eulogy.

They brought back Kal Penn, whose character committed a far more unlikely suicide to free Penn to go work at the White House. They brought back Anne Dudek, who'd also played dead before on "House," as well as Sela Ward, whose character had once loved him, and Jennifer Morrison, who's gone from battling House to battling the Evil Queen on "Once Upon a Time."

Andre Braugher made a brief guest appearance in another scene, as House's former shrink.

But the absence of Edelstein, who left the show rather abruptly at the end of Season 7 after the show failed to reach an agreement with her on a contract extension, was a sizable one.
Ellen Gray, Daily News TV Critic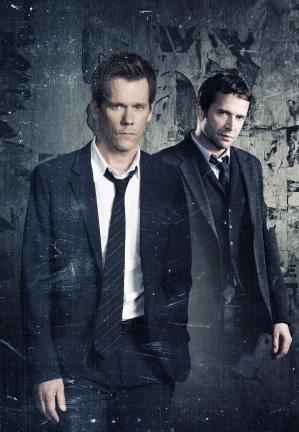 That Six Degrees of Kevin Bacon game is about to get a lot easier.

The Philly-raised Bacon, who's famously worked with at least half the actors in Hollywood, will be tracking a vast network of serial killers in "The Following," a new drama from Kevin Williamson ("Vampire Diaries," "Dawson's Creek") that Fox's entertainment chief calls "our next '24.' "

Premiering at midseason — where Fox is still at its strongest — it has Bacon playing a former FBI agent brought in to help deal with a death row escapee (James Purefoy, "Rome") who's found a way to make connections with other serial killers, getting them to form alliances and work together.

I'm thinking LinkedIn — or the Bacon game — but with a much higher body count.

The 53-year-old Bacon, son of the late city planner Edmund Bacon, has made an occasional TV guest shot — often playing himself — and was nominated for an Emmy for the HBO movie "Taking Chance," but he's never starred in a series.

Landing him "really was the casting coup of the year," said Fox Entertainment President Kevin Reilly in a conference call with reporters Monday morning, hours before the network unveiled its 2012-13 schedule to advertisers in New York.

"He had expressed an interest" in a series, Reilly said. "There are more and more big stars who are intrigued with doing television."

It probably didn't hurt that Bacon's wife, Kyra Sedgwick, is coming off an extremely successful seven-season run on TNT's "The Closer," which will air its final six episodes beginning July 9.

Or that "The Following" will have a cablelike schedule, with a 15-episode season that will allow Fox to air it for "15 weeks straight," Reilly said.