Ellen Gray, Daily News TV Critic
The first day of the summer season, and it's a jungle out there already, with NBC tossing "Save Me," its leftover midseason sitcom with Anne Heche, on to the Summer Burn-Off Theater barbie at 8 and 8:30 p.m. -- you can read my review here -- and Fox at 9 launching "Does Someone Have to Go?" a "reality" series in which businesses allow employees to decide which of their colleagues isn't cutting it -- and to do something about it.
Originally, this one was to be called "Someone's Gotta Go," and had companies in trouble letting workers vote on who got fired, but in this economy, even Fox apparently thought that might not fly. So now it's possible that no one will get the ax. But still, if this is your idea of entertainment, you must really miss the days when lions and Christians got together.
Meanwhile, ABC continues to play it safely Canadian for the summer, with its new police drama, "Motive" at 9 (I kind of liked it, but forgot it almost immediately afterward), followed by the return of "Rookie Blue," which in its fourth season probably should be called "Veteran Blue."
Ellen Gray, Daily News TV Critic
Here's one way "Arrested Development" on Netflix will be different from the show Fox canceled seven years ago: It won't have to leave room for commercials.
Or even fit in a half-hour.
Which apparently surprised "Arrested" creator Mitch Hurwitz.
"The first couple of episodes, I really labored to make under 30 minutes, and then finally I had a talk with Ted Sarandos [Netflix's chief content officer] and he said, 'No, we never said under 30 minutes.' So that just saved me weeks," Hurwitz said, laughing, during a conference call with reporters Thursday.
What was originally envisioned as nine new episodes that would catch fans up on the doings of the dysfunctional Bluth family became 10 and then 14 and ultimately 15, all of which will become available for streaming to Netflix subscribers at 3:01 a.m. Sunday EDT.
This, I suggested to Hurwitz, wasn't exactly the way it had worked when the show was on Fox (where cuts in the network's order of episodes became an inside joke in the series' final season).
"They've been very generous, and I believe — and this is a little out of my ken — but I believe they they had a contract in place [with Twentieth Century Fox Television, which owns the rights] that allowed them to ask for more episodes, up to a certain number," he said.
So while "I wanted to be somewhat responsible," an episode might run, say, 35 minutes, Hurwitz said. (The one episode I've seen, after agreeing not to publish anything resembling a review until the show goes live to subscribers, ran a bit over 32 minutes.)
As for the number of episodes, "I will say that I, early on, I'd been worried: What if there's not enough material?" he said.
Ellen Gray, Daily News TV Critic
A moment of silence, please, for the 2012-2013 season, which ends Wednesday with a bunch of finales, closing out:
-- Season 14(!) for "Law & Order: Special Victims Unit" (9 p.m., NBC10).
-- Season 8 for "Criminal Minds" (9 p.m., CBS3).
-- Season 4 for "The Middle" (8 p.m., 6ABC) and "Modern Family" (9 p.m., 6ABC).
-- Season 1 for "Nashville" (10 p.m., 6ABC) and "Chicago Fire" (10 p.m., NBC10).
Getting a jump on the summer: "MasterChef" (8 p.m., Fox29), which premieres its fourth season.
I'll be watching "Modern Family," where the Pritchetts travel to Florida after Phil's mother dies (somehow, I'm guessing, they'll find a way to make that funny) and "Nashville," where Rayna (Connie Britton) will be performing with Brad Paisley at the CMA Awards.I may not have enjoyed every twist and turn in this musical soap opera -- who knew Scarlett (Clare Bowen), the newbie with the voice of an angel, would turn out to be SO annoying? Or Nashville politics so dull? -- but I've loved the way Britton's Rayna hasn't been totally sympathetic and Hayden Panettiere's Juliette more interesting than she looked at first.
And, somewhat unexpectedly, I've liked the music, too.
Ellen Gray, Daily News TV Critic
Penn State football coach Bill O'Brien talks to correspondent Andrea Kremer about how challenges close to home prepared him to deal with the turbulence in the program -- following the revelations involving Jerry Sandusky -- on Tuesday's "Real Sports with Bryant Gumbel" (10 p.m., HBO).
PBS' lively "Constitution USA with Peter Sagal" (9 p.m., WHYY 12) -- or as I call it, history on a Harley -- looks at the 14th Amendment and what it means to causes as diverse as same-sex marriage and immigration reform.
And in the season finale of "Grimm" (10 p.m., NBC10), Nick (David Giuntoli) looks into a series of attacks linked to Portland's "undead" (why do we never see these people on "Portlandia"?). Shohreh Aghdashloo and James Frain guest-star.
Ellen Gray, Daily News TV Critic
Fox has a brand-new sitcom, "The Goodwin Games," premiering at 8:30 p.m., but the funniest show on TV Monday night is likely to be on PBS.
"American Masters' (9 p.m., WHYY 12) presents a 90-minute look at the genius behind "Young Frankenstein" and "Blazing Saddles" in "Mel Brooks: Make a Noise," and though there are plenty of famous talking heads, including his friend and occasional collaborator Carl Reiner, some of it is Brooks telling stories. Which, since he's never authorized a biography, means this might be your best chance to hear them.
We can either look at "The Goodwin Games," produced by the same team as CBS' "How I Met Your Mother," as a comedy leftover -- it was part of the slate announced by Fox a year ago -- or as an example of the network's renewed commitment to year-round programming.
(And if your glass is one of the ones that's half-full, there might even be a drinking game in it.)
Scott Foley ("Scandal"), Becki Newton ("Ugly Betty") and T.J. Miller ("Our Idiot Brother") star as estranged siblings whose late father (Beau Bridges) has unexpectedly left a fortune -- to whomever of his children can win a competition he's devised. The pilot's really not bad at all, though the story feels as if it might fit better into a two-hour movie than a long-running sitcom.
The same, of course, might be said for "How I Met Your Mother," which is heading into its ninth (and final) season this fall on CBS.
Maybe Fox just wasn't interested in that kind of commitment.
Ellen Gray, Daily News TV Critic
NBC News will lose a piece of prime time real estate this fall with the cancellation of "Rock Center with Brian Williams" (10 p.m., NBC10), but that's no reason not to appreciate the effort to give us a news magazine that was more than a compendium of true crime and overwrought interviews. (No, that's not a shot at "60 Minutes," which is still the gold standard for news magazines. But it deserves better competition than it gets.)
In Friday's installment, Kate Snow looks at the death of a Dallas woman that revealed problems with the way Dallas handled domestic-violence cases; Harry Smith talks to Marc Fucarile, one of the last of the Boston Marathon bombing victims still hospitalized; and Williams talks to, OK, Zach Galifianakis. According to NBC, "they talk fame, farms and between two ferns." Which sounds promising enough.
Also:
-- "Shark Tank" (8 p.m., 6 ABC) has two back-to-back episodes, with the season finale at 9. The first hour, according to ABC, includes an update on Aaron Krause, the Folcroft, Pa., man who got one of the "sharks" to invest in his "Scrub Daddy."
-- "Undercover Bosses" (8 p.m., CBS 3) airs its season finale -- a retrospective of past bosses -- at 8, followed by a rerun at 9.
Ellen Gray, Daily News TV Critic
There won't be a dry eye in houses of fans of "The Office" Thursday night as the mockumentary series (9 p.m., NBC10) signs off after nine seasons.
The one hour, 15-minute episode -- DVR users, take note -- is preceded by an hourlong retrospective and followed by a full episode of "Hannibal" (10:15 p.m., NBC10) with limited commercial interruptions (don't worry, they've sold plenty of commercial time for "The Office"). That "Hannibal" episode, by the way, might appeal to music lovers -- but only those with strong stomachs.
Also on Thursday:
-- "Superstorm Sandy: A Live Townhall" (8 p.m., WHYY 12) looks at the hurricane's aftermath and the recovery from its devastation.
-- At 7:30 p.m., BET's scheduled a timely presentation of the 2010 movie "Lottery Ticket," in which a young man (Bow Wow) tries to hide a ticket worth $370 million from people who might want to steal his winnings.
Ellen Gray, Daily News TV Critic
One of the highlights of CBS' presentation to advertisers in New York's Carnegie Hall Wednesday -- though not quite as big a hit as Robin Williams -- was this extended trailer for its Stephen King summer series, "Under the Dome," which premieres June 24.
Ellen Gray, Daily News TV Critic
The CW will add three new dramas to its schedule this fall including a spinoff of its popular "The Vampire Diaries," titled "The Originals," and a show about the young Mary, queen of Scots.
The network also announced Thursday it was moving "Hart of Dixie" and "Beauty and the Beast" to Mondays, "Supernatural" -- entering its ninth season -- to Tuesdays and "The Carrie Diaries" to Fridays, where it wil be the lead-in for "America's Top Model."
Its new schedule is expected to launch in October. Two other dramas have been picked up for midseason.
Besides "Gossip Girl," which ended its run earlier this season, "90210" and "Cult" won't be returning.
"Nikita" is expected to return for one final six-episode season, but no date was announced.
The new fall dramas are: "The Vampire Diaries -- The Originals," starring Joseph Morgan, Daniel Gillies and Claire Holt as "the original vampire family"; "The Tomorrow People," starring Robbie Amell ("1600 Penn") -- and cousin of "Arrow" star Stephen Amell -- as "a young man with abilities he is only beginning to understand" and "Reign," which will follow "The Vampire Diaries" on Thursdays and stars Adelaide Kane ("Teen Wolf") as a young Mary, queen of Scots during the period in which she was sent to France to marry the heir to that throne. (Let's hope she, too, doesn't prove to be a vampire. Or that the series doesn't last so long she loses her head.)
Here's a look at the CW's five-night schedule:
MONDAY
8 p.m.: "Hart of Dixie" (new night)
Ellen Gray, Daily News TV Critic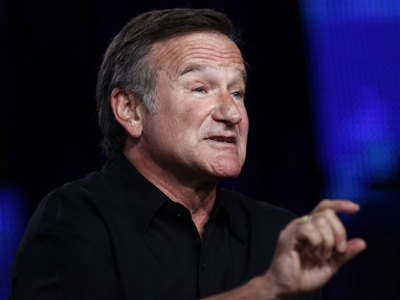 NEW YORK -- CBS, the network that can afford to cancel shows that would be hits on other networks, is at it again.
No. 1 in the advertiser-targeted demo of 18- to 49-year-olds for the first time since the early 1990s, it's scheduled four new comedies for the fall -- including one starring Robin Williams and Sarah Michelle Gellar -- and two dramas that will share a time slot, with the first, the highly serialized "Hostages," running for 15 episodes, followed in February by "Intelligence."
"Hostages," stars Toni Collette ("United States of Tara") as a surgeon whose family is taken hostage as she's preparing to operate on the president of the Unites States. Dylan McDermott ("The Practice," "American Horror Story") plays an FBI agent.
"Intelligence" stars Josh Holloway ("Lost") as a federal agent with a microchip in his head (and presumably a shorter haircut than he sported on the island).

The new comedies are: "We Are Men," starring Kal Penn ("House"), Tony Shalhoub ("Monk"), Jerry O'Connell ("Carpoolers") and Chris Smith as newly single guys living in a short-term apartment complex; "Mom," starring Anna Faris as a "newly sober single mom" and Allison Janney ("The West Wing") as her "critical, estranged mother"; "The Millers," starring Will Arnett ("Arrested Development") as a newly divorced man whose parents (Margo Martindale and Beau Bridges) decide to separate after 43 years; and "The Crazy Ones," in which Williams and Gellar play a father and daughter who are partners in an ad agency.
Among the highlights of the schedule CBS entertainment president Nina Tassler and scheduling chief Kelly Kahl unveiled at a press breakfast Wednesday:
-- "Hawaii Five-0" moves to 9 p.m. Fridays, "Person of Interest" to 10 p.m. Tuesdays.
-- "Mike & Molly" isn't on the fall schedule, but did get a 22-episode order and should be back at midseason.
-- Canceled shows include: "CSI: NY," "Rules of Engagement," "Made in Jersey," "Golden Boy," "Partners" and "Vegas."