Ellen Gray, Daily News TV Critic
I'm not sure what to think about Encore Black.
Not to be confused with "Orphan Black," the cloning drama on BBC America, Encore Black is one of the channels the Starz-owned Encore cable networks will be launching on Dec. 2, along with Spanish-language Encore Espanol and Encore Classic, which will target baby boomers with reruns of shows like "Murphy Brown," "Magnum, P.I." and "Night Court."
Encore Black, aimed at African-American viewers, will also feature reruns of shows once popular with baby boomers: "What's Happening!!," "Diff'rent Strokes," "Amen" and "227." All shows that aired on major networks in the '70s and '80s — and therefore watched by many more millions than watch most of what's on those networks now — what they have in common is that they're comedies with predominantly black casts (or in the case of "Diff'rent Strokes," with more than one black star).
Ellen Gray, Daily News TV Critic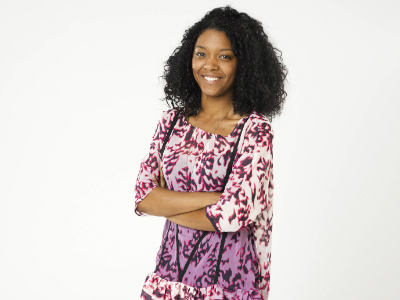 Philadelphia, we have another "Project Runway" winner.
Dom Streater, a 24-year-old graduate of Moore College of Art & Design, made it work when it counted and last night on Lifetime was named the 12th winner of the Emmy-winning fashion design competition whose last local winner was the show's first, Jay McCarroll.
"Scandal" star Kerry Washington was among the judges for the finale, which pitted Streater against three other finalists, Swedish-born runner-up Alexandria von Bromssen, 38, of San Mateo, Calif.; Justin LeBlanc, 27, of Raleigh, N.C., the show's first deaf contestant, who based his collection on his transition after getting a cochlear implant at 18; and Bradon McDonald, 38, of Los Angeles, a former ballet dancer.
Ellen Gray, Daily News TV Critic
It should be no surprise that "Glee" responded to the death of Finn Hudson the way it responds to everything: by singing, from the opening group number, "Seasons of Love," from "Rent," to individual performances that included "I'll Stand By You," "Fire and Rain," "If I Die Young" and "No Surrender."
But since Finn wouldn't be gone if Cory Monteith wasn't, the tears in Thursday's episode probably weren't just acting.
The surprise -- for those who hadn't encountered spoilers, at least -- was what the show that's converted nearly every imaginable issue, small, large and in between, into A Very Special Episode of "Glee" managed to avoid trying to construct an explanation for Finn's absence that would somehow mirror the sad truth of Monteith's death from an overdose.
Ellen Gray, Daily News TV Critic
"Breaking Bad" went out with a bang for AMC, which was crowing Monday about the 10.3 million viewers Nielsen estimates watched the 9 p.m. finale Sunday.
That's a record for the series, whose 6.7 million viewers aged 18-49 also had it up 300 percent in that demo from last summer's midseason ender. (Those are the people advertisers were trying to reach with all those commercials.)
And despite a night of premieres on cable and broadcast networks that attracted nicknames like "Dramageddon" and Dramalanche," 4.4 million stayed tuned to AMC after the show ended at 10:15, to hear "Breaking Bad" Vince Gilligan explain himself in the post-show "Talking Bad."
Ellen Gray, Daily News TV Critic
"We knew we needed to dot all the i's and cross all the t's," "Breaking Bad" creator said Sunday night, in the AMC post-show "Talking Bad."
"It's a story that starts at A and ends at Z," he said. (Quote corrected from earlier version.)
Do tell.
Ellen Gray, Daily News TV Critic
There's still no way to know if anyone will survive this season of AMC's "Breaking Bad," but it looks as if Bob Odenkirk won't be looking for work immediately.
AMC and Sony confirmed Wednesday that they'd reached a "licensing agreement" for a one-hour spinoff of the show, starring Odenkirk's character, a lawyer who's been providing advice, legal and otherwise, to chemistry teacher-turned-meth mogul Walter White (Bryan Cranston) and his cooking partner Jesse Pinkman (Aaron Paul) since Season 2.
"As conceived, the new series is based on the show's popular Saul Goodman character with the working title 'Better Call Saul.' Plans call for 'Saul' to be a one-hour prequel that will focus on the evolution of the popular Saul Goodman character before he ever became Walter White's lawyer," said the statement from AMC, which didn't specify whether AMC was ordering a pilot or going directly to series or to what extent "Breaking Bad" creator Vince Gilligan would be involved.
Ellen Gray, Daily News TV Critic
"Back is beautiful," declared Arsenio Hall Monday, and so are the first-night numbers for his return to late night TV after 19 years, with the debut of the syndicated "Arsenio Hall Show" beating every other late-night show on broadcast TV in the advertiser-targeted demos of 18-49 and 25-54 in Nielsen's 25 "people meter" markets, which include Philly.
Because the Eagles and the U.S. Open overrun delayed both ABC's "Jimmy Kimmel Live" and CBS' "Late Show with David Letterman," Hall's PHL17 debut at 11 p.m. went head to head here with only "The Tonight Show" (and only from 11:30 to midnight). In that half-hour, though, Arsenio beat his friend Jay Leno (who made a surprise appearance at the top of the new show). Locally, the show scored a 1.8 rating/4 share in households and a 1.8/5.7 among 25- to 54-year-olds. (Each local household ratings point equals 29,490 TV households. Share is the percentage of sets in use tuned to a particular show.)
Ellen Gray, Daily News TV Critic
"I never thought of him as any kind of super-intellect...He likes what he does. That's the main thing."
That's novelist Elmore Leonard talking about Raylan Givens, the character he created and that Timothy Olyphant brought to life in FX's "Justified."
But Leonard, who died Tuesday at 87 from complications of a recent stroke, might easily have been talking about himself.