Archive: February, 2012
Jenice Armstrong
It's not every day that you get to tell the object of your celebrity crush how much you loved him as a kid. I did back in 2009 when Davy Jones of the British rock group, The Monkees was a Daily News Sexy Single.
Jones, who entered himself in the annual contest after spotting an ad in the paper and sending in a photo, had a horse farm in Beavertown, Pa. When I asked him why he'd entered, the twice-divorced Jones told me that he was a little loney out on the farm located about an hour from Harrisburg and that he wanted companionship. "It's all a bit of fun, the whole idea is," he told me.
Unfortunately for his local fans who had been hoping for an introduction, he married shortly after being featured in the Daily News.
Jenice Armstrong
You can still attempt to register for the Broad Street Run via a lottery which will take place from Feb. 16 to Feb. 24. An additional 2,500 spots soon will be made available via lottery. To participate in that, log onto www.broadstreetrun.com tomorrow. This is a first for the annual rite of spring. Another thing to keep in mind, is that in years past various charities such as the American Cancer Society, have made additional registrations available for runners who participate in their programs.
In case you're just tuning in, registration for this year's Broad Street Run sold out earlier today.
"The race sold old in record time. It sold out in five hours," Ruth Stoolman, an Independence Blue Cross spokeswoman told me. "This was beyond our wildest expectations."

Registration for the annual 10-mile run down Broad Street opened this morning and by early afternoon it was completed. This year, 33,000 runners get race numbers - that's up 3,000 from last year when the number of participants was capped at 30,000. It's mind boggling when you consider that back when the race first began back in 1980, there were only 1,500 participants. I asked Race Director Jim Marino why registrations needed to be capped and he said it's because of safety issues such as medical staffing.
Jenice Armstrong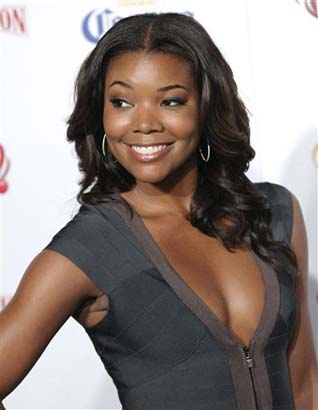 I've heard some unbeweavable tales in my day but what happened to actress Gabrielle Union at an airport earlier this week topped just about everything.
Airport security gave her a patdown after her "weave got 'flagged.' "
That's right. That long, gorgeous, flowing mane of hers got her detained at the airport, the New York Daily News reported today.
Jenice Armstrong
Calling all the single ladies in Philly.
Men's Health's new poll says Philly is not the place to go to find eligible women. In fact, the magazine ranked us 35th.
They must be nuts.