Archive: October, 2012
Jenice Armstrong
I wonder what Ebony's founder, the late John Johnson, would make of seeing the loud-mouth reality TV star, NeNe Leakes, appearing half topless and covered by a sea of diamond-esque baubles on the latest cover of his pride and joy.
Maybe editors of the venerable magazine geared to African Americans were looking looking for a fresh face for the cover of their money and power issue which Leakes graces. Maybe they didn't want to use the faces we've all come to associate with mega-money such as Oprah Winfrey, Beyonce Knowles, Sean "Puffy" Combs, Earvin "Magic" Johnson, Tiger Woods and Shawn "Jay Z" Carter. I understand that.
But why not put on the cover someone who represents true black wealth like, say, real estate moguls Quinton Primo III and R. Donahue Peebles, both of whom are estimated to be worth at least $300 million? Or Janice Bryant Howroyd, who along with her family, is worth an estimated $250 million? Those are the kind of people I think of and look up to when I think of black wealth.
Jenice Armstrong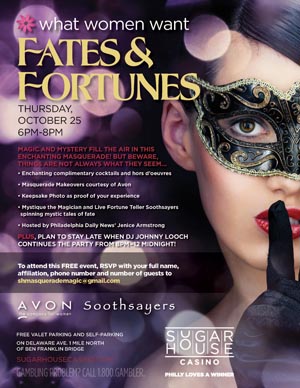 What a woman really wants is a night out with the girls.
Well, here's your chance. I'll be hosting a ladies-night out party Thursday night at SugarHouse Casino at 1001 North Delaware Avenue featuring free cocktails and appetizers.
Avon will on hand to provide masquerade makeovers to help us get into the mood for Halloween. Photographers will shoot us in our new looks and Mystique the Magician and fortune tellers will provide entertainment. Afterwards, DJ Johnny Looch will keep the party going until midnight. (Click here for a larger image of the invite shown at right)
Jenice Armstrong
A column I wrote for Tuesday's paper had the owner of Brownstone Natural Hair and Barber Studio at 17th and South streets squirming in her salon chair yesterday.
Abenaa Timazee was taken aback at how in an article in Tuesday's paper I quoted WDAS radio personality Patty Jackson as having said"…That's what made me (dread)lock my hair, because my hair was getting too complicated." What annoyed Timazee was my insertion of the word "dread," which she said was an offensive way to refer to the natural hair style sometimes associated with Rastafarians.
"The term dread is actually a negative connotation," she told me, referring to how colonialists would refer to Jamaicans with the tightly coiled style as being dreadful.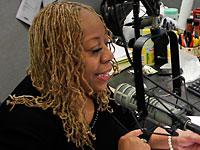 Jenice Armstrong
It never occurred to the parents of Dajanique Brown-Rogers to get life insurance for their teenage daughter. Daja, as her family called her, was a healthy, bubby, 14-year-old freshman at Cheltenham H.S. who played soccer, idolized pop star Justin Bieber and watched Spanish soap operas.
"She was doing good. She was on the soccer team. She was making friends," said Eanah Brown a doctoral candidate in psychology. "She was finding her place."
The last time she saw her daughter alive was early the morning of Oct. 17. Daja had come into Brown's bedroom where she was sleeping and asked to borrow her mother's eyeliner.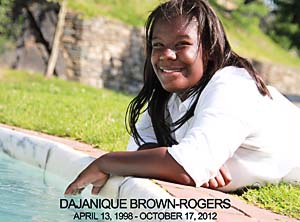 Hillary Clinton: Women can too have it all
Professional moms need to give Secretary of State Hillary Clinton an atta girl for standing up for women's abilities to have it all as they say.
Marie Claire magazine had asked the former first lady about a controversial Atlantic magazine cover story headlined "Why Women Still Can't Have It All" in which an author explained how she couldn't juggle high-level government work and the needs of two teen-age sons. Before leaving, Anne-Marie Slaughter, was the first female director of policy planning at the State Department. Her much-talked about piece ignited yet another round of hand wringing over the age-old question as to whether or not it's possible to really have it all. (Yes, it is. Lots of women manage just fine.)
Here's what Clinton told Marie Claire: "Some women are not comfortable working at the pace and intensity you have to work at in these jobs," she said. "Other women don't break a sweat. …They have four or five, six kids. They're highly organized, they have very supportive networks."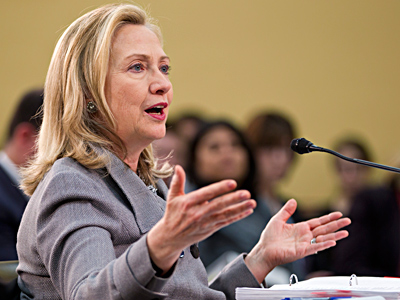 Jenice Armstrong
First Big Bird and then "binders full of women."
Use some awkward phrasing or catch TV viewers by surprise and the next thing you know, your comments have gone viral the way "binders full of women" did after Republican presidential candidate Mitt referenced it during Wednesday night's debate.
Romney, who once served as governor of Massachusetts, had been talking about his efforts to get more female candidates for openings in his administration when he let the unfortunate phrase slip during the presidential debate. He said he'd gone to women's groups asking for help and wound up with "binders full of women."
Jenice Armstrong
ABC is overdue to cast a black man to star as "The Bachelor."
I mean, c'mon. In all 16 seasons on the show, all of the guys given top billing on the show have been white.
It's time to mix things up, don't you think?
Jenice Armstrong
There's life insurance, health insurance, home owner's insurance but until today I'd never heard about wedding insurance. A Philadelphia-based wedding planner, Mark Kingsdorf, and I were chatting earlier about the disturbing melee between two wedding parties at the Sheraton Society Hill on Sunday during which one wedding guest suffered a fatal heart attack, when Kingsdorf brought up the importance of couples' insuring against calamaties such as what happened.
"You've got two big drunken parties that collided," he said of the eyebrow-raising brawl that was videotaped on an iPhone by a teen-aged hotel guest who'd been awakened by all the noise. "I'm surprised it doesn't happen more often."
When he's organizing weddings, Kingsdorf advises couples to get a one-day rider on their homeowner's insurance to cover the possiblity that a fight like what happened could break out. (Not all insurances allow for this. You have to check.) Some brides opt to take out wedding day insurance to cover the cost of a member of the bridal party's getting injured as they're about to walk down the aisle.