Jenice Armstrong, Daily News Columnist
Warning: Don't read another word of this blog post if you have a problem with gross over generalizing and racial stereotyping. In Nazaree Hines-Starr's new book, "Why Every Black Woman Should Marry a Jewish Man," she does an awful lot of that. It's offensive. It's off putting. It's insulting to African American and other non-Jewish men. I can see why she had to publish it herself. Yet, when I left it sitting in a pile on my desk, I couldn't help but notice how many of my friends picked it up however briefly. "It is time for African American women to consider all of their options," Hines-Starr writes. "Women in general should expand their horizons and stop listening to their single girlfriends. Forget about the often hypocritical brothers calling them sellouts, because in the final analysis, their opinions don't count. Get over those old images of slavery and stop blaming every white man for sins perpetrated by others."
Here are some of the points Hines-Starr, a black woman married to a Jewish guy, goes on to make:
*Jewish men at least attempt to marry before making babies.
Jenice Armstrong, Daily News Columnist
Poor Pam Oliver. One unfortunate hairdo and suddenly she's being compared to Star Wars' Chewbacca and trending on Twitter and with comments like these: "Did Pam get electrocuted?" and "Does #PamOliver have a damn mop on her head? She fell off like big mac toppings...NFLonFox." I could share more but I won't. It's too ugly. And, no, I'm not talking about Oliver, who's a veteran in sports broadcasting. She's gorgeous and I give her mad props for being a survivor in a tough business. I'm referring to the self-appointed members of the black hair police who monitor other people's hair.
These flat-iron enforcers pop up from time to time. In 2012, instead of praising Gabby Douglas'remarkable athletic achievements at the Olympics, they zeroed in on her hair as if that should have been the final arbiter of whether or not the teenager was worthy of her two gold medals. The "controversy" made headlines around the world. Luckily for the pint-sized gymnasts, the judges were more interested in her incredible gymnastic abilities than in whether she'd recently had her butt in a stylist's chair. Now, the hair police have fixated on Oliver – when they're not looking side-eyed at the hair on Beyonce's tot, Blue Ivy who's only 2! (Leave her alone already!)
Look, I know black hair is a touchy topic of debate for many African Americans, but from the way certain people are carrying on about Oliver on social media, you'd think she'd committed a crime other than daring to show her face on TV looking less than picture perfect. She's not a movie star. She's a sidelines reporter. The wind blows. It's hard to keep every strand in place, especially if you don't get to sit in a nice cozy booth like the males who host these games. Oliver was on her feet working. Besides, who has never had a bad hair day?Let she who's never looked whack, toss the first curling iron.
Jenice Armstrong, Daily News Columnist
The Rev. Martin Luther King Jr. holiday is on Monday, so now we're dealing with the usual shows of disrespect that tend to pop up this time of year.
This time around, though, I'm not complaining about the MLK retail sales you see advertised from time to time. Those are mild in comparison to the party fliers featuring the image of the slain Civil Rights leader which are being passed around. One I spotted on Facebook earlier this week had the nerve to show a doctored image of King wearing a set of headphones. Another flier has a falsified image of King wearing a giant gold chain and throwing up a gangsta-like hand symbol. The latter was designed to advertise a "Freedom 2 Twerk" party for teens scheduled for Saturday in Flint, Mich. Thankfully, that event has been cancelled, according to the New York Daily News.
"I feel like we have failed to reach these [groups]," Bernice King, daughter of Martin Luther King, Jr., told an Atlanta-based TV reporter. "This imagery thing is just appalling, and it's almost embarrassing. For me, as his daughter, it's like 'wow,' I lost a father who sacrificed everything for them to live a much more dignified and respectful life, and for it to come to this makes me sad."
Jenice Armstrong, Daily News Columnist
After tongues began wagging about First Lady Michelle Obama's 50th birthday save –the-date cards instructing guests to "eat before they come," it wasn't long before some well-known etiquette experts began weighing in on the unconventional advice.
"I don't think it's rude, but I do think it's a little . . . different than what people are used to. How's that for putting it delicately?" Lizzie Post, the great-great-granddaughter of Emily Post, told the Washington Post.
That was on my mind earlier today, when I chatted by phone with a local food culture expert who suggested another reason why the first lady might have worded things the way she did, given her emphasis on healthy eating and the Let's Move Initiative.
Jenice Armstrong, Daily News Columnist
If you couldn't make it to this year's Sexy Singles party, we've got you covered!
Here's video from our best Sexy Single shindig (so far) courtesy of Focused Studios.
Ready to meet the Sexy Singles?
Come to SugarHouse Casino tonight at 8 for the 2013 Sexy Singles party. The party is free and open to the public.
In other news: Angela Perfetto is holding on to her lead in the PhillyDailyNews.com/SexySingles promo code contest, while Melissa Demyan - assistant promotions manager at 97.5 FM The Fanatic, has moved ahead of Q102's Nicole Michalik in second place.
Jenice Armstrong, Daily News Columnist
UPDATE: Thanks to the Preston & Steve Show Bump, Angela Perfetto is back in the lead in the PhillyDailyNews.com/SexySingles promo code contest.
Perfetto, of the Legends (formerly Lingerie) Football League, moved back ahead of Nicole Michalik, of Q102 and MixPhiladelphia 106.1. Melissa Demyan, assistant promotions manager at 97.5 FM The Fanatic is still in third place, while Mina SayWhat of Power 99 is in fourth place.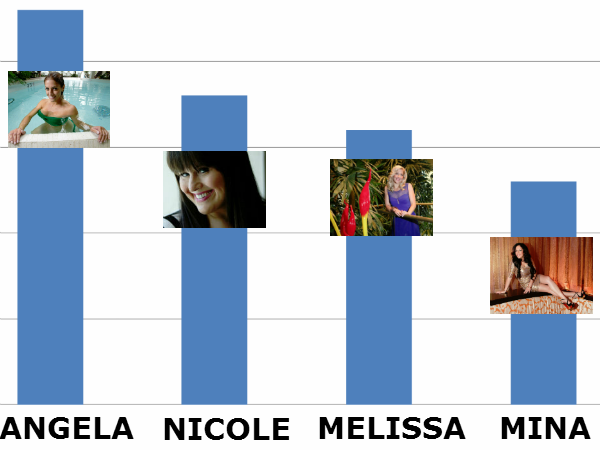 Jenice Armstrong, Daily News Columnist
After six days, Angela Perfetto leads our #SexySingles promo code contest. But she has competition hot on her tail.
The contest runs through Saturday, Aug. 24, with the winner receiving a night at the Borgata and $200 spending money. Second place gets a $100 Amazon gift card, while third receives a $25 iTunes gift card.
Help your favorite Sexy Single win by logging into PhillyDailyNews.com using the first four letters of their name. Find all of this year's Sexy Singles here.