Make no mistake -- Andy Reid sat down hard on rookie wideout DeSean Jackson after that display of arm-waving frustration last Sunday at Washington, followed by the end-zone drop of what would have been the game-tying TD pass in the final minute.
Had to hurt a little, too; DeSean's a skinny little fellow, who took a big hit in the ribs during the game. You have to figure Big Red comes up somewhere close to three times Jackson's body weight these days.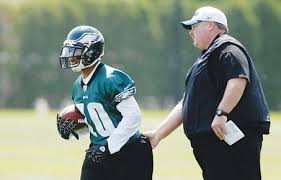 Marty Mornhinweg addressed the matter with reporters Thursday, and Reid was asked about it Friday, as the Eagles held an abbreviated practice in preparation for Sunday's season finale against the Cowboys.
"This past game, you're saying? He needs to do better, whether you're a rookie or not a rookie," Reid said. "You need to do better. When you have an opportunity to make a play, you make a play. There are no excuses for it. He won't give you any excuses. He has always been a big-time player in big-time situations. He will do that here. It didn't work out for him on Sunday. You have to learn from it and move on and do better this week."