Westbrook to see concussion specialists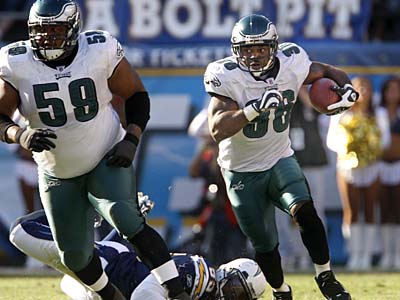 UPDATED: The Eagles have issued a statement from head athletic trainer Rick Burkholder confirming an ESPN report that Brian Westbrook will see concussion specialists tomorrow in Pittsburgh. The statement read: "The Eagles have confirmed a report that RB Brian Westbrook will visit two concussion specialists on Wednesday, November 18 in Pittsburgh, PA. The Eagles will first have Westbrook consult with neuropsychologist Mark R. Lovell, PhD. Following that visit Westbrook and Lovell will consult with neurosurgeon Joseph Maroon, MD. Dr. Lovell has been consulting with the Eagles' medical staff on Westbrook's recovery from the first concussion during the past three weeks."
Westbrook to see concussion specialists

UPDATED: The Eagles have issued a statement from head athletic trainer Rick Burkholder confirming an ESPN report that Brian Westbrook will see concussion specialists tomorrow in Pittsburgh. The statement read: "The Eagles have confirmed a report that RB Brian Westbrook will visit two concussion specialists on Wednesday, November 18 in Pittsburgh, PA. The Eagles will first have Westbrook consult with neuropsychologist Mark R. Lovell, PhD. Following that visit Westbrook and Lovell will consult with neurosurgeon Joseph Maroon, MD. Dr. Lovell has been consulting with the Eagles' medical staff on Westbrook's recovery from the first concussion during the past three weeks."

EARLIER:
Eagles running back Brian Westbrook is scheduled to see a concussion specialist in Pittsburgh, possibly as soon as tomorrow, ESPN's Adam Schefter is reporting.
A team spokesman has not returned a message from the Daily News. Westbrook's agent, Todd France, did not reply to an email earlier today seeking a comment on Westbrook's condition.
Should Brian Westbrook retire?

Yes
  3317 (79.6%)
No
  848 (20.4%)
Total votes = 4165
According to the report, Westbrook is to visit the same clinic and hospital that also was visited by Troy Aikman, Steve Young and Bill Romanowski. All retired because of concussions.
Westbrook suffered his second concussion in three weeks when he was sandwiched on a screen pass in the third quarter of the Eagles' loss to the Chargers on Sunday. He also sustained a concussion against Washington on Oct. 26 and sat out the next two games against the New York Giants and Dallas.
On Monday, Eagles coach Andy Reid said it was "too soon" to know whether Westbrook's season was over, but said the team planned to take every possible precautionary measure. "The number one thing is Brian's health," Reid said. "You can put football aside and make sure that he's taken care of here."
*
To read Domo's Second Take from Sunday's game, click here.