Report: Cardinals still want Kolb deal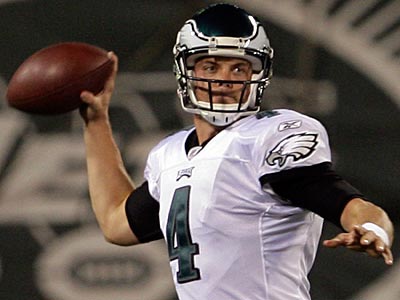 Kevin Kolb has returned to Texas after an informal workout last week, but his future once the lockout ends is a major topic of conversation.
Report: Cardinals still want Kolb deal
"They note that Kolb ... has thrown more interceptions (14) than touchdown passes (11) in his brief playing time.
They wonder about his decision-making. But mostly the Cardinals' brass wonders if Kolb is the right fit for coach Ken Whisenhunt's offense.
Kolb averaged only 6.46 per pass attempt in his five starts in 2010. Until last season, when the Cardinals were forced to play quarterback roulette and started a pair of rookies at various times, the Arizona passing game averaged over 7.0 yards per attempt under Whisenhunt. The number dropped precipitously to a paltry 5.81 yards in 2010, but, again, there were mitigating circumstances.
In theory at least, the Arizona passing design is more vertical than that in Philadelphia, takes some pages from the Mike Martz passing game and expects quarterbacks to drive the ball into the intermediate and deep windows with accuracy."
All of this is, of course, just speculation until the lockout is lifted and things can start actually happening.