Reid on sitting DeSean: 'right thing to do' and more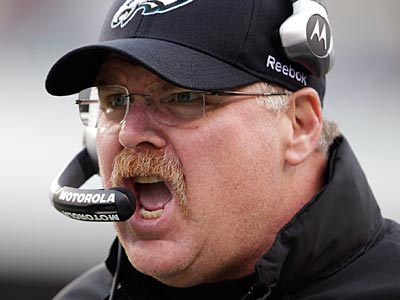 Eagles coach Andy Reid said sitting DeSean Jackson was "the right thing to do," in the aftermath of Jackson missing a team meeting Saturday.
Reid on sitting DeSean: 'right thing to do' and more
Asked about further details, Reid said, "I'm not getting into all that here. It's already done." He said Jackson would have started had he not missed the meeting.
Jackson, through a spokesman, said it was an honest mistake.
Said Michael Vick, "You don't want to lose one of your premiere playermakers like that. We have to respect the decisions that are made. Wish it didn't have to come to that, but it is what it is ... That had nothing to do with the outcome of this game. We just have to finish as a team."
Vick said any other player would have received the same punishment, "not just him."
"He'll learn from it and move on," Vick said.
Added Asante Samuel," Everyone needs to be held accountable."
**
In other issues, Reid was asked about whether it was time for a major shakeup in either coaches or players.
"We all need to do better," he said. "That's what we all need."
Reid again took responsibility for the way the team played and reiterated that they needed to play better.
"The way the team played was my responsibility," he said. "We have to make sure we correct it."
Asked about the fifth fourth-quarter lead that the Eagles have blown, Reid said. "We have to fix it. The obvious is there. Penalties, move them back a bit, turnovers, you can't do it."
Reid was asked about quarterback Michael Vick and he said, "We've all got to get better. You can't blame one guy. We all have to do our job better."
The Eagles went away from LeSean McCoy seemingly for long stretches. Reid said McCoy was not hurt.
He said he felt the Eagles could get done what they needed to get done by passing the ball.
Akeem Jordan started at linebacker in place of Moise Fokou. Reid said they went that way during the week and wanted to give Jordan a chance.
Reid said he is not worried about the players losing interest with a 3-6 record.
**
Jeremy Maclin suffered a shoulder strain and a hamstring strain. Dominique Rodgers-Cromartie has an ankle sprain.