Juan Talks Injuries, Etc.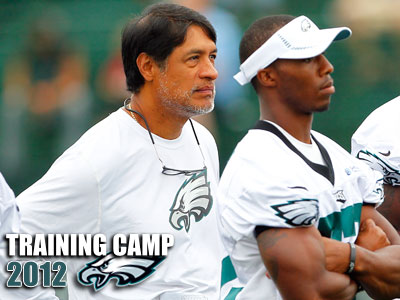 Saturday afternoon's practice was moved indoors by a thunderstorm at Lehigh, but between the morning and afternoon sessions, Eagles defensive coordinator Juan Castillo spoke with reporters in a scheduled availability. Castillo was asked about the injuries that have jumbled his training camp practices, about the progress of rookie linebacker Mychal Kendricks, and more. Here is the Eagles' transcript of Castillo's remarks:
Juan Talks Injuries, Etc.

Saturday afternoon's practice was moved indoors by a thunderstorm at Lehigh, but between the morning and afternoon sessions, Eagles defensive coordinator Juan Castillo spoke with reporters in a scheduled availability. Castillo was asked about the injuries that have jumbled his training camp practices, about the progress of rookie linebacker Mychal Kendricks, and more. Here is the Eagles' transcript of Castillo's remarks:
On how he has felt about the tempo of training camp:
"It's nice. The mental toughness that our guys have shown offensively, defensively and special teams has been out here. Yesterday was a tough one. It was muggy but they worked their butts off and worked through it."
On whether the amount of injuries helps allow coaches evaluate younger players as they get more reps:
"That's the way it is during the season. It's no different than when somebody goes down and the next guy comes up and steps up. We had a scrimmage after practice yesterday where the offense had a series with the number ones against the number twos. We played with whoever was healthy."
On whether he is impressed with the depth of the entire team:
"Competition brings the best out of all of us. Players and coaches and it is exciting."
On whether having only nine linebackers in camp is enough to evaluate a position:
"The good thing is that it's three groups. We usually only work with three groups and lately we're just working with two groups."
On whether the small number of linebackers in camp helps them get more reps:
"That's the thing. They are all fighting and they all want reps. Now with nine guys if you go three groups then they are all getting reps. They are all getting opportunities."
On how well CB Cliff Harris has acclimated himself with the defense:
"Cliff is a competitor. He is still learning our system. The hard thing is that when you miss those OTAs it's hard so he is just trying to get a complete understanding [of the defense]. In the classroom he understands the scheme but when it is going fast I think that is the part in time he will get better and better at."
On how well LB Mychal Kendricks has acclimated himself with the defense:
"Mychal has been coming along well. Talk about relentless and tough. He's a linebacker and you wouldn't want to meet him in a dark alley. He is that type of guy and he is a professional. He studies and it is important to him. The way he carries himself off of the field too. We are excited about him."
On whether CB Brandon Boykin is pushing CB Joselio Hanson for the nickel cornerback spot:
"I think both of them are having good camps. They are both competing and they are both smart, athletic and good people."
On what he would like to see from Boykin in the future:
"Consistency. As a whole for all of us the key is consistency and to start like that in the beginning of the season."
On how close the defense is to being ready for the first preseason game:
"Well we will be ready by Thursday. The thing is you don't get to game plan for the [Pittsburgh] Steelers and they have a new [offensive] coordinator. I think we will have a day where we do some things for Pittsburgh."
On where the team's understanding of the defense is this year compared to last year:
"The big thing is the OTAs have allowed us to teach concepts and being able to know the differences and being able to install one coverage per day instead of having to install two or three a day. It took us a little while to pick it up and understand the concepts. It is easy to pick something and call something but for the players to understand and match concepts. Things like that."
On whether having fewer new acquisitions helps the team to understand the defense:
"I think they all know each other and are having a good time. They are battling and competing but you should see them in the dorms at night. It is exciting that they all kind of hang out. They know each other so it is easier to talk. It is no different than when you meet a new worker. If you don't really know them then you talk to them at all. When you share time after a year you've probably talked to them a little and shared things with them."
On whether it hurt the defense's development to have players that were unfamiliar with each other last year
"I think we didn't have the OTAs so they didn't get to be around each other. A lot of times in football it is like I know what he is doing because we have played together and been together on the field like we are now with all the reps. We have had a lot of reps in the OTAs which were critical."
On the differences he sees in S Nate Allen this year:
"Nate has improved from last year. He is very athletic, smart, doing a good job tackling, and really a good professional. He is studying and a good leader by example."
On how he applies lessons learned as a position coach to delegate responsibility now that he is a coordinator:
"It's all a team effort. You all work together just like the players. Everybody works as a team. Offense, defense and special teams; we are all doing the same thing. On defense everything is together and we are a team."
On what secondary coach Todd Bowles has brought to the coaching staff:
"Todd has experience and has played in the league and has coached in the league for eight to ten years. He brings that experience to the guys. On the defense we have three guys who have played in the league. [Linebackers coach] Mike Caldwell has played for [multiple years] and [secondary/safeties coach] Michael Zordich has played for [multiple years] so that is good experience."
On whether the size of LBs Brian Rolle and Mychal Kendricks matters to the success of the defense:
"Well I think you've heard it and people use it as cliché but it's what's in your heart. You look at Mychal and B-Rolle and they have big hearts. If you were to go in there you would see those are some big hearts. That makes up for a lot."
On whether it is by design to have linebackers who vary drastically in size:
"I think the key there is that [GM] Howie [Roseman] has done a great job with Coach Reid and his staff as far as bringing in athletic linebackers. When they are athletic and they can run like that all you do is work the fundamentals and technique. You do it over and over and what happens is you just naturally get better. It is a muscle memory game."
On how Kendricks is performing in the nickel defense:
"Last year what we did with all of the linebackers is they all ended up playing because they are all athletic. Everyone had a special role so what we are doing is we are just mixing them in and seeing who is going to do the best job. They are competing so maybe it is [LB] Jamar [Chaney], maybe it is B-Rolle, maybe it is Mychal, and maybe [LB] Casey [Matthews]. All those guys we are trying to see what the best mix is."
On how he gauges what players have great instincts on defense:
"I think it is critical for linebackers. Some guys are more instinctive than others and some develop that. Some have a little bit and as they play more they develop that, especially coming from college. Mychal Kendricks is an instinctive player and now it is the NFL and everything is just a little bit faster. Then there are some guys that are not as instinctive that what you do is hope by running drills and running everything over and over that they get better because they are such good athletes that they can overcome some of that."
On whether there is a new sense of urgency by the players after trading away two linebackers:
"Our guys have been working hard from the day they stepped on the field. There's been urgency the whole time at practice. Our guys practice hard and it has been a physical camp. They have done a great job with the camp."
On how realistic it is for newly acquired CB Kevin Thomas to make the team:
"I think the key is that I hit him up last night for about an hour and [secondary coach] Todd [Bowles] will take care of him during meetings. We will spend extra time to get him up to speed and I talked to him last night. He understands some of the concepts. The main coverages will not be a problem, it is just that different people have different names. One of the things will be the adjustments but he will catch on."
On the difference of last year's secondary to this year's secondary:
"We aren't really talking about the past. We are playing a preseason game here pretty soon. Both [CB] Dominique [Rodgers-Cromartie] and [CB] Nnamdi [Asomugha] are really playing off of each other. They know they are both good corners in the NFL and I think they are competing against each other. I think they are having fun to see who does the better job shutting their man down. Our offense has good receivers too so it has been a challenge and a competitive camp."