Jim Johnson, looking gaunt and sallow, leaned heavily on a cane to cover the few steps across the NovaCare stage to the seat behind the podium.
Clearly, Johnson's fight against metastasized cancer discovered on his spine during the Eagles' playoff run is taking a lot out of the defensive coordinator, who turns 68 on May 26. But just as clearly, Johnson is committed to doing his job as long as he can.
"I feel good," Johnson said today, in his first remarks to the media since his diagnosis was made public, the week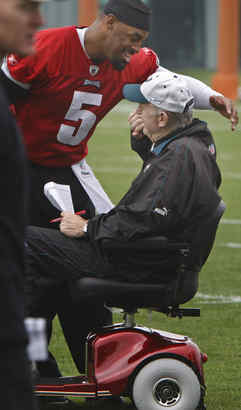 of the Super bowl. "I appreciate all the concern about my injury, I really do, from the fans and you guys. I feel good. I'm still going through treatment. The biggest thing I'm trying to get now is some pain out of my back. I've got some broken bones in the lower part. It (doesn't allow) me to be on my feet quite as much. But everything else, I feel fine, and I just keep working at it."
Johnson said activities like this weekend's minicamp, arduous as they might be, are "a big part of my life. It keeps me going."